Curses! Cubs-Indians World Series Tickets Cost on Average $2,983
By
Chicago-Cleveland create record demand on secondary market

Two teams have a combined 176-year World Series drought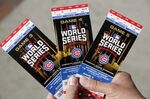 If you want a ticket to see the Chicago Cubs (or the Cleveland Indians) win their first World Series in 108 years (or 68 years), it's going to cost you an appropriately historic amount of money.
The matchup in this year's Major League Baseball World Series -- the Cubs in particular have the longest championship drought in major league sports -- has pushed ticket prices to all-time highs, according to industry executives.
The average ticket sold for this World Series cost $2,983.46, according to TicketIQ, which aggregates sale prices from secondary markets like StubHub. That's more than double the average price for the Mets-Royals series in 2015, which was the most expensive championship since the company began keeping track.
Hometown fans have pushed the average ticket to games in Chicago at Wrigley Field to $3,900. The possibility of seeing the Cubs clinch the title at Wrigley has propelled the average ticket for Game 5 (if necessary) to $4,230; the cheapest seats for that game cost more than $3,200.
This record is likely to last for a long time. "We won't ever see another World Series at these levels, at least not for another 100 years," said Jesse Lawrence, chief executive officer of aggregator TicketIQ.
Both Wrigley Field and Progressive Field are among the smaller ballparks in the country, and that drives up prices too. Tickets to the games in Cleveland, though, are a relative bargain: the average ticket is selling for a little less than $1,700, and the seats for Games 1 and 2 can be bought for less than $800.
The World Series starts Tuesday night in Cleveland.
Before it's here, it's on the Bloomberg Terminal.
LEARN MORE