Cure for Negative Rates Is Fiscal Policy in This Nordic Example
By
Survey shows 28 of 29 analysts see unchanged rates in Norway

Some of Sweden's largest banks predict Riksbank to boost QE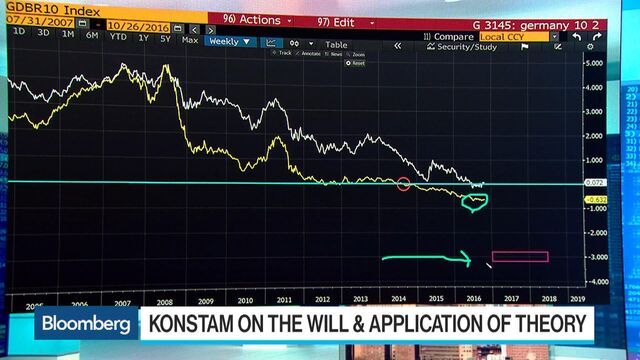 Geographically, Sweden and Norway's central banks are as close as can be. But when it comes to policy, they're miles apart.
QuickTake Negative Interest Rates
While speculation is growing that Sweden this week could be forced to cut rates even deeper below zero or expand its bond purchasing program, its much richer neighbor has no need for further easing -- let alone start digging into the unconventional toolbox.
"Norway is in another phase," said Torbjorn Isaksson, chief analyst in Stockholm at Nordea Bank. "They've seen a dip in the economy with the oil price decline, but our forecast is that growth has bottomed and that it's about to pick up. In Sweden, growth is slowing" and there are few signs that inflation is accelerating to match much higher levels in Norway, he said.
Sweden's Riksbank and Norway's Norges Bank will both reveal policy decisions half an hour apart on Thursday. According to a Bloomberg survey, 26 of 27 analysts expect the Riksbank will leave its benchmark rate at minus 0.5 percent while 3 of 10 in a separate poll see it extending its bond purchasing program. In Norway, 28 of 29 analysts surveyed predict the main rate will be kept at 0.5 percent.

The answer to why their paths are diverging can largely be found in fiscal policy. Norway is tapping record amounts of its oil wealth -- stashed in a $870 billion wealth fund -- while Sweden has much less fiscal firepower to help stoke its growth and is looking to tighten stimulus in the years ahead.  
The divergence between Norway and Sweden also lies in how currencies and wages have affected price growth.
The Norwegian central bank understood early on that targeting the krone was the key to generating inflation and supporting the economy in the aftermath of the financial crisis and during the plunge in oil prices that started in 2014. The Swedish bank, meanwhile, was slower to target the currency.
The oil price plunge that started two years ago also helped weaken the Norwegian krone significantly as investments fled the petroleum-rich economy. That helped prop up prices even as the economy was flirting with a recession. Wage growth has slowed in Norway amid massive job losses in the oil industry, but is still much higher than in Sweden.
While Swedish underlying inflation came in at 1.2 percent last month, Norwegian core price growth was more than twice as high at 2.9 percent. That puts Sweden's central bank under more pressure to ease than Norway's even though its currency has strengthened and the Swedish currency weakened quite a bit since their meetings last month.

Norwegian policymakers in September scrapped plans for further rate cuts amid signs the nation was withstanding the slump in oil prices and inflation remained above target. The Norwegian krone has strengthened 2.8 percent against its Swedish counterpart since the Sept. 23 meeting.
"Norges Bank is much more tolerant both in terms of inflation and the exchange rate than what we understand the Riksbank to be," said Harald Magnus Andreassen, chief economist at Swedish bank Swedbank AB in Oslo. "Norges Bank has said that there would be no more rate cuts unless the economy weakened. And there's nothing that's happened between the September meeting and now that indicates that."
The story is quite different in Sweden. Since the central bank's meeting last month inflation has disappointed in a big way. Adding insult to injury, a Riksbank survey this month showed that companies are pessimistic about their ability to significantly boost prices.
"The Riksbank has signaled that it won't accept the inflation trend going the wrong way and that it has a high preparedness to act on setbacks," Nordea's Isaksson said. "And if the latest inflation numbers aren't setbacks, I don't know what is."
— With assistance by Josh Robinson
Before it's here, it's on the Bloomberg Terminal.
LEARN MORE