business
Cold-Brew Coffee Set for U.K. Mainstream as Costa Plans Trial
By
Craze that has swept U.S. set to reach out across Atlantic

Costa owner seeks new growth avenues to mitigate higher costs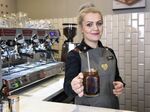 A cold-brew coffee craze that has swept the U.S. is making its way across the Atlantic.
Costa, the U.K.'s leading coffee-shop chain, plans to trial on-tap chilled and nitrogen-infused coffee next year in a bid to capitalize on Brits' burgeoning appetite for a cup of joe.
"The number one priority is to innovate," Alison Brittain, chief executive officer of Costa Coffee owner Whitbread Plc, said on a call with reporters Tuesday. Taking a leaf from the U.S. market is one way of doing this, she said.
Cold-brew coffees have yet to catch on in the U.K. to the degree they have in America. In July, Starbucks Corp. described its chilled drinks as a "runaway success" in the U.S. The Seattle-based company will be serving nitro coffee -- in which cold-brew is infused with nitrogen to give it a creamy texture and a similar look to Guinness -- on tap in more than 500 outlets by the end of the year. A version from Dunkin' Donuts Inc. proved so popular that the chain decided against phasing out the product, as it had originally planned.
"Cold-brew coffee is a high margin product that can add a further leg up to growth for the U.K. market," Jeffrey Young, CEO of consultant Allegra Strategies, said by phone.
Costa Coffee has 2,121 U.K. outlets, more than double the number of nearest rival Starbucks, according to Allegra.
Shares Drop
Whitbread is seeking new avenues for growth to mitigate soaring costs. The U.K. company, which makes 97 percent of sales domestically, is grappling with sterling's slide, higher staffing costs as a result of a new minimum wage and soaring coffee expenses. The price of Arabica beans has risen 27 percent since the end of May.
The increase in costs meant Costa Coffee's underlying operating profit fell 4 percent to 64.6 million pounds in the first half of Whitbread's fiscal year. The shares were down 3.7 percent as of 11:50 a.m. in London.
Whitbread is "pretty well hedged" against the drop in the value of the pound until the end of February, Chief Financial Officer Nicholas Cadbury said on a call with reporters.
Brittain wouldn't rule out the possibility of price increases at Costa next year, but said the company would first seek to offset cost pressures through more efficient buying and improved productivity.

In London, Costa has opened two late-night "finer coffee" outlets for more well heeled customers. The outlets are licensed to sell alcohol, serve artisanal brews and more refined food such as antipasti and avocado on toast. Brittain rebuffed suggestions that she was giving the mass-market chain a "hipster" makeover and said the capital city is a testing ground for innovation that could be extended nationally.
According to Allegra's Young, demand for cold coffee may take longer to heat up outside of the capital.
"London is the most innovative hub across Europe for coffee, but most Brits prefer hot, milky coffee drinks," he said.
Before it's here, it's on the Bloomberg Terminal.
LEARN MORE