Christie Aide Says Icing Mayor Part of 'Company Mentality'
By
Prosecutors seek to show that Kelly wanted to punish mayor

Bridgegate defendant says she was duped about lane closings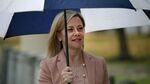 A former top aide to New Jersey Governor Chris Christie said mistreating a mayor who displeased her boss was part of the "company mentality" that she adopted in an office where she lived in fear of the governor's angry rebukes.
But Bridget Anne Kelly denied going after the Democratic mayor of Fort Lee in 2013 by helping to orchestrate traffic jams near the George Washington Bridge to punish him for not endorsing Christie's re-election. On trial over the lane-closing scandal, Kelly testified Tuesday that several witnesses who implicated her in the plot lied.
Christie's former deputy chief of staff said she believed the lane closings were part of a traffic study by the Port Authority of New York & New Jersey, which owns the bridge.
In a series of testy exchanges, Kelly said she deleted e-mails about the lane closings because she was scared and that an an infamous e-mail she sent a month before the lane closings -- "Time for some traffic problems in Fort Lee" -- had nothing to do with a scheme to punish Fort Lee's mayor, Mark Sokolich. 
Kelly, 44, said she carried out Christie's orders in July 2013 to cancel a series of meetings between cabinet officials and another Democratic who failed to endorse the governor's re-election, Jersey City Mayor Steven Fulop. She testified earlier that Christie shouted an obscenity at her in issuing the directive.
"I bought into that mentality," Kelly said in her third day of testimony in federal court in Newark. "I was petrified. I bought into the company line."
'Icing' Mayor
On questioning by Assistant U.S. Attorney Vikas Khanna, Kelly said the rancor expressed in Christie's office toward Fulop didn't extend to Sokolich. The Christie administration's displeasure with Fulop was clear, but it had no such problems with Sokolich, she said.
"Mayor Fulop was iced, you are correct, as per the governor," Kelly said. "Mayor Sokolich, we had a good relationship with. He had no reason to be iced or boxed out. Mayor Fulop was being deliberately ignored, as per the governor."
Kelly is on trial with Bill Baroni, the former deputy executive director of the Port Authority. Both testified that they were duped by David Wildstein, a former top official at the Port Authority who pleaded guilty and testified as a prosecution witness. Like Kelly, Baroni said he believed Wildstein when he said the lane closings were part of a Port Authority traffic study.
Kelly wrote the "traffic problems" e-mail on Aug. 13, 2013, to Wildstein. Public disclosure of that e-mail in January 2014 elevated the scandal to a national story that plagued Christie throughout his failed run for the Republican nomination for president.
Kelly has testified she had told Christie a day earlier about Wildstein's plan to conduct a study to realign local access lanes to the bridge, which she told the governor would create "tremendous traffic problems" in Fort Lee. She said Christie never told her it was a bad idea.
For more on bridge scandal, click here
Khanna grilled her about texts she exchanged with Wildstein on the second day of the lane closings after Sokolich begged for help getting kids to school. Kelly responded, "Is it wrong that I am smiling?"
"I was not smiling about the children being delayed on the way to school," Kelly said. Rather, she said she was responding to Wildstein, who "pounded his chest" the day before and said "the study was working." She said she felt badly about the school kids. "I'm a mother, and any parent would," she said.
Khanna asked Kelly about the testimony of several witnesses who worked in the governor's office. Each lied on key points, Kelly said, including a subordinate who said she ordered her staff to not contact the Fort Lee mayor before the lane closings.
"I did not have any conversation with anyone not to talk to Fort Lee," she said. "The governor was ahead 30 points in the polls. There was no conversation about Fort Lee in any of our staff meetings. I know it's under a microscope now, but it was not that big a deal."
Kelly testified that she deleted all but two e-mails because she panicked in early December 2013 when Christie and his chief of staff, Kevin O'Dowd, denied they had spoken with her about the lane closings.
"I was scared and I didn't know what was happening and I chose to delete," she said. "When everyone started forgetting what they knew, I did start deleting."
The case is U.S. v. Baroni, 15-cr-00193, U.S. District Court, District of New Jersey (Newark).