Build Heathrow Runway, Then Build Even More, Say U.K. Businesses
By
Firms say U.K. must expand rapidly at Heathrow and beyond

'Spades in the ground' needed after delayed choice, CBI says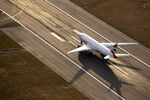 Exporters and business leaders expressed delight at the U.K.'s decision to build a third runway at London's Heathrow airport. They say the government now should extend capacity elsewhere too.
The expansion of Heathrow, Europe's busiest airport, is worth 61 billion pounds ($74.5 billion) to the country's economy, said the government. The announcement will help support plans by U.K. airlines to invest $75 billion in more than 900 new aircraft by 2034, according to ADS Group Ltd., an aerospace industry group. Prime Minister Theresa May's government ended years of debate with Tuesday's decision, opting against expansion of the capital's Gatwick airport.
The runway "will be vital to the ongoing development within our key global markets, including the U.S.A. and Asia," said Robert Anderson, chief executive officer of whisky maker Tomatin Distillery Co., near Inverness, Scotland.
Still, Heathrow's expansion isn't enough to keep pace with British business needs, said Adam Marshall, director general of the British Chambers of Commerce. The urgent need for added takeoff and landing space -- Heathrow operates at 98 percent capacity -- will grind up against planning disputes and parliamentary dissent before construction can begin. The runway will open in about nine years based on current planning, Transport Secretary Chris Grayling said.
'Growth Aspirations'
"This cannot and must not be the only new runway to be built in Britain over the coming decades," Marshall said in a statement. "One new runway is not enough to give the U.K. the aviation capacity it requires to trade the world successfully. Airports like Gatwick, Birmingham, Stansted, and others with growth aspirations should also get the chance to expand and grow in the future."
A public consultation will now be held before final government proposals are put to Parliament in the winter of 2017-2018.
"Our aviation capacity is set to run out as early as 2025, so it's crucial we get spades in the ground as soon as possible to reap the benefits for jobs and growth, precisely when the country needs them most," said Paul Drechsler, president of the Confederation of British Industry, which represents 190,000 businesses.
Adding a second runway at Gatwick, south of the capital, should remain on the table, said Dan Lewis, senior adviser on infrastructure policy at the Institute of Directors.
"There remain good arguments for expansion at Gatwick on grounds of competition and cost, and ministers should keep their options open for a second runway there," he said. The Heathrow announcement ended "years of frustrating prevarication," he said.
Before it's here, it's on the Bloomberg Terminal.
LEARN MORE