Brexit Bulletin: Britons Care More About Immigration Than Trade
Poll shows May is in touch with the public mood on migration, while the PM says Parliament will debate the "high-level principles" of her EU exit.
By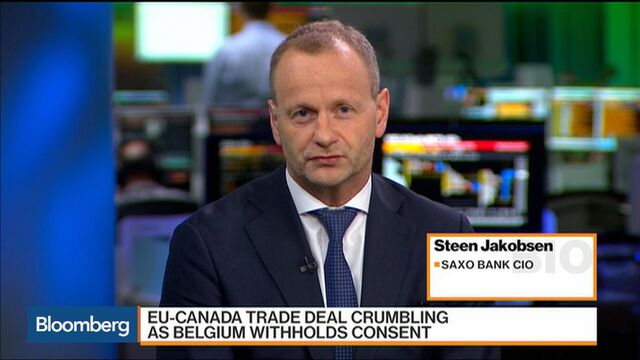 Sign up to receive the Brexit Bulletin in your inbox, and follow @Brexit on Twitter.
Britons care more about controlling immigration than keeping access to the European single market, a survey shows today, validating Prime Minister Theresa May's strategy of prioritizing border controls as she negotiates Brexit.
Some 56 percent of respondents are more concerned about immigration than maintaining trade benefits, while 58 percent approve of May's handling of the divorce, according to the poll by Survation Ltd for ITV. 

The plunging pound, which has lost 18 percent of its value since the Brexit vote, also doesn't seem to have fueled any regrets: Should another referendum take place now, 47 percent would vote "Leave," compared with 46 percent who would vote "Remain." 
Carney's Future 
With the pound slumping and data due on Thursday expected to show a sharp slowdown in GDP, Bank of England Governor Mark Carney appears in the House of Lords at 3:35 p.m. London time today.  Questions will probably focus on Brexit's impact on the City, the impact of low interest rates on inequality, and inflation fueled by weak sterling.

Carney's future may also be discussed. His self-imposed year-end deadline to decide how long he'll stay at the Bank of England is approaching, adding another source of uncertainty to jittery markets.
Chancellor of the Exchequer Philip Hammond was up in front of lawmakers earlier today. He reiterated his commitment to fight for financial services in Brexit talks, perhaps with even stronger language than last time.
"I have been seeking to reassure financial services businesses that we will put their needs at the heart of negotiations,"  he said.
Parliament Gets Debates, not Votes
Lawmakers pushing for greater scrutiny over the Brexit process were given more details yesterday of what their role would be -- but not given more clout. May said there will be a series of debates on "the high-level principles" of the government's negotiation plan. They won't get a vote, and neither will they get "every jot and tittle" of her negotiating stance. Bloomberg's Rob Hutton has more here.
Brexit Bullets
May's government approved a £16 billion ($20 billion) expansion of Heathrow airport 
Scotland considers trying to join European Free Trade Association as a way of keeping access to single market, Sky reports

Tesco Chairman says food prices very likely to rise due to Brexit 
Former BOE policy maker Paul Fisher said it's still too early to assess the potential fallout from Brexit  
ARM CEO says 'Hard Brexit' may seriously damage business, according to the FT
Saab CEO Hakan Buskhe says the country is still "a high-potential market" regardless of how it solves Brexit
On the Markets
Long-term sterling bonds suggest investors are quickly losing confidence in the BOE's ability to support debt markets through Brexit.

Holders have lost about 10 percent in as little as seven weeks on long-dated notes issued by Vodafone Group, British American Tobacco and WPP. The bond sales took place after the central bank announced plans in August to buy corporate debt. Since then the mood has soured amid mounting expectations of a hard Brexit, sterling's tumble and the inflation outlook. Bloomberg's Joe Mayes has more here. 

And Finally...
Brexit has been good for Marmite sales, at least temporarily. The pricing spat between Tesco and Unilever, which was provoked by the decline in sterling and culminated in the supermarket withdrawing Marmite online, may have reminded Brits how much they love the iconic breakfast spread. Sales rose 61 percent in the week ended Oct. 15 compared with the same period a year ago, according to data compiler IRI.

For more on Brexit follow Bloomberg on Twitter, Facebook and Instagram, and see our full coverage at Bloomberg.com
Before it's here, it's on the Bloomberg Terminal.
LEARN MORE