AT&T's Millions in Fees Give Perella Weinberg Shot at Redemption
by
After defections, firm scores with 2016 hire Woody Young

Banks will split as much as $400 million if deal happens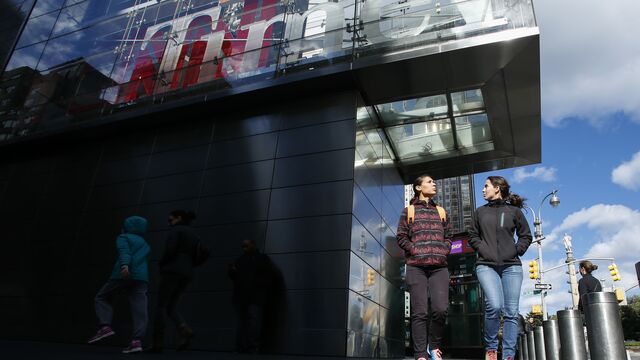 Perella Weinberg Partners, mostly missing from this year's market for mergers and acquisitions, landed the big one with AT&T Inc. The Wall Street dealmaker could earn a cut of an estimated $400 million in fees for advising the telecom giant in its purchase of Time Warner Inc.
That's thanks to Woody Young, 56, whom Perella Weinberg brought on this year from rival Lazard Ltd. Over the years, Young has worked with AT&T on a series of deals, including its $66.7 billion agreement in 2014 to buy DirectTV, and he brought the relationship with him to Perella Weinberg. Young was AT&T's lead banker on the Time Warner deal, according to people familiar with the matter.
The $85.4 billion takeover, the largest announced this year, still has regulatory hurdles to overcome. And while its completion would be lucrative to all firms involved, the one with the most to gain is the 10-year-old investment bank. Perella Weinberg ended last week as the 44th-biggest merger adviser on global transactions; by Monday, it jumped to No. 16.
"This will rattle around for a while, the fact that Perella Weinberg gets to be in a highly visible place, riding this elephant into town," said Roy Smith, a finance professor at New York University's Stern School of Business. "At least until the next big deal."
Client Count
The firm began with expectations boosted by the reputations of principals Joseph Perella, a pugnacious Wall Street veteran, and Peter Weinberg, a scion of the family that ran Goldman Sachs Group Inc. for years. But after advising on 33 completed deals in 2014, its client count this year tumbled to 17, according to data compiled by Bloomberg. The departure of a group of partners last year, resulting in legal action, also threatened to dim the New York investment bank's outlook.
Perella Weinberg declined to comment.
JPMorgan Chase & Co. and Bank of America Corp. joined AT&T's advising team more recently than Perella Weinberg, said people with direct knowledge of the transaction.
The two banks pledged to lend $40 billion to make the deal happen, with JPMorgan putting up $25 billion, according to a regulatory filing.
JPMorgan and Bank of America together could reap as much as $130 million for arranging the financing, and share a portion of an additional $120 million with Perella Weinberg for advising on the deal, according to consulting firm Freeman & Co. JPMorgan is the No. 3 deal adviser this year, while Bank of America is fourth.
Breakup Fee
Allen & Co., Citigroup Inc. and Morgan Stanley may split between $110 million and $140 million in fees for advising Time Warner, Freeman said. Citigroup is the year's No. 5 adviser, while Morgan Stanley is second, behind Goldman Sachs, according to data compiled by Bloomberg.
The breakup fee, paid to Time Warner if AT&T can't complete the transaction, is $500 million, according to a person with knowledge of the details.
Young, who studied philosophy at Cambridge University, advised SBC Communications Inc.'s $22 billion takeover of AT&T in 2005, then AT&T's purchase of BellSouth Corp. a year later, while he was at Lehman Brothers Holdings Inc. He left Lehman in 2007 and joined Merrill Lynch & Co. a year later. Merrill's then-President Greg Fleming called Young "one of the most respected and experienced bankers" in his industry. Young departed soon after Merrill was acquired by Bank of America.
Regulators have been cracking down on mega-deals, and if that continues it will make it tougher for firms like Perella Weinberg, according to Jeff Harte, a Sandler O'Neill & Partners analyst.
"There's some skepticism of the M&A cycle," Harte said. "People are looking at 2015, saying that was the peak of the cycle and we're kind of going downhill from there." 
Rising competitors include Blair Effron's Centerview Partners, which was co-founded by Robert Pruzan, an alum of a previous Perella firm, Wasserstein Perella Group; Paul Taubman's PJT Partners Inc., which went public last year; and Evercore Partners Inc., founded by former Deputy U.S. Treasury Secretary Roger Altman.
Legal Dispute
Perella Weinberg's top restructuring bankers left in 2015 to create Ducera Partners, which this year is the No. 22 deal adviser. Perella Weinberg fired those partners last year for seeking to go out on their own, and remains in a legal dispute over $60 million in compensation and whether the investment bank tarnished the bankers' reputations.
Ducera advised Monsanto Co. on one of the year's largest deals, a $66 billion takeover offer from Bayer AG.
Perella Weinberg has been investing to rebuild its team. It's hired bankers from Goldman Sachs, Wells Fargo & Co. and Morgan Stanley while negotiating to merge with Tudor Pickering Holt & Co., a Houston-based energy investment bank. The firm's headcount would increase to about 650 from 450 and Bobby Tudor, Dan Pickering, Maynard Holt and Chief Financial Officer Alexandra Pruner would become new partners of Perella Weinberg, according to people familiar with the possible transaction.
"The firms that will survive are the ones that transform themselves from being reliant on a handful of bankers to being a global franchise," said Ashley Serrao, an analyst at Credit Suisse Group AG. "Few will survive, there probably will be some consolidation, but the opportunity is definitely there for more of these firms to expand."
Before it's here, it's on the Bloomberg Terminal.
LEARN MORE