Airlines Back Third Heathrow Runway at the Right Price
by and
Carriers say government right to add flights at top hub

Concern surrounds funding regime for $20 billion project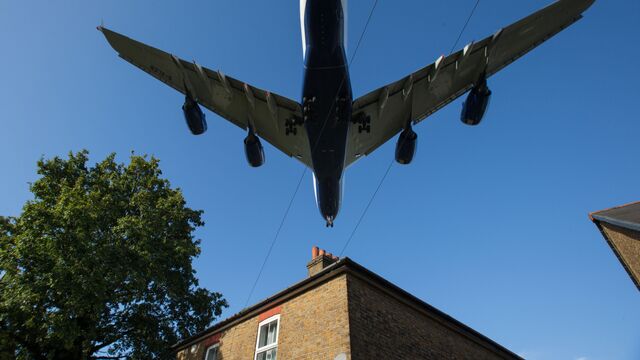 Britain's decision to build a third runway at London Heathrow airport by 2025 gives airlines what they have been demanding for decades, providing the 16 billion-pound ($20 billion) bill for lifting the hub's capacity to 135 million passengers a year doesn't fall on them.
While carriers were unanimous in welcoming Tuesday's government backing for the expansion of Europe's busiest airport, which has been operating close to the limits of its two runways for years, they questioned why the move took so long, whether it's irrevocable, and how the plan will be funded.
"The cost of this project will make or break it," said Willie Walsh, chief executive officer of British Airways parent IAG SA. "Heathrow is the world's most expensive hub airport so it's critical that new capacity is affordable." It would also be inappropriate for Spanish builder and Heathrow Airports Ltd. investor Ferrovial SA to win construction work, he told Bloomberg Television.
EasyJet Plc, the second-biggest U.K. airline after BA, said it would like to commence flights from Heathrow once the runway is built, so long as the airport provides "the right charging structure and the right infrastructure." The carrier had backed Heathrow even though its biggest base is at London Gatwick, which saw its own proposal for a second runway rejected.
On announcing the runway decision, U.K. Transport Secretary Chris Grayling sought to assuage airlines' cost concerns by saying Heathrow should "aim should be to deliver a plan for expansion that keeps landing charges close to current levels," without proposing a cap on fees.
'Runway Tax'
Grayling said in Parliament that the project "must be delivered without hitting passengers in the pocket," adding that the government has approved "not expansion at any cost, but the right scheme at the right price."
Heathrow's original funding proposals would amount to a "runway tax" levied against users, according to previous comments from British Airways, which has argued that the work should be funded by shareholders which include Madrid-based Ferrovial with 25 percent, a Qatari investment fund with 20 percent, the Singapore government and China Investment Corp. Heathrow CEO John Holland-Kaye said he envisages a "flat" charging regime going forward.
The government should also scrap an air passenger duty tax that burdens the U.K.'s carriers, BA has said, especially in light of the nation's June 23 vote to quit the European Union, which led to a slump in the pound that threatens to curb the appetite of Britons for foreign travel.
For British Airways, the availability of dozens of takeoff and landing slots on the third runway will be something of a double-edged sword. While the airline will be able to add frequencies to its busiest destinations and open up a raft of new routes, the value of the slots it currently controls will also diminish and global competitors will gain easier access.
Optimistic
Walsh said existing slots with "extremely high prices" will be devalued by the new runway, though IAG itself doesn't include their value on its balance sheet unless they were purchased rather than inherited.
The CEO said he's now more optimistic than at any time in the past that the landing strip will get built, while suggesting it may not open until after 2025. Holland-Kaye said in an interview that the first ground will be broken in 2021 and that target dates will be met.
Craig Kreeger, CEO of BA's great rival Virgin Atlantic Airways Ltd., said in a statement that he applauded the government decision, while adding that the runway project represents a "once in a generation opportunity to radically transform airline competition." The "new capacity must be allocated in a way that brings more choice, better service and lower fares." he said.
Opposition to the expansion of Heathrow on the grounds that it will impact many more people than growth at Gatwick, which is located in more open countryside, remained as vehement as ever following the announcement. Local councils, campaign groups and some lawmakers immediately promised to frustrate the planning process for the new landing strip at every turn.
'National Consensus'
Heathrow said in a statement that a "national consensus" had emerged in favor of the third runway, citing endorsements from airlines and a raft of business groups spanning the the Confederation of British Industry to local chambers of commerce. Gatwick said it was "disappointed" with the government announcement and that Heathrow's expansion plan is not deliverable, adding that it "ready to proceed when the time comes."
Grayling said in his comments to Parliament that a decision to enshrine the proposals in a so-called national policy statement to be published next year and to engage in wide-ranging public consultation would not slow down the runway project but ultimately help it clear remaining obstacles.
From an industrial point of view the case for expanding Heathrow has always been clear: concentrating flights and passengers at a single mega-hub makes many more routes viable than if those services and people were spread between two similarly sized airports, as would have been the case if Gatwick had got the nod to expand from one runway to two.
No Sympathy
For Heathrow, the government ruling presents a chance to stem the loss of crucial transfer traffic to rival European hubs before the damage becomes permanent. While Paris Charles de Gaulle, Frankfurt -- which have four runways apiece -- and Amsterdam -- with six -- have added flights and destinations, none have so far managed to match Heathrow. The U.K. hub lifted passenger numbers to 75 million last year, mainly through the addition of bigger jets such as the Airbus Group SE A380, for which it's the biggest base outside Dubai.
Ryanair Holdings Plc, Europe's biggest discount carrier, said the expansion of U.K. capacity is welcome but that the government should also have backed the expansion of Gatwick and its own base at London Stansted to meet travel demand for decades to come. Fares will inevitably rise at Heathrow and will gain elsewhere as a consequence, CEO Michael O'Leary said on Bloomberg TV.
"Today's decision, which implies that Heathrow can build a third runway at the expense of Gatwick and Stansted, will simply encourage this Spanish-owned monopoly to yet again waste billions on gold-plated expensive facilities, and game the regulatory system with higher airport fees and air fares," he said.
O'Leary said he had little time for those opposing Heathrow's expansion because of the environmental impact, saying people living close to the 70-year-old airport have always been well aware of the likelihood of a new runway being built.
Before it's here, it's on the Bloomberg Terminal.
LEARN MORE