markets
Weak South African Economy Muddies Budget as Downgrade Looms
By , , and
Narrowing of fiscal shortfall may be delayed, surveys shows

Economy to expand at slowest pace since 2009 recession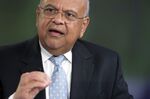 A sluggish economy and weak revenue mean South African Finance Minister Pravin Gordhan may fail to narrow the budget deficit as quickly as he pledged, putting the nation's credit rating at risk of a downgrade to junk.
Gordhan will present his mid-term budget on Wednesday and while he projected in February this year's fiscal deficit would be 3.2 percent of gross domestic product, the shortfall may rather be 3.4 percent of GDP, according to the median of 15 economist estimates compiled by Bloomberg. The deficit will probably only narrow to 3 percent of GDP by 2019, well off the 2.4 percent the National Treasury had targeted, according to the Bloomberg survey.

Low commodity prices, sluggish global demand and the worst drought in more than a century have weighed on output and boosted inflation in Africa's most-industrialized economy, while policy uncertainty and political turmoil have pushed business confidence to a three-decade low. The nation is at risk of losing its investment-grade credit rating as S&P Global Ratings and Fitch Ratings Ltd., which put South Africa at the lowest investment grade, are due to review their assessments by the end of the year.
"If there is a delay to their fiscal consolidation, from a strategic perspective, it would be quite fatal, because that would then pave the way for a downgrade," Iraj Abedian, chief executive officer at Pan-African Investments and Research Services in Johannesburg, said by phone Monday. "Tax revenues haven't kept their targets, at the same time government expenditure has hardly been cut back in any area."
Government Debt
While both S&P and Fitch kept their ratings at BBB- in June, they warned that the government must take decisive steps to bolster growth and quell policy uncertainty to avoid future downgrades. Fitch said a failure to stabilize government debt, which Gordhan projected earlier will peak at 51 percent of GDP next year, could trigger a negative rating action.
Former Finance Minister Nhlanhla Nene increased income taxes for the first time in two decades last year and in February, Gordhan reduced the government's expenditure ceiling, limiting the compensation budgets of government departments, to help narrow the budget deficit. There was a 4.5 billion-rand ($323 million) shortfall in revenue collected in the first three months of the fiscal year, Johannesburg-based Business Day reported in August, citing Tom Moyane, the tax agency commissioner.
"Given the state of the economy and the impact this has on tax revenues, he would probably not be able to avoid making an adjustment to get the deficit larger," Christie Viljoen, an economist at KPMG LLP in Cape Town said, referring to Gordhan.
South Africa's economy will probably expand 0.4 percent this year, which would be the slowest expansion since a 2009 recession, according to the median of 24 economist estimates compiled by Bloomberg. Whereas Gordhan forecast in February growth will accelerate to 2.4 percent by 2018, the rate will probably increase to only 1.8 percent, the survey shows.
Tax Announcements

While announcements on taxes are usually made in the main budget in February, Gordhan may hint at plans to increase revenue in his fiscal framework for the next three years. The value-added tax rate has been unchanged at 14 percent since 1993 and the corporate tax rate, which is 28 percent, last changed in the 2009 fiscal year.
"It's possible that the tax burden could rise over the next fiscal year," Goolam Ballim, chief economist at Standard Bank Group Ltd. in Johannesburg, said by phone. "I do think there will be a concerted signal by the minister to convince observers that we are going to adopt very 'iron clad' ceilings to contain further slippage."
(
Adds inflation-rate increase in third paragraph.
)
Before it's here, it's on the Bloomberg Terminal.
LEARN MORE