U.S. ELECTION WRAP: Trump Slams Polls as Clinton Eyes Transition
With 15 days to go, Donald Trump blasts "phony" polls as Hillary Clinton enjoys a strong lead in many key surveys.
By and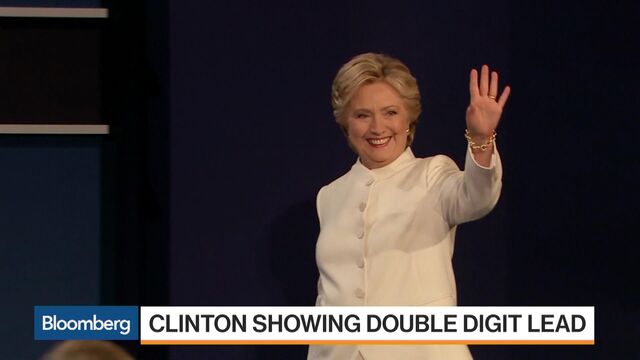 Donald Trump is attacking "phony" polls and claiming he leads in key battlegrounds, including Florida and Nevada, while telling supporters he still needs to find four electoral votes to help clinch a victory on Nov. 8.
"Polls show us close in New Hampshire, Colorado and Pennsylvania," Trump said in e-mail to backers asking for contributions of between $5-$100. "Winning just any one of those states would lead us to victory"
Trump is denouncing "dark" polls—which he contends are part of a push by Democrats and the media to suppress voter turnout—as RealClearPolitics shows Hillary Clinton ahead by 6.2 points in Pennsylvania, 8 points in Colorado and 7.2 points in New Hampshire

Overall, the political tracking site has Clinton with 262 of the 270 electoral votes needed to win the White House vs 126 for Trump, leaving 150 up for grabs, including for Florida, Nevada, Ohio, North Carolina and, as of this weekend, Texas

Clinton is ramping up efforts to help fellow Democrats, especially Senate candidates, while spending "much of her time behind-the-scenes putting together a White House team," CNN's Jeff Zeleny reported
Clinton has started reaching out to Democrats and Republicans on Capitol Hill, part of goal to send signal that she seeks to work with GOP lawmakers turned off by Trump, people familiar with the talks said: CNN

Clinton is close to a final decision on top White House advisers, including her possible chief of staff; Ron Klain, who served as chief of staff for Vice President Joe Biden, is "high on the list of prospects," Zeleny wrote

As of Monday afternoon, Clinton has an 85.7% chance of winning the presidency if the election were held today, according to FiveThirtyEight's constantly shifting forecast; the latest ABC News tracking survey shows Clinton leading her Republican rival by 12 points nationally, with 50% of likely voters vs 38% for Trump
Clinton leads Trump 49%-44% in a new national CNN/ORC poll of likely voters
Not all national polling news shows Trump behind, an IBD/TIPP presidential tracking survey Monday shows Clinton and Trump in a dead heat at 41% each in a four-way race

In a two-way contest, Trump and Clinton stand at 42%, with Trump slightly edging Clinton, 42.3% to 42%
The same poll on Sunday had Trump up ~2 points nationwide, 42.6% to Clinton's 40.8% in a 4-way match-up; he had an almost 1-point lead in a two-way race, 43.2% to 42.3%

FLORIDA, NEVADA & TEXAS
"I think we are going to win Florida big," Trump said at a campaign stop in the Sunshine State, where 50 counties began early in-person voting Monday

Of the state's almost 13 million registered voters, ~1.2 million Floridians have already mailed in ballots: NBC News
Clinton has a 69.2% chance of taking Florida's 29 electoral votes vs Trump's odds of 30.8%, according to FiveThirtyEight's forecast model based on polls as well as the economy and historical data

Trump campaigned in Florida on Monday and both he and Clinton will be stumping in the state on Tuesday
In Nevada, where President Obama campaigned for Clinton and down-ballot Democrats on Sunday, early voting started on Oct. 22 with a few thousand more ballots cast than on the first day in 2012, Washington Post reported

As much as 60% of the vote will be cast before Nov. 8 in Nevada; Democrats have dominated early voting for several cycles, according to the Post
See ABC-TV affiliate KTNV's Nevada Early Voting Blog

The nonpartisan Cook Political Report has Nevada as "Lean Democrat," Florida in the "Toss Up" column and Texas as "Solid Republican"
In contrast, RealClearPolitics deemed the Lone Star State as too close to predict after the release of a CBS tracking poll on Sunday showed Clinton down just 3 points

Texas, which last voted for a Democratic presidential candidate in 1976, offers the second biggest prize, with 38 electoral votes, after California with 55

ENDORSEMENTS

NORTH CAROLINA & UTAH
The presidential race remains tight in North Carolina, with Clinton at 47% and Trump at 46%, essentially unchanged from two months ago, according to a new Monmouth University poll
Meanwhile, Democrats in the Tar Heel State are betting that conditions are right to retake a crucial Senate seat, Bloomberg's Arit John reported
Mormon support could lead presidential contender Evan McMullin to victory in the state, Bloomberg's Terrence Dopp wrote

A win would make McMullin the first independent presidential candidate since 1968 to get on the board with an electoral win

ON THE TRAIL
Democratic Sen. Elizabeth Warren joined Clinton in New Hampshire, where she played on Trump's "nasty woman" remark from the third presidential debate

"Get this, Donald -- nasty women are tough. Nasty women are smart. And nasty women vote," Warren said. "And on November 8, we nasty women are going to march our nasty feet to cast our nasty votes to get you out of our lives forever"

Trump in Florida on Monday told the crowd he's winning and called "much" of the media possible "even more crooked" than Clinton

"Without the media, Hillary Clinton would be nothing. They're disgraceful," Trump said while criticizing his Democratic opponent on campaign finance and e-mails
Trump also commented on a Wall Street Journal report that the political organization of Virginia Gov. Terry McAuliffe, a Democrat with ties to Bill and Hillary Clinton, gave almost $467,500 to the state Senate election campaign of Jill McCabe, wife of an official at the FBI who later helped oversee the investigation into Hillary Clinton's e-mail use
Virginia Democratic Party donated additional $207,788 to McCabe's campaign in form of mailers: WSJ

"It's absolutely disgraceful," Trump said

AT&T-TIME WARNER DEAL
Trump over the weekend broke with Republican orthodoxy by saying he would block AT&T's planned ~$85.4 billion purchase of Time Warner, saying such deals leave too much power concentrated among too few companies

Clinton "certainly thinks regulators should look at" the proposed deal, campaign spokesman Brian Fallon told reporters
Clinton in general has been critical of big mergers and has called for "reinvigorating" antitrust enforcement
See full Bloomberg story on antitrust concerns here 

WIKILEAKS
The Clinton campaign's recent attacks on Trump for his comments about a beauty queen's weight were months in the making, according to an opposition research report uncovered in e-mails released by WikiLeaks on Sunday, Fox News reported
New York Times' Jim Rutenberg wrote on "WikiLeaks' Gift to American Democracy"
WikiLeaks is probing the limits of full transparency with its e-mail revelations linked to the Clinton campaign, AP reported

ETC

CONGRESSIONAL ELECTIONS
SENATE RACES (Republicans hold 54-46 majority)
AZ: Republican Sen. John McCain is "improbably well ahead" of Democratic Rep. Ann Kirkpatrick in the bid to hold onto his seat and Democratic strategists "continue to privately say this race is not among their top targets" even as Clinton is competitive with Trump for the state's electoral votes, the Washington Post reported
IN: National Republican Senatorial Committee released TV ad saying Democratic ex-Sen. Evan Bayh "betrayed" Indiana by backing the "Wall Street bailout" and then made "simply unforgivable" actions of secretly meeting with executive from Apollo Global Management, Bayh's future employer

Ad refers to Bayh's vote in 2008 for $700b financial-market rescue package; Senate passed it 74-25 with votes from 34 Republicans including Mitch McConnell, Dick Lugar, McCain
Rep. Todd Young is Republican nominee
LA: ESAFund, a super-PAC backing Republican state Treasurer John Kennedy, released TV ad linking Republican Rep. Charles Boustany to Clinton and saying he "voted to fund Barack Obama's Syrian refugee program"

Ad refers to 2009 letter Boustany co-wrote with two Democrats promoting "two-state solution" to Israeli-Palestinian conflict; they also said "we strongly commend" Obama picking Clinton as Secretary of State
Ad cites Boustany's Dec. 2015 vote for $1.1t omnibus spending law, which he and most Republicans backed in part because it repealed a ban on crude oil exports; measure didn't close off access for Syrian refugees seeking U.S. political asylum
Boustany released TV ad describing Kennedy as a "publicity hound" and "career politician" who backed John Kerry for president in 2004 when Kennedy was a Democrat
Kennedy, Boustany among top candidates in Nov. 8 all-party primary unlikely to produce majority-vote winner; Republican Rep. John Fleming and Democrats Foster Campbell and Caroline Fayard also competing for spot in Dec. 10 runoff
MO: Republican Sen. Roy Blunt's campaign aired TV ad saying Democratic Sec. of State Jason Kander "will be a blank check for Clinton's liberal agenda" if she's elected president
NC: Republican Sen. Richard Burr led Democrat Deborah Ross 49%-43% in Monmouth University Poll conducted Oct. 20-23 of 402 likely voters (+/- 4.9 ppts)
NH: Democratic Gov. Maggie Hassan said today Republican Sen. Kelly Ayotte is "looking out for her own political interests" as she spoke ahead of Clinton and Massachusetts Sen. Elizabeth Warren at Manchester political rally
NV: Obama promoted Democrat Catherine Cortez Masto and "railed against" Trump and Republican Rep. Joe Heck in a "fiery, 30-minute speech" in Las Vegas, the Las Vegas Sun reported

Cortez Masto released Spanish-language TV ad with footage of Trump advocating for a "deportation force," then segues to attack Heck's votes against Deferred Action for Childhood Arrivals (DACA) program shielding children of undocumented immigrants from deportation
Ad cites four votes, including Heck's support for Jan. 2015 amendment to homeland security spending bill to block Obama's executive actions on immigration
Cortez Masto and Heck are vying to succeed Democratic Sen. Harry Reid, who isn't seeking re-election
PA: Democrat Katie McGinty's campaign released TV ad emphasizing importance of protecting Social Security and Medicare, as McGinty says her mother relied on Social Security in retirement after working as restaurant hostess

National Horizon, a Republican super-PAC, released TV ad criticizing McGinty for backing the "dangerous" Iran nuclear deal
McGinty and Republican Sen. Pat Toomey will debate tonight at 7 pm eastern time at Temple University
HOUSE RACES (Republicans hold 246-186 majority)
CA-10: Democratic Congressional Campaign Committee in TV ad attacked Republican Rep. Jeff Denham for supporting Trump and said Democrat Michael Eggman "will stand up for Central Valley families, not millionaires"
CA-49: Republican Rep. Darrell Issa in statement maintained Obama "continues to deny accountability for the serious scandals that happened under his watch where Americans died overseas and veterans have died here at home"

Issa, in close race against Democrat Doug Applegate, responded to Obama's comments at DCCC fundraiser yesterday in La Jolla that Issa's "primary contribution" in Congress has been to "waste taxpayer dollars on trumped-up investigations that have led nowhere"
Obama said Issa now "touting his cooperation on issues with me" is "definition of chutzpah"
"I've worked with the administration on good legislation where it was possible, called out wrongdoing wherever I saw it and will continue to do so," Issa said
FL-07: Republican Rep. John Mica received campaign donations today from nine members of the DeVos family associated with direct-seller Amway Corp., according to Federal Election Commission filing

Mica facing serious challenge from Democrat Stephanie Murphy in district that added more Democrats in a court-ordered remap
IN-02: Republican Rep. Jackie Walorski's campaign released TV ad saying Democrat Lynn Coleman's support for "more spending" and "higher taxes" is "wrong for Indiana"

Walorski seeking third term in Republican-leaning district in South Bend area
ME-02: Democrat Emily Cain's campaign released TV ad featuring three firefighters criticizing Republican Rep. Bruce Poliquin for not co-sponsoring legislation to permanently extend health benefits for 9/11 emergency responders

Poliquin voted in Dec. 2015 to renew the health program as part of a $1.1t omnibus appropriations agreement
Poliquin and Cain in rematch of 2014 race that Poliquin won 47%-42% in mostly rural district
MN-02: Democrat Angie Craig and DCCC released TV ad of military veteran praising Craig for developing a veterans hiring program as an executive at St. Jude Medical

Craig facing Republican Jason Lewis, a former talk-radio host, for suburban Twin Cities district of retiring Republican Rep. John Kline
MN-08: Democratic Rep. Rick Nolan and Republican businessman Stewart Mills debated yesterday on KSTP-TV, the ABC affiliate for the Twin Cities; watch it here

Nolan emphasized need for more jobs with "living wages and benefits," protections for Social Security and Medicare, and stopping "bad trade deals" like the Trans-Pacific Partnership
Mills repeatedly linked Nolan to Clinton on gun and energy policies and Iran nuclear deal, saying Nolan's "value systems match up perfectly with Hillary Clinton and the Washington, D.C. elite"
Nolan, Mills in rematch of 2014 race that Nolan won by <2 ppts in northeastern district that includes Duluth and Brainerd
NV-03: Ex-Alaska Gov. Sarah Palin's PAC made $5k donation to Republican businessman Danny Tarkanian last week, according to FEC filing

Tarkanian running against Democrat Jacky Rosen for Heck's competitive district in metropolitan Las Vegas
VA-10: Democrat LuAnn Bennett and DCCC released TV ad tying Republican Rep. Barbara Comstock to Trump on immigration and gun policies

Comstock, who's seeking second term, and Bennett in close race in upper-income district that runs from outer Washington D.C. suburbs to West Virginia line
WA-07: Democratic state Rep. Brady Pinero Walkinshaw's campaign released TV ad of several women criticizing Democratic state Sen. Pramila Jayapal for missing votes

Winner will succeed retiring Democratic Rep. Jim McDermott in staunchly liberal Seattle district
Jayapal led Walkinshaw 42%-21% in top-two primary in Aug.
Before it's here, it's on the Bloomberg Terminal.
LEARN MORE