Spend
This $495 Handbag Honors Basquiat and an Iconic 1983 Rap Battle
Half the proceeds from sales of a new purse from Alice + Olivia will go to the Council of Fashion Designers of America to help promote young talent.
By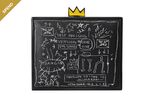 Here's one way to carry history: Stacey Bendet, the designer behind Alice + Olivia LLC, has created a clutch based off the graphics that Jean-Michel Basquiat created in 1983 to cover the vinyl recording of a 10-minute rap battle between American recording artists K-Rob and Rammellzee.
Basquiat, an early developer of hip-hop sounds that have influenced everyone from the Wu-Tang Clan to the Beastie Boys and Jay-Z, orchestrated the foundational recording. It was originally produced as a one-off run of 500 records from Tartown Records. Even though you don't hear Basquiat's voice on the track, his creative mind runs through the whole thing. It's a major holy grail item for music aficionados anywhere—originals cost $1,500 online, if you can find them.
Or just buy the $495 clutch.

"Basquiat's work feels so completely modern," Bendet said regarding her inspiration. "You can look at it, and it could have been painted today. He was the beginning of the graffiti era that is still so fresh right now."
Bendet created the bag with the permission and advice of the Basquiat Estate, which helped her develop a full 17-piece collection of clothing and accessories. Prices in the group run from $150 to $1,295; half of the proceeds from the collection will go to the Council of Fashion Designers of America to help promote young talent. (Bendet has done this sort of work before. Last year she partnered with Domingo Zapata on a ball gown, skirt, and leather bustier, among other items. Lola Schnabel and Elizabeth Graeber are also pet collaborators.)
The Basquiat Beat Bop Clutch is made from cow leather with an iron frame. It's available at all Alice + Olivia boutiques and on www.aliceandolivia.com.
Before it's here, it's on the Bloomberg Terminal.
LEARN MORE