The NBA Attacks the Tiny-Player Problem for Mobile Viewers
Facial expressions and other subtleties that HDTVs have made a standard part of the viewing experience are often murky writ small.
By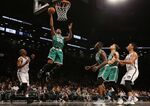 Watching sports on a mobile phone is like watching TV through a cathode-ray tube. It feels like old technology.
It's easy enough to follow the basics, but no matter how fine the screen resolution, the facial expressions and other subtleties that high-definition televisions have made a standard part of the viewing experience are often murky. Leagues and broadcasters usually supply the same feed to customers, whether they're watching on a tablet or smartphone or on a 50-inch plasma-screen HDTV.

The National Basketball Association is trying something new this season for customers of League Pass, its out-of-market live game subscription service. It will announce today that subscribers who use smartphones or tablets will have a "mobile view" option starting with Tuesday's season opener. Mobile view will get in closer to the action than the standard TV feed can. Check out the difference above and below.
NBA Digital, which manages the league's digital assets in a partnership with Turner Sports, will have a dedicated camera at every game to supply the new mobile feed. "All 29 venues will have a camera set up literally right next to the traditional-view cameraman," said Mark Johnson, senior vice president for digital at Turner Sports.

While the TV camera operator captures the traditional wide sweep of the court, the mobile-view operator will be zooming in tighter around the ball. League Pass customers can switch between the mobile and standard views with a couple of taps on the screen. The league is betting that older fans might prefer to see the open player standing on the far side of the floor even if it means missing out on the expression on a defender's face. "My guess is that the older demographic is not looking for a change, but you'll see the younger demographic embrace it," Johnson said.
Leagues and sports broadcasters have experimented with alternative camera options for online viewers. The National Hockey League, for instance, has used GoPro cameras to provide a player's-eye view for some events. ESPN's broadcast of college football's national championship game has included options for online viewers to watch from the perspective of dozens of cameras stationed around the field.
But the NBA's dedicated mobile camera is a first. "It's a step forward in that they are making an effort to shoot the game in a way that it will be portable to a smaller screen," said Brandon Costa, senior editor at Sports Video Group, an association of production professionals. 
Last season the NBA tested its mobile-optimization plans by posting highlight videos on social media in both traditional and close-up views and tracking how often fans liked, shared, and commented on the different versions. "By a factor of 2 to 1, fans preferred the mobile-optimized highlight package," said Melissa Rosenthal Brenner, the NBA's senior vice president for digital media. Most users access social media on a mobile device; the league took that as evidence that fans prefer tighter views on smartphones and tablets, which is how 70 percent of League Pass customers watch games.
Mobile view continues the NBA's efforts to adapt its live game options for a new generation of customers. Last week the league announced it would be offering a weekly virtual-reality game to League Pass subscribers. A year ago it began offering the service on single-team and single-game bases in addition to the leaguewide, season-long package. The mobile-view option will be available to customers whether they buy the full League Pass ($199.99), a single-team subscription ($119.99), or a single game ($6.99).
Before it's here, it's on the Bloomberg Terminal.
LEARN MORE