Tata Group in Turmoil After Chairman's 'Bizarre' Ousting
By , , and
Ratan Tata returns as interim chairman to fill in for Mistry

Mistry had been pushing group to be more fiscally prudent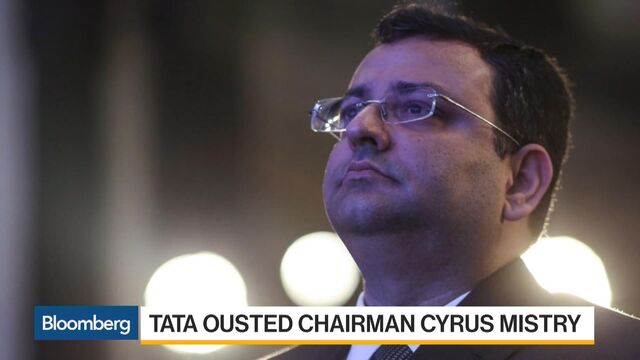 Tata Group abruptly ousted its chairman of almost four years in a rare display of discord atop India's biggest conglomerate, casting the specter of a leadership vacuum at the $100 billion coffee-to-steel business empire.
Chairman Cyrus Mistry, 48, was replaced by his 78-year-old predecessor at a board meeting on Monday, the group's holding company said in a statement. Ratan Tata, a scion of the founding family, will serve as the interim chief and take part in the search for a more permanent successor, according to the statement from Tata Sons Ltd.
The move signals the end of Mistry's push to transform Tata Group into a more prudent enterprise than the globetrotter that bought Jaguar Land Rover and steelmaker Corus Group Plc under Ratan Tata. In recent years, the Indian conglomerate refinanced loans and sold assets to help tackle debt levels that had bloated to more than $30 billion.
"This is just too bizarre that the chairman of the biggest industrial group in
the country has been removed in such an arbitrary manner," Gaurang Shah, vice president at Geojit BNP Paribas Financial Services Ltd. in Mumbai, said by phone. "The Tata Group owes an explanation as to why such a sudden decision has been taken."
Most group units fell in Indian trading on Tuesday, though some Tata companies such as Tata Teleservices Maharashtra Ltd. climbed as much as 7.7 percent. Tata Consultancy Services Ltd., the group's largest subsidiary, was down 0.7 percent in early Mumbai trading.
For a QuickTake Q&A on Tata Group, click here.
Of the nine Tata Sons board members, six voted to oust Mistry, two abstained, while Mistry opposed the decision, according to people with knowledge of the matter, who asked not be identified because the information was private.

Tata Sons also plans to disband Mistry's advisory council, the people said. A spokeswoman for Tata Sons declined to comment beyond the company's two-paragraph statement. Ratan Tata didn't respond to an e-mail seeking comment. Attempts to reach Mistry weren't successful.
To read a Gadfly column on the Tata ouster, click here
Ratan Tata multiplied group revenues to $100 billion from 100 billion rupees ($1.5 billion) in 1991. He also increased debt 11-fold in his final 10 years as he expanded abroad, acquiring European steelmaker Corus Group Plc and marquee brands such as Land Rover, Jaguar, Tetley tea and New York's Pierre hotel.
Mistry was unwinding some of the expansion. Tata Steel Ltd. said in March that it would consider selling its U.K. operations after years of losses. Tata Power Ltd., which posted a full-year profit in March 2015 after three years of losses, plans to sell its stakes in Indonesian coal mines. Tata Communications Ltd. and Indian Hotels Co. are among other units looking to offload overseas assets to help pare debt.
Tata Sons is also fighting a legal battle with NTT Docomo Inc., its estranged partner in an Indian telecom venture. Docomo is seeking to enforce a London Court of International Arbitration order, asking Tata Sons to pay $1.17 billion for failing to uphold a contract. Docomo has said it will pursue its "enforcement options against Tata in multiple jurisdictions."
To read more about why India's making life hard for Docomo: QuickTake Q&A
Tata has deposited $1.17 billion with the Delhi High Court to show its intent to Docomo, subject to Indian rules.
"Essentially, the board has lost confidence in his leadership, which could mean that his style of leadership and certain strategic decisions do not have the support of the board," said Kavil Ramachandran, executive director of the Thomas Schmidheiny Centre for Family Enterprise at the Indian School of Business. "Given the composition of the board, it must have acted to uphold the unique institutional identity and values of the group built over five generations."
The group, founded in 1868, employs more than 660,000 people and has 29 listed units with a combined capitalization of more than $100 billion.
Back at the closely held holding company, Tata Sons created a panel comprising of Ratan Tata, Venu Srinivasan, Amit Chandra, Ronen Sen and Kumar Bhattacharyya to find a new chairman within four months, according to the statement.
Tata Trusts
The board made the leadership change after getting a recommendation from Tata Sons' principal shareholder, which is Tata Trusts, according to a trust spokesman. Mistry will continue to be a director at individual group units, he said. Ratan Tata is chairman of the two main trusts, according to Tata Sons website.
"This is just too shocking," said G. Chokkalingam, managing director at Mumbai-based Equinomics Research & Advisory Pvt. "The Tata Group is going through a lot of problems and most of it was either inherited, such as Tata Steel or Tata Motors, or due to adverse economic conditions like the IT business. It is very difficult to attribute it to leadership. Therefore it is shocking."