Samsung Shareholders Advised to Block Jay Y Lee's Nomination
By
Heir apparent due to face shareholder vote this week

Proxy-advisor Sustinvest writes to Samsung investors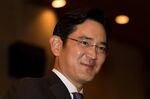 A South Korean investment advisory firm is recommending shareholders of Samsung Electronics Co. vote against the nomination of Vice Chairman Jay Y. Lee to the company's board of directors, in what may be the first opposition to the heir-apparent's ascension.
Sustinvest Inc., a Seoul-based proxy advisory firm, said in a letter to shareholders that Lee isn't qualified to be on the board because he benefited from "inter-affiliate" transactions at the Samsung group. Such transactions are common among South Korea's conglomerates but have come under increasing scrutiny because they are viewed as profiting insiders.
Lee, 48, who is expected to succeed his hospitalized father and chairman Lee Kun-hee, was nominated to the board in September. Samsung shareholders are scheduled to vote on the nomination Thursday. The meeting comes while the company faces the fallout from the collapse of its Galaxy Note 7 smartphone after reports the devices were heating up and catching on fire. U.S. proxy advisers Glass Lewis & Co. and Institutional Shareholder Services Inc. split on their view of Lee's nomination.
Sustinvest, which recommended against last year's merger of Samsung C&T and Cheil Industries, said in the letter that Lee has been a "beneficiary" of inter-affiliate transactions, which "undermine corporate value because they exclude the possibility of better deals."
Samsung said in an e-mail that Lee's "election to the board will allow him to more actively participate and take formal responsibility in the company's important decision making, contributing to creating long-term, sustainable value for all of our stakeholders."
The opposition to Lee's board nomination comes as the National Pension Service, Samsung Electronics' biggest shareholder, said the country's largest pension fund would vote for Lee's directorship.
In the U.S., Samsung also faces some opposition. In an Oct. 7 report, Glass Lewis recommended that shareholders vote against Lee's election because the current board "does not have a sufficient number of independent directors." The nominating committee should be held responsible for failing to put forward a sufficient number of independent directors, Glass Lewis said in the report.
ISS, however, advises shareholders to support Lee. While he has become more involved in the Samsung group of companies, Lee hasn't taken any official board positions, which means shareholders are less able to hold him accountable, ISS said in an Oct. 11 analysis. Adding Lee to the Samsung Electronics board would give him formal responsibilities to direct strategy and provide shareholders with "direct say on his reappointment," according to the report.
— With assistance by Jing Cao
Before it's here, it's on the Bloomberg Terminal.
LEARN MORE