Loonie Erases Loss as Poloz Says Best Plan to Wait and See
by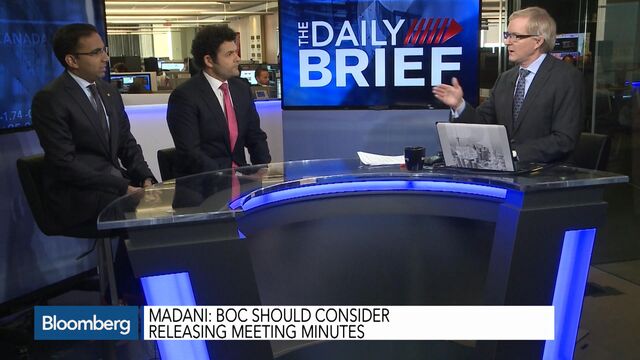 The Canadian dollar erased losses after Bank of Canada Governor Stephen Poloz said the central bank is taking a wait-and-see approach to dealing with the country's economy.
The currency strengthened from a seven-month low as Poloz testified to the House of Commons in Ottawa that "our best plan right now, we think, is to wait for the next 18 months or so." The dollar weakened again after Poloz clarified he wasn't referring to monetary policy.
"My statement concerning the need to wait 18 months was in reference to the time frame over which the output gap is expected to close, as noted in the Bank's October Monetary Policy Report," Poloz said in an e-mailed statement following his testimony. "It was not intended as a reference to the Bank's monetary policy."
Last week, he said the BOC "actively" considered adding stimulus to prop up a sluggish economy after it held its key interest rate unchanged at 0.5 percent.
"There appears to have been an inconsistency in the messaging from the bank over the past week, or at least the market's interpretation of the bank's messaging," said Shaun Osborne, chief foreign-exchange strategist at Bank of Nova Scotia in Toronto.
The currency rose 0.4 percent to C$1.3286 per U.S. dollar at the 5 p.m. close in Toronto after weakening as much as 0.5 percent to the lowest level since March. It weakened again following the clarification.
The loonie has declined 1.2 percent against the greenback this month, still the the second-best performer among Group-of-10 currencies.
The chances for monetary easing in January fell to 16 percent from 24 percent on Friday, according to overnight index swaps data compiled by Bloomberg. The yield on Canada's two-year government bond rose four basis points to 0.56 percent, after declining in the previous five days.
Before it's here, it's on the Bloomberg Terminal.
LEARN MORE