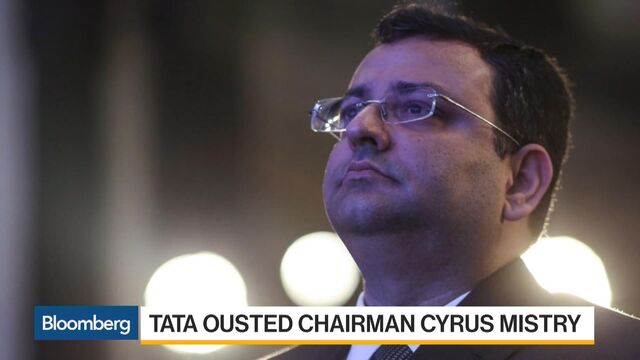 A power struggle at India's largest conglomerate, Tata Group, has moved to the courts from the boardroom. A suit has been filed to decide the group's fate following a battle sparked by the unexpected ouster of Cyrus Mistry as chairman of its controlling company and the reinstatement of his predecessor, Ratan Tata. From table salt to luxury Jaguar sedans, the businesses under the 148-year-old group account for about 5 percent of India's gross domestic product.
1. Who ousted Mistry, and why?
The board of Tata Sons, which controls the group's major companies, removed Mistry and appointed Ratan Tata as interim chairman on Oct. 24. Directors later cited a "trust deficit" as Mistry, who was handpicked for the role by Ratan Tata, failed to address issues they had raised. Mistry's near four-year tenure, they said, was marked by "repeated departures" from the group's culture and ethos. Mistry, who remains a Tata Sons director, was also accused of seeking to wrest control of the group's main operating companies. The directors of Tata Sons will meet on Feb. 6 to consider Mistry's ouster from the board.
2. What does Mistry say?
He was wrongfully dismissed and given no opportunity to defend himself. He says he was unfairly blamed for five unprofitable businesses he had inherited that together could face 1.18 trillion rupees ($18 billion) in writedowns. He accused Ratan Tata of constant interference, turning him into a "lame duck" chairman. His legal gripe, though, is about the way the group is run, including operations at Tata Trusts, a group of philanthropic trusts headed by Ratan Tata that accounts for about 66 percent of equity in Tata Sons. Mistry's family owns 18.5 percent.
3. What does Ratan Tata say?
In a letter to shareholders, the 78-year-old patriarch said Tata Group had lost confidence in Mistry and was focused on growth through bringing in new leadership. Addressing Tata Chemicals shareholders in December, the interim chairman said there had been a "definite move" to damage his reputation and that of the group but that "truth would prevail."
4. How influential is Mistry?
Mistry is the 48-year-old son of billionaire Pallonji Mistry, whose family owns the Tata Sons stake. He became the first executive from outside the immediate Tata family to head the group in 2012 and went on to reverse some of the global expansion that Ratan Tata had pursued. He put the U.K. steel business up for sale, cut back on hotel properties overseas and sold stakes in Indonesian coal producers.
5. And what's he asking the courts for?
Not his job back. He filed a case at the National Company Law Tribunal seeking the appointment of an administrator to oversee the company's affairs -- and for Ratan Tata to be restrained from attending board meetings. His laundry list includes a request for a forensic audit, a halt to the issuance of new securities that dilute equity and a probe into the role of trustees of Tata Trusts. The legal battle, he says, is aimed at installing the "right governance framework" at the conglomerate. The next hearing is scheduled for Jan. 31.
6. His chances of success?

Courts are unlikely to get involved in deciding whether Ratan Tata kept meddling in the operating companies after handing over the reins, according to Bloomberg Gadfly's Andy Mukherjee. But bad publicity arising from the case might push the government into intervening in Tata Trusts, Mukherjee says, on the grounds that they have gone astray from their charitable mission. Such a scenario might benefit Mistry's family, which is the group's second-largest shareholder after Tata Trusts.
7. How long will Ratan Tata remain chairman?
Not as long as his first stint, from 1991 to 2012, when he boosted the group's revenue to $100 billion from about $1.5 billion. Tata, the great-grandson of the group's founder, is part of a selection committee tasked with choosing the next chairman by the end of February. Tata Consultancy Services Chief Executive Officer N. Chandrasekaran and Jaguar Land Rover head Ralf Speth are said to be in the running, as is Trent Chairman Noel Tata, a member of the founding family and Mistry's brother in law.
8. Is the dispute hurting Tata Group?
Shareholders at extraordinary general meetings held in December expressed their concern about the erosion of wealth that's occurred as the bitter public feud has played out. They appealed for an amicable resolution to the matter. Tata Group's more than 100 companies had combined revenue of $103 billion in the year through March and employ more than 660,000 people. Its 29 publicly listed companies include Tata Consultancy, Tata Motors (owner of Jaguar Land Rover), Tata Steel and Tata Power.
9. All sounds messy. Don't say there are more legal battles?
Oh yes. Britannia Industries Chairman Nusli Wadia (a Mistry supporter) has filed criminal and civil defamation suits against Tata Sons, which was instrumental in removing him as an independent director at three group companies. And Tata Sons slapped a legal notice on Mistry alleging that a petition before the company law tribunal by entities controlled by his family "deliberately" includes confidential data, business strategies and financial information related to Tata Sons, its group companies and joint ventures.
The Reference Shelf
— With assistance by Subramaniam Sharma, Candice Zachariahs, and Unni Krishnan
Before it's here, it's on the Bloomberg Terminal.
LEARN MORE