Goldman Tempers Earnings Outlook for Tech, Telecom Through 2018
There's still not much to look forward to.
by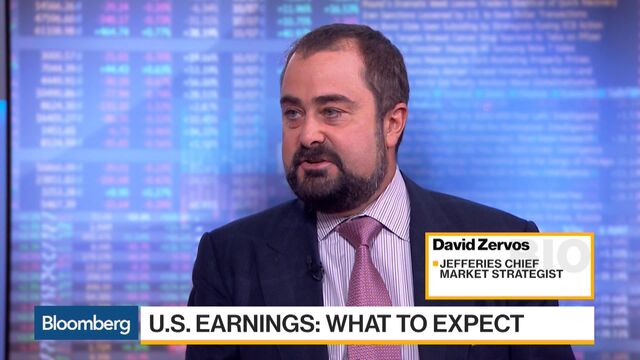 Earlier this month, Goldman Sachs Group Inc. issued a dire outlook for third-quarter earnings. Now the firm is darkening its prediction all the way through 2018. 
"Low interest rates and peaking margins constrain profit growth in information technology, financials, and telecom, and drive the reduction in our index-level earnings per share (EPS) forecast," the team, led by Chief Equity Strategist David Kostin, wrote Monday. "Financials and information technology, the two largest S&P 500 sectors based on EPS contribution, have both registered disappointing operating EPS growth in 2016 YTD."
Goldman's Kostin and his team now expect earnings to increase 5 percent this year, 10 percent in 2017, and 5 percent in 2018, with expected EPS at $105, $116, and $122, respectively. Before the new outlook, the bank predicted EPS to hit $110, $123, and $130 in those years.
HSBC Holdings Plc's global equity strategist, Ben Laidler, was also cautious on the market's earnings outlook, telling Bloomberg TV that current expectations are unrealistic. "My problem is the expectations for 14 percent [earnings] growth next year," Laidler said. "We've basically had flat earnings globally for the past five years, and all of a sudden with the same level of GDP growth, with fiscal spending which has frankly never been higher since the global financial crisis, with monetary policy which has never been more stimulative, somehow we think we're going to accelerate to 14 percent [earnings growth]."

The silver lining is that Goldman didn't lower its price targets for the S&P 500 in those time frames, continuing to expect the index to trade at 2100 by the end of this year, and 2200 in 2017 and 2300 in 2018. 

Much of that price growth is due to to corporate buybacks, though, not better earnings.
"We forecast S&P 500 firms will return more than $1 trillion to shareholders in 2016 with buybacks growing by 7 percent to $600 billion," Kostin and his team wrote. "Corporate buybacks continue to represent the primary source of demand for U.S. equities."
Before it's here, it's on the Bloomberg Terminal.
LEARN MORE