For Refugees in Sweden, Line Is Thin Between Vanishing and a Job
By
Sweden migration center estimates 30,000-50,000 underground

Unemployment for foreign-born declines amid hot job market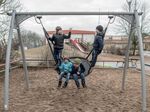 Sweden had an inflow of a quarter million refugees over two years before largely abandoning its open-door policy.
QuickTake Europe's Refugee Crisis
Its beleaguered bureaucracy is now deciding who should get to stay and who should go. While the labor market has worked better than feared in soaking up new arrivals, many of those rejected for asylum have vanished and 143,000 are still in limbo over whether they will get to remain.
The good news, for both people who have found a refuge and for Sweden's economy and state coffers, is that employment is increasing and unemployment is even going down among foreign-born citizens in Sweden.
"I was positively surprised by this," Migration Minister Morgan Johansson said in an interview Friday. "We've approved 38,000 residence permits just this year, which has added over 20,000 adults to the labor force. And still, the Swedish labor market manages to soak up this labor."

Of those 38,000 are many Syrians, who all get to remain, while at least 80 percent of applications from Afghans and Iraqis are seeing their petitions rejected. The number of applicants has dropped by about 70 percent to 22,000 so far this year. 
Some 15,500 refugees have left this year after being rejected or withdrawing their petition, up 66 percent from last year. But that's far below the about 34,000 who had their applications declined. Many of those people are staying, creating the potential for a large underground economy.
The Trade Union Center for Undocumented Migrants estimates that 30,000 to 50,000 people are now living underground in Sweden.
"You can imagine that those who remain in Sweden will try to in some way earn a living in Sweden illegally, without having a work permit," Johansson said. "It's very problematic and completely unreasonable to let this number grow."

But Johansson may have a hard time keeping that figure down.
Sweden's new stricter refugee standards will likely push more people to try to make a go of it on "the outskirts of society," said Maria Ostberg Svanelind, deputy chair of the undocumented migrants center. "We're worried that it will increase."
Still, the government believes that a refugee return accord with Afghanistan and new laws that allow coercive measures to force deportations will help keep those numbers down, according to Johansson.
Ironically, the government's worst enemy may be the strength of the Swedish economy. It expanded 4.2 percent in 2015 and the government predicts growth of 3.2 percent this year, in part because of added spending on refugees. There are now signs of labor shortages in several sectors of the economy, especially in construction.
This has the potential to tempt more rejected asylum seekers to stay and fill up demand in overheating areas, Ostberg Svanelind said.
"It wouldn't surprise me if in some of these sectors, we saw more of those type of jobs," she said.
Before it's here, it's on the Bloomberg Terminal.
LEARN MORE