Christie Aide Testimony Again Challenges Governor's Denials
By and
Kelly says she told governor about mayor's retribution claim

She testifies that Christie, chief of staff had 'memory issue'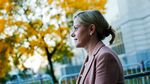 On the fourth day of George Washington Bridge lane closings that caused massive traffic jams in Fort Lee, New Jersey, Governor Chris Christie was told that the borough's mayor suspected that the gridlock was a form of political retaliation, a former top Christie aide testified.
The testimony Monday from Bridget Anne Kelly, Christie's former deputy chief of staff, offered the first direct evidence that Christie was told there may have been a political motive for the traffic jams as they were happening in September 2013. Christie has denied knowing about the lane closings while they occurred. He has said repeatedly that he didn't learn about Kelly's role until January 2014 with the publication of an e-mail Kelly sent a month before the lane closings. "Time for some traffic problems in Fort Lee," it said.
Kelly testified Monday in federal court in Newark that she believed that the lane closings were part of a traffic study. She said she discussed that traffic study with Christie in mid-August 2013 and again, on Sept. 11, 2013, the third day of the gridlock. She said she told Christie that David Wildstein, then a top Port Authority official, had described the traffic study to her several times.
Fort Lee Mayor Mark Sokolich had made frantic calls and wrote a letter to the Port Authority of New York & New Jersey, which runs the bridge, suggesting the lane closings and subsequent refusal to respond to his inquiries were some sort of punishment. Sokolich had refused a request to endorse Christie's re-election. Kelly testified that when she told the governor about Sokolich's concerns on Sept. 12, 2013, Christie brushed them aside.
"I said he was talking about government retribution or something like that, and he said, 'It's a Port Authority project, let Wildstein handle it,'" Kelly said. 
Frantic Days
Wildstein pleaded guilty and testified as a prosecution witness against Kelly and her co-defendant, Bill Baroni, the former Port Authority deputy executive director. Kelly and Baroni both testified they were duped about the purpose of the lane closings by Wildstein, who boasted of his close relationship with Christie.
Kelly's attorney, Michael Critchley, took her through the frantic days in early December 2013, as it became clear that the burgeoning scandal might imperil Christie. She recounted her reaction when the governor denied any knowledge during a news conference on Dec. 2, 2013. He sarcastically suggested he placed the traffic cones near the bridge himself.
"He made a joke about it and claimed that he had no knowledge of it, and I thought to myself, 'We talked about it,"' she said. "I was a little concerned as he and I had talked about it on three different occasions."
On Dec. 12, 2013, she said, she reminded Christie's chief of staff, Kevin O'Dowd, that she had told both him and the governor in August about the traffic study. As the world closed in on Kelly, Christie had a staff meeting the next day in his inner office and demanded to know if anyone had knowledge of the lane closings.
"I was petrified," Kelly said. "Now, no one was remembering what happened with the traffic study. I had no one to talk to about what I thought was going on. Kevin O'Dowd was my boss. I had told him about the traffic study. He was having a little bit of a memory issue. Governor Christie was also my boss. He has a memory issue, too." 
Kelly acknowledged she deleted e-mails about the lanes closings because she was scared. 
"When everyone around me, including the governor, started denying that they had any knowledge, who am I?" Kelly asked. In recounting this and other incidents, she wept.
For more on the bridge scandal, click here
Kelly also refuted testimony by a former subordinate. Christina Renna told jurors that Kelly asked her to delete an e-mail she sent during the gridlock saying that Sokolich was "extremely upset" and suspected a retribution plot. In response, Kelly wrote, "Good." Kelly denied that she asked Renna to delete the e-mail.
Kelly's "traffic problems" e-mail was published on Jan. 8, 2014. That night, she got an unexpected phone call from a lawyer who said he was assigned to represent her. He told her that "a job would be found for me" and "it would be OK." Later that night, she said, she was told she would be fired the next day.
Christie did just that, and in a two-hour news conference, he said Kelly lied a month earlier when he told his senior staff to come clean. After her dismissal, she repeatedly asked to speak to Christie, but he ignored her. Kelly said she told Renna, "You can't trust anyone."
The case is U.S. v. Baroni, 15-cr-00193, U.S. District Court, District of New Jersey (Newark).
Before it's here, it's on the Bloomberg Terminal.
LEARN MORE