Bond Buyers Binge on Netflix to Fund the Next 'Stranger Things'
by and
Company receives record-low coupon on $1 billion bond sale

Market capitalization makes it 'an easy place to hide out'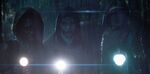 Netflix Inc.'s next binge-worthy show is coming courtesy of the junk-bond market.
Investors scooped up $1 billion of the the video streaming and DVD rental service's bonds on Monday at record-low yields. That's $200 million more than what Netflix originally sought.
The deal underpins the popularity of a company that, despite producing hits such as "House of Cards" and "Stranger Things," generates little to no profit, is burning through its cash, and has a debt profile that's closer to borrowers with lower credit ratings.

Bond buyers are pinning their hopes on Netflix's growth plans. It added 3.57 million streaming subscribers in the third quarter, which helped boost its market capitalization to $55 billion. That would give debt investors some cushion if the company stumbled.
"Netflix is growing at a fairly fast rate. In just a few years, we could see leverage going down by 40 percent," said Neil Begley, an analyst at Moody's Investors Service. "You would never see that in most companies that are levered that high."
Netflix sold the 10-year notes at a yield of 4.375 percent, which is the lowest ever for a dollar-debt sale from a U.S. company of that maturity and rating, according to data compiled by Bloomberg. The bonds were trading at 100.50 cents on Monday, according to Trace, the bond-price reporting system of the Financial Industry Regulatory Authority.
Burning Cash
Netflix is eating cash as it expands its original programming, which includes shows like the crime drama "Narcos." The company, which had $1.3 billion of cash on hand at the end of the third quarter, plans to boost its original content offerings to 1,000 hours in 2017, up from 600 this year.
What's attracting bond investors to the company is its $55 billion market capitalization. Most companies of that size carry investment-grade ratings.
"You don't find businesses this big in terms of enterprise value in high-yield," said John McClain, a portfolio manager at Diamond Hill Capital Management. "It's an easy place to hide out."
The company has tapped debt markets once a year since 2013. Just two years ago, though, it was less than half of its current size.
The company carries a B1 rating from Moody's and an equivalent B+ from S&P Global Ratings. Moody's target leverage for a company with that rank is about six times earnings.
What may have helped boost demand for the Netflix deal Monday was the Los Gatos, California-based company's decision to come to market after AT&T Inc. announced its $85.4 billion deal to buy Time Warner Inc. It likely drove demand from investors hoping to own more media-related notes, said Rahim Shad, a senior analyst in high-yield credit research at Invesco Ltd.
"Everybody is talking about content being the new king," Shad said. "Today was just the perfect day."
Before it's here, it's on the Bloomberg Terminal.
LEARN MORE