AT&T's Time Warner Purchase Acknowledges TV Everywhere's Failure
by
Deal may prompt Comcast to buy T-Mobile, Gamco's Marangi says

AT&T becomes less reliant on media companies for mobile video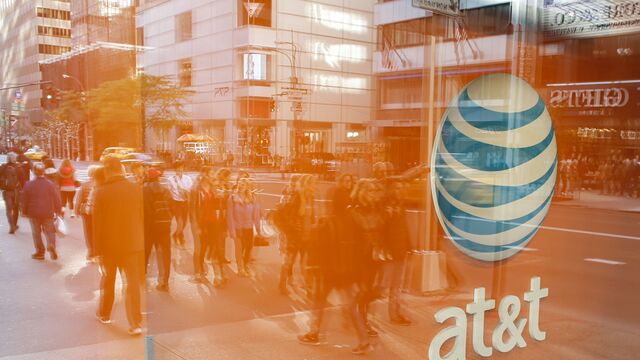 In 2009, Time Warner Inc. Chief Executive Officer Jeff Bewkes pitched a new idea -- "TV Everywhere." Watch television on all your mobile devices (cable or satellite subscription required).
Seven years after he helped coin that phrase, AT&T's $85.4 billion takeover of Bewkes's company is a sign TV Everywhere has failed. After years of tough negotiations between pay-TV providers and programmers over how to be compensated for online offerings, consumers have scant options to pay for a traditional cable or satellite service and also get those same channels, live and on demand, available on any device they want.
In outlining the plan in 2009 with Comcast Corp. CEO Brian Roberts, Bewkes carefully framed the initiative as just another way to give TV addicts programming when and where they want it. But to the two executives and the industry at large, TV Everywhere was a response to the direct threat to their business models from YouTube, Hulu and Netflix. The major fear was that as more programming became available online, at a fraction of the cost of a cable bundle, consumers would drop their pay-TV subscriptions.
"We've all had talks for the last six years about why it didn't go faster with the distribution industry," Bewkes said this weekend during a conference call.
Early on, as programmers and pay-TV providers grappled with a new generation that wants access to video content whenever and wherever they please, TV Everywhere was seen as a way to appeal to younger consumers. Pay-TV executives hoped to avoid cord-cutting by making the same shows and movies people had watched in their living rooms available on their tablets and smartphones -- as long as a customer demonstrated that they were a cable or satellite subscriber through a screening called authentication. 
Yet the platform never really caught on. In many cases TV Everywhere options were minimal, mainly because distributors had to wait until contracts expired to renegotiate long-term digital rights with all their programmers. As TV Everywhere stalled, annual pay-TV customers continued to decline.
Content + Delivery
AT&T's acquisition of Time Warner could finally make TV Everywhere reality -- or not. Assuming the deal passes regulatory scrutiny, AT&T would control the fate of CNN, TBS, TNT and HBO. It could make those channels available in any way it sees fit with an AT&T wireless subscription as long as it offers similar deals to competitors.
The hope is that the acquisition prompts competitors to move faster on mobile video, AT&T CEO Randall Stephenson said. Offering Time Warner's networks to pay-TV and wireless customers may push other media companies to have their content included in AT&T's new bundles.
"As we try to think about curating content differently, and taking content and delivering it differently on the mobile device then it is delivered on to the TV, integrating social into the content that's being delivered, doing that at arms-length negotiations is really, really hard and it is really, really slow," Stephenson said. "So Jeff and I both had this view and this vision that if you put these two together, you can begin to iterate these types of new services and innovations much faster."
AT&T's new online-streaming TV service, DirecTV Now, will try to appeal to a national audience of so-called cord-nevers -- some 20 million households that have no cable or satellite service -- with 100-plus channels and a choice of streaming to one or two devices simultaneously.
Even if no other media company joins AT&T's desire for true TV Everywhere, AT&T will still be able to offer small packages for consumption on TV and wireless, Bewkes said during a conference call today. Dish Network Corp.'s Sling TV currently allows consumers to get a bundle of channels online but doesn't replicate Dish's satellite service. 
"We want to bring more packages, more choice for consumers at different price points at every kind of level, up or low, more channels, fewer channels, more mobility, more innovation of the kinds of programming," Bewkes said.
Comcast Quad Play?
The biggest winner of the AT&T-Time Warner tie-up may be T-Mobile Inc., according to Chris Marangi, co-chief investment officer at Gamco Investors Inc., which owns stock in both AT&T, T-Mobile and Time Warner. AT&T's push to sell a so-called quad play -- wireless, TV, home broadband Internet and phone -- may make Comcast more likely to acquire a national wireless network, Marangi said.
"Comcast will look harder into getting into wireless faster," Marangi said.
Comcast, the first of the pay-TV providers to launch a TV Everywhere product, already owns NBCUniversal and could look to emulate AT&T's vision of content flexibility with a wireless network of its own, Marangi said. Even if Comcast doesn't acquire T-Mobile, the largest U.S. cable company has already announced its intentions to move into wireless, combining its Wi-Fi technology in an agreement with Verizon Communications Inc. to offer mobile phone service.
Before it's here, it's on the Bloomberg Terminal.
LEARN MORE