Andrew Carmellini on Opening Restaurants in Brooklyn's Hottest New Hotel
Williamsburg's William Vale Hotel is fast becoming a destination for New Yorkers and tourists alike. Andrew Carmellini, the chef behind two spots in the building, talks about the new wave of Brooklyn dining.
By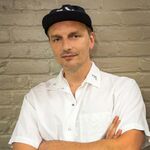 Andrew Carmellini, whose restaurants like Locanda Verde, Lafayette and The Dutch are some of Manhattan's most popular restaurants, has positioned his newest spot in a different borough: Brooklyn. His southern-Italian focused Leuca (due to open this month) and city-view bar Westlight are situated in the new William Vale Hotel in Williamsburg. He spoke to Bloomberg Briefs' Peter Elliot on Sept. 12, the week after Westlight's opening. Comments have been edited and condensed.
Peter Elliot: You're one of the first of big-name chefs to establish a stand-alone restaurant in Brooklyn. Are you paving the way for the Batalis, Changs and Vongerichtens?
Andrew Carmellini: I have been looking in Brooklyn for quite some time. Manhattan real estate is always a challenge to make the economics work, to find the right location and, you know, the "deal matrix."
And you found the right "deal matrix" in Brooklyn?
With this project, for sure. It's funny because this hotel is right across the street from my old band practice space. And that is 25 years ago. It's just amazing how much this neighborhood has changed, the demographics from people that were living here 10 years ago, even five years ago. It's really become kind of an extension of a real city neighborhood in its density. And that makes a restaurant a little bit more viable.

I'd say you're something of a leading indicator for New York real-estate. Are you?
The real trailblazer in this neighborhood was the Wythe Hotel. And Brooklyn Bowl is across the street. So this area is established as a nightlife destination. I mean, it's all information that's out there. You have to do the research. I know what's going to happen here in the next five to 10 years. And then there was the building — it's incredible — you can see it from all over the city. Still, it's a little bit of long-term play for us.
This is your third venture in a hotel. What is the secret to negotiating a good deal with a hotel?
Having a product that people want, that's really the hardest one. When I went into business for myself, which is hard for a chef to really do, there is a lot of trial and error in it. At The Dutch, we didn't have any outside financial partners. We put our own money into that, which is relatively unheard of. We did a product we believe in that's been very successful, going on our sixth year. Then we did the same thing with the Locanda Verde. You build a reputation as an operator that can deliver the product and the service, but also the financials. These things come more easily when you have a track record.
A recent article in the New Yorker about how tough the economics of restaurants are discussed how a big-name chef has to really promote him or herself, on television, with books, social media, etc. But you've done it staying under the radar. How?
The media has changed so much. The audience has changed so much. It's not something I pursue. When it comes around, I do it, but I really wanted to concentrate on being a good chef, being a good restaurateur, opening restaurants that I think reflect the way I like to eat and my personality. I do TV when it comes around, but I don't have an agent. I don't pursue it. I concentrate on the food and service first and other stuff when it comes. So yes, I guess I'm proof you don't need all that stuff.
This is your 11th restaurant. Are we approaching a glut of restaurants in this country?
I would say there is a lot of food and beverage and probably a peak post-crash coming up. I mean, New York is an incredible place to dine at this moment. Are there too many restaurants? Maybe. There are also good restaurants in other parts of the country, which 25 years ago wasn't always the case. So what I'd say is it's great for the consumer. But not such a great time to be a restaurateur.
So how do you win with that kind of competition?
You know you're going to be busy the first six months. They are going to show up. But when the crowd moves on, it's important to be really consistent.
Back to real estate. If you were going to open in Manhattan, where would you be looking?
We have one restaurant in all the good neighborhoods in Lower Manhattan. If the right real estate location matrix came available on the Upper East Side, I would like to go back there. I was the chef at Café Boulud for a very long time when it first opened. I know there's a great customer base there and I wouldn't mind going back there. That would be my next move.
This article originally appeared in the October 2016 edition of Reserve, a Bloomberg Brief publication. Click here for the full issue.
Before it's here, it's on the Bloomberg Terminal.
LEARN MORE