After Declaring Pivot to China, Duterte Visits U.S. Ally Abe
by
U.S. says Duterte's remarks 'hurtful, confusing, distressing'

Japan wants to work on strategic partnership with Philippines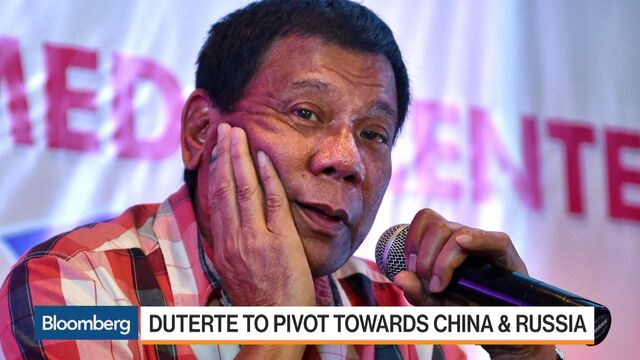 Rodrigo Duterte travels to one of the U.S.'s strongest allies in Asia on Tuesday in the Philippine president's first trip since announcing a foreign-policy pivot to China in Beijing last week.
The visit to Japan comes days after Duterte announced a "separation" from the U.S. and took home $24 billion in investment pledges from the Chinese capital. While the outspoken leader later clarified his comments to say he wasn't severing ties altogether, the remarks caused bafflement in Washington and sparked concern from U.S. allies in the region.
Duterte's anti-American remarks in recent months have been "hurtful, confusing, distressing," U.S. Assistant Secretary of State Daniel Russel told reporters in Manila on Monday. But at the end of the day, he said, "what will matter is what Duterte decides to do."
Japanese Prime Minister Shinzo Abe, who has boosted ties with the U.S. to counter China, has sought to bolster the Philippines's defense capabilities with more than $300 million in loans for patrol vessels. He may use the meeting as a chance to mend fences among nations that until recently shared a common goal to restrain China's assertiveness in disputed seas.
"It's a golden opportunity for the Japanese government to convince the Philippine president that continuing to do this will be bad for him," said Kunihiko Miyake, a former Japanese diplomat and now visiting professor at Ritsumeikan University. "He won't listen to the Americans, but he might listen to the Japanese."
'Strategic Partnership'
Ahead of the trip, communication between the two sides appeared difficult. Japan's foreign ministry said Monday it could not confirm details of most of the events during Duterte's visit, nor which cabinet ministers or business executives would be accompanying him.
A schedule provided to reporters by the Philippine government said Duterte is set to hold a tete-a-tete with Abe Wednesday just before the two head to dinner together. The Philippine leader will also speak at an economic forum and call on Emperor Akihito and Empress Michiko before leaving the country on Thursday.
"We want to work on developing our strategic partnership even further at the summit," Japanese Chief Cabinet Secretary Yoshihide Suga told reporters in Tokyo on Monday.
Deep and Special
Duterte echoed those sentiments in an interview with Japanese media before his arrival, saying the relationship with Japan was deep and special. He added that the Philippine military alliance with the U.S. would remain and that he had no plans to develop defense ties with China, the Nikkei newspaper reported.
The comments marked a rhetorical shift from Duterte's time in Beijing, where he decried "American interference" and told a cheering crowd of Filipinos that "foreign policy veers now towards" China.
Abe will offer 5 billion yen in loans for agricultural development on Duterte's home island of Mindanao during the trip, Kyodo news reported. Duterte won't get some of the honors bestowed upon his predecessor Benigno Aquino last year, including a state banquet and a speech to parliament.
Sea Disputes
After returning from Beijing early Saturday morning, Duterte told reporters that his talks with Abe would touch on economics and the South China Sea. The Philippine leader said that a solution over disputed territory could either be bilateral with China, or multilateral with various countries including Japan, which isn't a claimant in those waters. Japan has a separate dispute with China over islands in the East China Sea.
"The meat of what I would tell your minister is that we can only agree to talk peacefully, resolve the dispute and maybe come up with something that is good for everybody," Duterte said in response to a question from Japanese broadcaster NHK, referring to his government's talks with China in the South China Sea.
Japan was a vocal backer of the Hague judgment in the Philippines's case against China over the South China Sea in July. Last month, Abe and Duterte agreed on the transfer of Japanese patrol aircraft and a loan for two large coastguard vessels to the Philippines.
Strained Relations
Even as Duterte rejects joint military exercises with the U.S. in the South China Sea for fear of offending China, Japan's coastguard aid could prove essential in the longer term, said Yuki Tatsumi, senior associate of the East Asia program at the Stimson Center think tank in Washington.
"While some will undoubtedly point to Japan's gift of patrol vessels and planned loan of aircraft as mistakes, they offer the capability the Philippines needs," if tensions with China rise again, Tatsumi said. "Japan needs to stay as the Philippines' 'friend in need' especially now that it does look like US-Filipino relations will be strained, at least at the leadership level."
Joseph Nye, a professor at the Harvard Kennedy School, said the popularity of the U.S. among Philippine citizens would place limits on Duterte's attempt to pivot away from his country's ally, and that the situation should be given time to play out. Japanese efforts to deepen ties with the Philippines are welcomed by the U.S, he added.
"We don't want an alienation of the Philippines," he said in an interview in Tokyo. "We don't want this sort of thing to escalate. And if Duterte has a good visit here and the Philippines-Japan relationship stays strong, that's good from our point of view."
Before it's here, it's on the Bloomberg Terminal.
LEARN MORE