Workaholic Koreans Are Taking More Time to Relax
By and
More Koreans are taking time off for child-care, sabbaticals

Government tries to change workaholic culture as nation ages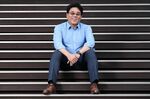 After 16 years managing money for some of South Korea's most prestigious investment firms, Park Sung-jin needed a break.
So last December, the 48-year-old did something that had long been taboo in one of the world's hardest-working countries: He took almost two months off. Hoping to reconnect with his religious roots, Park camped out in churches and a countryside prayer house to immerse himself in the Bible and other Christian texts.
Now, back at work overseeing $8 billion as the head of investing at Mirae Asset Securities Co., Park says the time away made him a more effective money manager.
"The convictions I was able to build during this period helped me focus and make the right decisions," said Park, who previously held senior roles at Meritz Securities Co. and Samsung Asset Management Co. "When an employee can't get the rest he or she really needs, it's not good for the company or the individual."
Long-term leave is starting to lose its stigma in South Korea, where the population spent more hours working in 2015 than all but two countries tracked by the OECD. Alarmed by weak productivity and record-low rates of childbirth, the nation's biggest businesses are banding together with policy makers to make it easier than ever for employees to take time off.

Samsung Electronics Co., Korea's biggest company, now has an optional one-year sabbatical program for employees who've been with the firm for at least three years. KT Corp., the nation's second-largest telecommunications firm by market value, offers six months off after staff reach their 10-year anniversary, along with up to two years of child-care leave, twice the legal requirement. A record number of Koreans started child-care leave in the first half of 2016, thanks in part to a government-led campaign to improve work-life balance.
"These sort of things need more time, but this is a good start and the government is pushing," said Kang Joong-koo, a Seoul-based economist at LG Economic Research Institute. "Aging demographics and falling birth rates are serious threats to growth."
Of course, long-term leave isn't cost-free. It involves trade-offs for both companies and workers, and there's no guarantee employees will be more productive when they come back. Eugene Boo, who took two years off from his job at a KT in Seoul to raise his first child, says he recommends leave to colleagues, but only when they truly need it for family or self-development reasons.
Family Life
"Despite all its benefits, it still means you have a gap year in your resume," said Boo, 40, who studied English while he was on break and joined one of the KT's most productive teams when he returned in September. "You need to have a clear purpose when you sign up."
Koreans who take child-care leave, the most common reason for long-term breaks, still make up a small minority of the workforce. The total number of people who used the benefit since officials started tracking the data in 2001 was about 573,000, or just 2.2 percent of the current working population.
Still, their ranks are growing. Instances of male child-care leave jumped 52 percent in the first half, while the figure for women increased 2 percent, according to Korea's Labor Ministry. The proportion of male childcare leave, which account for 3.5 percent of the total taken, is growing. The government has encouraged the practice by increasing financial assistance for male workers who take time off and forming a "Work-Life Balance Coalition" with major business associations.

Ko Kyu-youn, a 39-year-old currency trader at KEB Hana Bank in Seoul, says child-care leave is now widely accepted, even in Korea's banking industry.
"The bank was fully supportive," said Ko, who took seven months off after her first child and 16 months after her second. "It's good to spend time with young ones at ages when parental attachment is very important."
For the government, convincing more working women to have children is a policy priority. With the proportion of Koreans aged 65 and above forecast to more than triple to 40 percent of the population by 2060, the country needs more babies to keep the $1.4 trillion economy growing. Korean births from January to July fell 5.9 percent from a year earlier to the lowest level for the period since Statistics Korea began compiling the data in 2000. Marriages also sank to a record on the same basis.
Productivity, meanwhile, has been lackluster despite the country's workaholic reputation. Korea ranked 28th among 38 nations tracked by the OECD for dollar-based economic output per hour worked in 2014, producing half the output of U.S. workers.

While conclusive statistics on how long-term breaks impact productivity in Korea are elusive, anecdotal evidence suggests workers who make use of the country's new leave policies have returned as more effective employees, according to Kang Min-jung, a researcher at the Korea Women's Development Institute.
"I have talked to many companies that offer better work-life balance and they admit it has boosted the employees' productivity," Kang said. "Their employees became more loyal."
It's an assessment shared by Mirae Asset's Park, whose days are busier now that he's splitting time between work, family and the church, where he plays the violin during Sunday services. His employees have a sympathetic ear if they ever need time off.
"The CEO gave me his permission without hesitation, and I treat my employees in the same manner," he said. "Corporate culture is changing."
Before it's here, it's on the Bloomberg Terminal.
LEARN MORE