business
French Socialists Eye Royal, Valls as Alternatives to Hollande
By
Hollande losing support from his party after book revelations

Valls defends record in office, Royal says situation desperate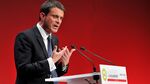 France's Socialist Party is evaluating Prime Minister Manuel Valls and Environment Minister Segolene Royal as possible alternatives to President Francois Hollande in a bid to avoid a defeat in next year's elections.
France's main Sunday newspaper ran the headline "The Royal Option" across its front page a day after Valls at a rally in Tours, western France, called on supporters of the left to "act quickly" to ensure they have a candidate who can advance to the second round of the election next May.
"I'll never let down my political family, I'll never let the left fail," Valls told supporters Saturday. "Let's be proud of having repaired our country, even if there is still work left to do."
Discussion of a replacement candidate for Hollande has gathered momentum since publication this month of a book based on interviews with the Socialist president in which he takes swipes at judges, soccer players, a former girlfriend, and both fellow Socialists and opposition politicians.
With his popularity at a record low and polls consistently showing he will fail to qualify for the May 7 run-off after first-round voting in April, the book has become a final straw for Socialist lawmakers and officials who had until recently been Hollande's last bastion of support. Hollande's own cabinet ministers have repeatedly dodged questions of whether he should run again, an unprecedented situation for a first-term president in France.
'Up To Him'
"Francois Hollande has all legitimacy needed to be candidate" in the Socialist primary, Patrick Kanner, minister for cities and sports, said on Europe 1 radio Sunday. "Naturally he is among those who can be candidates. Must he be candidate? That's up to him," he added.
Hollande is the first incumbent president in France to face a challenge for his party's nomination for re-election. The primary is scheduled for January and Hollande has said that he will decide whether to run in December.
The president's approval rating dropped 1 percentage point to 14 percent in the past month, hovering near a record low 13 percent set two years ago, according to an Ifop poll published in Sunday's Journal du Dimanche. Valls's approval rating rose 2 points to 26 percent, the poll showed.
"Don't look to me to defend the contents of this book," Trade Minister Matthias Fekl said on RMC radio Friday. "This book shouldn't have been written. What counts is what has been done by the government. We must look at facts and actions," he said, echoing Hollande's own defense.
Royal Speculation
Segolene Royal, who was the Socialist's presidential candidate in 2007 and is the mother of Hollande's four children, brushed aside speculation of her own candidacy without denying that she would be interested.
"They're looking for someone to sacrifice," the Journal du Dimanche quoted her as saying. "The situation must be quite desperate for people who have fought against me in the past to rediscover me. If it was winnable, they wouldn't come looking for me."
For the Socialists, the challenge isn't just to try to have a viable candidate in the presidential election that occurs in two rounds in April and May, but to avoid losses for lawmakers in parliamentary elections in June.
"Valls is right to say the left is on its way to losing the election if it doesn't get a grip," Kanner said Sunday.
Before it's here, it's on the Bloomberg Terminal.
LEARN MORE