How China's Dealmakers Pulled Off a $207 Billion Global Spree
By , , and
Buyers learn to soothe concerns in $207 billion global spree

New deal playbook includes long courtships, job guarantees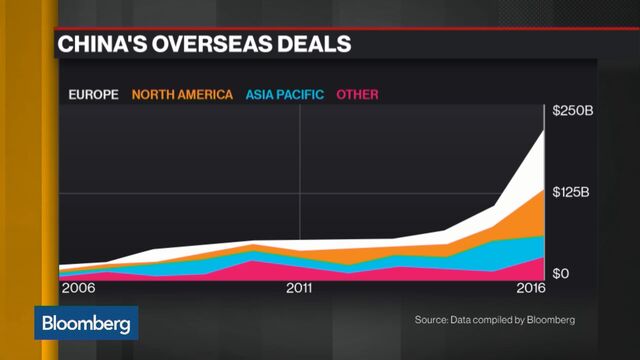 When a Chinese home-appliance company announced a plan in May to become the largest shareholder in one of Germany's most advanced robot manufacturers, the backlash was immediate.
German politicians and European officials denounced Midea Group Co.'s offer for Frankfurt-listed Kuka AG, whose robotic arms assemble Airbus jets and Audi sedans. In a rare public appeal for alternative acquirers, Germany's economy minister argued that Kuka's automation technology needed to stay out of Chinese hands.
And yet in two months, Midea pulled it off. Thanks to a combination of political courtship, guarantees on jobs and security, and support from influential customers like Daimler AG Chief Executive Officer Dieter Zetsche, Midea overcame knee-jerk opposition to the deal. By July the appliance maker had secured an 86 percent stake, valuing Kuka at 4.6 billion euros ($5 billion).
The experience showed how some Chinese firms are learning to soothe misgivings about the country's record $207 billion overseas buying spree. While Sinophobia isn't yet a thing of the past and practices among Chinese buyers vary widely, merger-and-acquisition professionals say a new generation of savvy dealmakers is starting to emerge from the world's second-largest economy.
"Many Chinese companies have become much more adept at navigating international deals in the last few years, and at soothing the concerns stakeholders might have," said Nicola Mayo, a partner at London law firm Linklaters LLP who specializes in China-Europe transactions. "In many of the larger Chinese companies, you're dealing with managers who were educated abroad or have worked in international firms. They understand the concerns about China and know they need to move carefully."

That growing fluency is making Chinese businesses a more powerful force in the M&A world than ever before, particularly in Europe, which has accounted for nearly half of China's overseas takeovers this year. While that's a potential boon for slow-growth Western economies in need of fresh sources of capital, it also means stiffer competition for European and U.S. acquirers at a time when global equity prices are already near record highs.
Keeping Jobs
China's most sophisticated bidders have developed a consistent playbook to minimize backlash. Hostile takeovers are virtually off limits, while friendly offers are often revealed only after years of informal courtship. There are pledges to keep existing management teams in place, investment guarantees lasting half a decade or more and steps to preserve independent oversight.
For the Kuka deal, Midea pledged to maintain existing plants and jobs until at least 2023 -- far longer than the norm for similar deals -- and promised to keep customer data walled off from the Chinese parent company. It deployed vice president Andy Gu, a social scientist by training with a doctorate from Cornell University, to make those assurances face-to-face with the German economy minister's senior staff, according to people with knowledge of the matter. 
Meanwhile, Kuka helped ease any concerns among its customers, the people said, asking not to be identified because the information is private. A representative for Midea declined to comment, while a spokeswoman for Kuka said she couldn't immediately comment.
Midea has been quick to pounce on other opportunities as well. The Chinese company sent a letter stating its willingness to acquire General Electric Co.'s appliance arm within 24 hours of an existing deal with Electrolux AB falling through, according to people with knowledge of the matter. Though it lost in the end, the eventual winner was domestic rival Qingdao Haier Co. with a $5.4 billion bid, rather than a more-established Western competitor.
Chemicals, Video Games
This year's announced deals have also included China National Chemical Corp.'s $43 billion takeover of Switzerland's Syngenta AG, which would be the biggest-ever foreign acquisition by a Chinese company. Tencent Holdings Ltd. led an $8.6 billion deal in June for Finnish video-game maker Supercell Oy, while China Oceanwide Holdings Group Co. said Sunday it will buy U.S. insurer Genworth Financial Inc. for $2.7 billion.
And on Monday, HNA Group agreed to buy about 25 percent of Hilton Worldwide Holdings Inc. for about $6.5 billion, marking the latest investment by Chinese firms in hotel and travel businesses to tap growth in outbound tourism.
The "acquisition wave out of China is still broadening and deepening," said Joseph Gallagher, the Hong Kong-based head of Asian M&A at Credit Suisse Group AG.
For a QuickTake explainer on China's M&A boom, click here.
While Chinese mega-deals have spanned a wide range of industries, the ChemChina-Syngenta transaction may be the most instructive as a guide to the country's new approach to acquisitions. The offer created almost no controversy in Syngenta's home base of Switzerland, even as it gave a state-controlled Chinese company a central role in the global food industry.
Enthusiastic Endorsement
The lack of opposition stemmed in large part from Syngenta's enthusiastic endorsement of the deal, according to people involved in the transaction. The takeover was structured to keep existing managers in their jobs, retain a Swiss headquarters and work toward a future re-listing of the company.
Early in negotiations, ChemChina asked Syngenta to propose a governance structure for the combined company, giving the takeover target an unusual lead role in the deliberations, the people said. ChemChina pushed back on a few minor elements, but the structure proposed by Syngenta was largely incorporated in the final agreement, the people said.
A representative for ChemChina didn't immediately respond to an e-mail seeking comment. Leandro Conti, a spokesman for Syngenta, said the ChemChina offer ensures continued choice for growers at a time when considerable consolidation is taking place in the industry. 
"It is not a merger, but simply a change in share ownership," Conti said in an e-mailed statement. "It also ensures that 'Syngenta remains Syngenta.'"

The process isn't always smooth. For all the offers by a ChemChina or Midea, there are also deals like Anbang Insurance Group Co.'s aborted $14 billion bid for Starwood Hotels & Resorts Worldwide Inc. in April. Chinese property billionaire Wang Jianlin's acquisitions in the U.S. entertainment industry have triggered calls to scrutinize Chinese influence in Hollywood from lawmakers including North Carolina Republican Robert Pittenger and Devin Nunes, head of the House Intelligence Committee.
Separately, German Chancellor Angela Merkel's deputy is seeking tighter control over foreign investment in European companies. The government has reopened its review of the Chinese takeover of semiconductor equipment supplier Aixtron SE, according to a statement Monday.
Government Influence
Even the ChemChina deal hasn't been free of hiccups. Syngenta shares initially fell after Bloomberg News reported Oct. 14 that China's government was planning to merge ChemChina with Sinochem Group. The revelation came just as ChemChina and Syngenta were entering the final stages of completing their own deal, sparking concern that the transaction could face delays. 
The European Union said Monday that ChemChina didn't propose any concessions during its early-stage review of the deal. That leaves EU regulators five days to decide on a longer probe or unconditional approval.
The Chinese government's influence on corporate decisions "can make sellers nervous," said Hernan Cristerna, the global co-head of M&A at JPMorgan Chase & Co., which advised Syngenta. He added that it's too early to tell whether Chinese acquirers will follow through on the promises they made to secure recent takeovers.
"There's a large vintage of transformative deals from the last 18 months where market participants will monitor" how well pledges are honored to provide hints of future behavior, Cristerna said.
Despite the uncertainties, China's growing interest in foreign markets and technology means more cross-border takeovers are inevitable. Policy makers in Beijing have encouraged local companies to acquire overseas expertise as they try to shift the economy's focus from low-end manufacturing to high-tech industries and consumer demand.
"There's no reason why China won't look back at this as the trickle before the stream turns into a river," said Kenneth Courtis, a former Goldman Sachs Group Inc. banker who's now chairman of advisory firm Starfort Holdings. "It's going to happen and some will resist it for a while, but they will come to terms with it."
— With assistance by Yue Qiu, and Adrian Leung
Before it's here, it's on the Bloomberg Terminal.
LEARN MORE