Biggest Buyout Firm in Nordics Adds Staff as Wealth Funds Call
By
EQT says hiring year-to-date has added 70 positions to firm

Big institutional investors are demanding scale, EQT says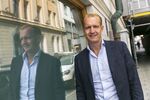 EQT Partners AB is trying to keep up with demand from its investor base by adding staff and expanding internationally as the sovereign wealth and pension funds it serves look for ways to make money in an era of ultra low rates.
"To be relevant for large sovereign wealth funds and pension funds that then want to invest and partner with one alternative asset manager, you will need to have multiple business lines and multiple products," Per Franzen, head of Equity Nordics at EQT, said in an interview in Stockholm. "Then they can also write bigger checks to one counter-party. That is an important part of the strategy for EQT."
The Nordic region's biggest private-equity firm has already increased staff numbers by close to 20 percent this year, or about 70 people, said Franzen, who's worked there since 2007. EQT also recently brought in new partners in its Equity and Mid Market businesses in North America, adding to an existing Infrastructure team there.
Negative Rates
Demand for the services that private equity funds offer is growing as investors look for an escape from the negative rate climate that has upended return assumptions. But to be successful these days, private equity buyers need to be considerably more involved in the assets they take over, according to Franzen.
"Taking an entrepreneurial approach is going to be the future of this industry," he said. "It's going to be increasingly difficult to generate the type of returns" that investors expect "by just backing incumbent management teams."
That's especially true in an "environment with low rates, low growth rates and relatively speaking higher valuation levels compared with history," he said. "You really need to work with your companies and have an ambitious agenda."
Wallenberg Family
EQT, which was founded in 1994 and counts Sweden's famous Wallenberg family among its investors, has more than 17 billion euros ($18.5 billion) invested in about 150 companies. The firm's strategies go beyond equity, and include credit markets and real assets such as infrastructure. This year, EQT created a 530 million-euro fund that offers long-term debt funding to medium-sized European businesses.
When it raised 566 million euros earlier this year for a new fund called EQT Ventures that targets European technology companies, the fund attracted an investor base that included HarbourVest Partners, Ilmarinen, Finnish Industry Investment, European Investment Fund, the Fourth Swedish National Pension Fund and SEB Pension och Forsakring AB.
Franzen says digitization is key to a successful investment strategy. EQT tends to target assets where adding digital technology can yield the biggest results. The fund has hired a number of people from Google Inc., who are then "parachuted" into EQT companies to find ways to improve the way they do business, Franzen said.
Cyclical Risks
The fund tends to stay away from cyclical investments that jump up and down with swings in the broader economy. Instead, about 75 percent of EQT's three most recent equity funds focused on healthcare, services and technology as well as media and telecommunications, areas the fund plans to stay with, according to Franzen.
It's a strategy designed to help EQT deal with the short-term volatility it expects will continue over the next two years, with political risks in Europe spanning the constitutional referendum in Italy, French and German elections and talks on the U.K.'s exit from the European Union. At EQT, the view is that none of those events will fundamentally change the way the market looks now, Franzen said.
"It will continue to be very liquid because of the low interest-rate environment that we're in, and I don't see economic growth picking up hugely from where we are today," he said. "My base case is that we'll continue to be in this kind of muddle-through Japanese-like scenario for the next couple of years."
Before it's here, it's on the Bloomberg Terminal.
LEARN MORE