Bankers Quitting Brexit Britain Risk Budget Hole for Hammond
By
Financial services pay more than 60 billion pounds in tax

Lobby groups want Hammond to cut corporate-tax surcharge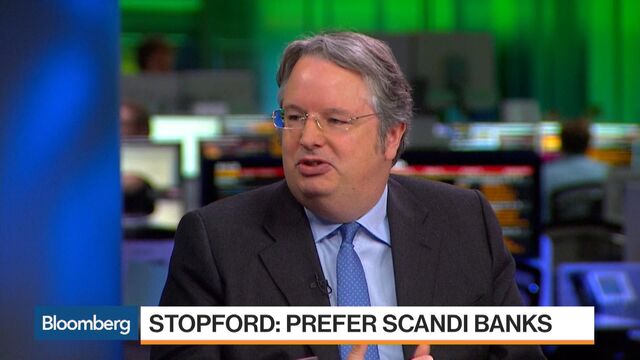 U.K. Chancellor of the Exchequer Philip Hammond is facing a fiscal hit if bankers carry out their threat to quit London to protect their businesses against Brexit.
As Hammond prepares to loosen the nation's purse strings next month, he's being warned that the government's coffers will suffer if banks shift jobs and operations overseas to ensure continued access to the European Union. He's also being lobbied to cut levies to keep London attractive to the industry.
Follow @Brexit for the latest news, and sign up to our Brexit Bulletin for a daily roundup.
"The worry for the government is the banks end up taking a chunk of the tax base with them," said Gregor Irwin, chief economist at Global Counsel, a London-based consultancy that has been advising the financial sector on Brexit.
At stake is some of the 66 billion pounds ($81 billion) financial services paid in taxes in 2014-15, equivalent to 11 percent of tax revenue and more than enough to cover the U.K.'s annual defense bill.
For Hammond, who has been the government's biggest advocate of banks and for keeping ties with the single market, less cash from financial services would squeeze his ability to cushion the economy from the Brexit shock and eventually deliver the balanced budget he still wants.
Fiscal Challenge
The fiscal challenge was underscored on Friday, when official figures showed the government is on course to miss its goal of cutting the budget deficit to below 3 percent of gross domestic product in 2016-17. With the economy cooling and Hammond hinting at a stimulus in his Nov. 23 Autumn Statement, economists expect tens of billions of pounds to be added to government borrowing over the coming years.
The chancellor said last week the government is "acutely aware" of the role banks play in the economy and that it is keen to "keep as many things on the table." What worries banks is that they will lose the so-called passporting rights that allow them to service the EU from bases in London.
Consultants Oliver Wyman this month calculated that in the worst case of banks losing easy access to the EU, then the cost to the Treasury would be as much as 10 billion pounds.
"That's an awful lot of hospitals and services and schools that are delivered by people sitting in this room," Mark Garnier, minister for international trade, told a banking conference in London on Thursday.
Brexit Effects
Hammond is already seeing the effects of Brexit on his sums.
The government had planned to raise about 25 billion pounds by offloading its stocks of Royal Bank of Scotland Group Plc, but the value of its stake has fallen about 40 percent this year to 15 billion pounds. Still, the chancellor has generated some money by selling shares of Lloyds Banking Group Plc.
If finance's footprint is reduced, Simon Wells, chief European economist at HSBC Holdings Plc, predicts wages for the sector's 1 million workers could also be subdued, lowering the tax take from such high earners.
While just 1 percent of taxpayers earn the 150,000 pounds a year above which the highest rate of tax is levied, they account for almost 30 percent of total income-tax revenue, according to HSBC.
High Earners
"If a lot of high-paid jobs leave the U.K. and go elsewhere there could be implications for the exchequer," Wells, a former Bank of England official, told a conference on Friday. "That may well be a factor that plays a role in widening the hole in the public finances."
There could also be a ripple effect if fewer bankers or less well-paid ones drove down demand for expensive houses, retail goods or domestic help such as nannies or cleaners, all of which incur taxes. London and the southeast account for more than 40 percent of total tax liabilities.
A possible upside is that the U.K. economy could eventually become less reliant on finance as a driver -- finance and the services it supports account for more than a tenth of economic output. That's something voters may welcome given their irritation with the sector after the financial crisis and 2009 recession, said Wells.
Gerard Lyons, a pro-Brexit economist who used to advise Boris Johnson when he was London mayor, plays down the risk of a drain on taxes and argues London will remain a global financial capital.
"We shouldn't understate the risk, but we also shouldn't overstate it either," he said.
'Tipping Point'
The government may also need to sacrifice revenue to make London more appealing to the financial industry. Open Europe, a research group, said in a report last week that Hammond should consider scrapping the bank levy and corporate-tax surcharge for banks or at least reduce their burden.
The levy was introduced in 2010 at a rate of 0.05 percent on U.K.-based banks' balance sheets and gradually rose to 0.21 percent, generating an average of more than 2 billion pounds a year. The government last year announced plans to halve it to 0.1 percent by 2021.
As for the surcharge, it took effect in January and imposes a fillip of 8 percent on the profits of banks on top of the 20 percent tax for all firms. The British Bankers' Association called on Thursday for it to be phased out as soon as possible.
The Sunday Times reported that advisers to Prime Minister Theresa May have developed a plan to cut the corporation tax rate to 10 percent from 20 percent, to be used as a "nuclear option" should the EU block a free-trade deal or deny financial companies access to the single market. A government spokesman told the newspaper such a drastic cut in taxes wasn't being floated.
"We hope that the chancellor will take competitiveness into account," said Anthony Browne, chief executive officer of the BBA. "Banks are firmly committed to paying our fair share but we are now at a tipping point that threatens U.K. jobs and growth."
Before it's here, it's on the Bloomberg Terminal.
LEARN MORE