Outback Scions Bid $294 Million for Iconic Kidman Ranches
By and
BBHO group's offer trumps one from Rinehart and China partner

Proposed all-Australian bid won't need government approval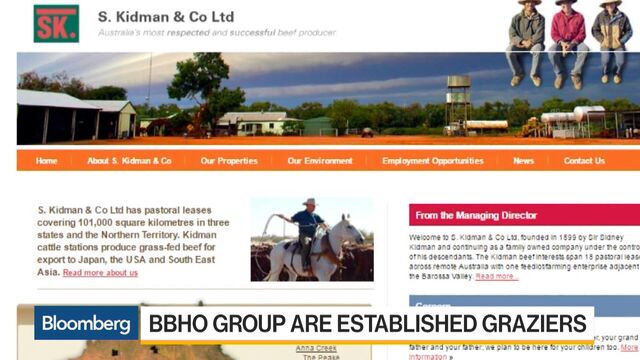 A group of outback scions bid A$386 million ($294 million) for all the shares of S. Kidman & Co., trumping an offer from billionaire Gina Rinehart and her Chinese business partner for one of Australia's largest beef producers.
The group, known as BBHO -- an acronym based on the family names of directors Tom Brinkworth, Sterling Buntine, Malcolm Harris and Viv Oldfield -- submitted its proposal to the Kidman board Sunday, Buntine said. Kidman, based in Adelaide, South Australia, is owned by descendants of its founder, "Cattle King" Sidney Kidman, who began in 1899 amassing ranches that made him at one time the world's largest landholder.

If successful, the transaction will more than triple Kidman's cattle herd to in excess of 500,000 head through the addition of supplies from the properties owned by the BBHO families, according to an e-mailed statement. The group is betting Kidman will prefer its all-Australian offer because it won't need approval from the Australian government.
"The four families comprising the consortium are deeply committed to honoring and preserving the Kidman heritage and brand, which will continue under the stewardship of highly regarded and successful Australian graziers," Buntine, a spokesman for the group, said in the statement.
BBHO's financing is committed and its proposal doesn't require approval by a panel making recommendations on foreign investments to Treasurer Scott Morrison, "which means greater certainty for the Kidman shareholders," he said.
The BBHO offer was received over the weekend, a spokeswoman said in an e-mail Monday. Kidman, a public, unlisted company with more than 50 shareholders, doesn't propose to discuss publicly the details of any individual bid, she said.
Treasurer 'Pleased'

"It's great that Australian interests are actually stepping up to the plate when it comes to this transaction," Morrison said in a Sydney radio interview on Monday. ''I'm very pleased that these bids are coming forward."
Morrison last year blocked the sale of Kidman to an overseas buyer, saying the proximity of its Anna Creek property to a weapons-testing range could compromise national security.
Gina Rinehart
Rinehart, Australia's richest person, and Shanghai CRED Real Estate Stock Co. agreed to buy Kidman two weeks ago in a deal valued at around A$365 million. That accord needs approval from the government because Shanghai CRED would own 33 percent of the cattle company, and is conditional on the divestment of Anna Creek and a nearby ranch to other Australian grazing interests.

The value of both parties' bids are about the same when taking into account a break fee and removal of the two properties in Rinehart and the Chinese group's original offer, a spokesman for Rinehart's Hancock Prospecting Pty said in an e-mail Sunday.
BBHO's bidder's statement will be lodged Tuesday, Buntine said in an interview. He declined to say whether the group would try to trump any higher counter offer from Rinehart and Shanghai CRED.
"It's a good time to be a Kidman shareholder," Buntine told ABC Radio on Monday.
Kidman Brand
Until the takeover offer closes, any party can submit a counter proposal to acquire the company, the Kidman spokeswoman said. If judged to be a superior proposal, and Rinehart and Shanghai CRED don't exercise a right to match the offer, Kidman directors have a duty to put that superior proposal to shareholders, she said.
If the BBHO proposal is successful, Kidman would be turned into a marketing and distribution company. Meat produced from the combined cattle herds of Kidman and the BBHO group would be sold under the "SK" brand, leveraging off Kidman's long history "and muscle right up on the international beef circuit," Buntine said, adding that the group may invest further downstream in the supply chain at a later time.
He owns ranches east of Tennant Creek in the Northern Territory and at one point was in control of about 2.5 million hectares (6 million acres) of cattle properties, the Australian Broadcasting Corp. reported on Thursday. Brinkworth and his family run 40,000 head of cattle and 120,000 sheep across about 1 million hectares, ABC reported Friday.
Viv Oldfield, an Alice Springs businessman and horse trainer, runs cattle on ranches in the Northern Territory and South Australia, and has partnered with a fellow pastoralist to sell cattle to China, the ABC said. Harris and his family own ranches in the Northern Territory.
The group began mulling a proposal for Kidman in June after shelving two previous plans, Buntine said.
'Chat Over The Fence'
"Malcolm Harris is a neighbor of mine on the Barkly Tableland, so we came together by just having a chat over the fence," he said, adding that it took time to bring a quartet together that had the capacity and the potential to benefit from the economies of scale and efficiency that the Kidman ranches would bring.
Born in 1857, Sidney Kidman's empire was based on controlling land that enabled him to move thousands of cattle across the arid Australian inland to where they would always find water, even in the severest drought, the ABC reported in 2003. Kidman, known as Sir Sidney after being knighted in 1921, owned more than 3 percent of Australia before his death in 1935.
Kidman Legacy
Today, the Kidman beef interests span 18 so-called pastoral leases across remote South Australia, Western Australia, Queensland and the Northern Territory, totaling 101,000 square kilometers (39,000 square miles), or about 1.3 percent of the country's land area. The properties, including a feedlot near the wine-growing Barossa Valley in South Australia, carry about 185,000 cattle, producing mostly grass-fed beef for Japan, the U.S. and Southeast Asia, according to the company's website.
BBHO's offer, which is conditional on the group acquiring at least 90 percent of Kidman shares, is for the entire business, including the defense-sensitive Anna Creek ranch, which itself is larger than Israel. The group's members are already among Australia's most prominent cattle and sheep ranchers.
"As Australian grazing families, we share a strong affinity with the Kidman properties," Buntine said in the statement Sunday. "My father carted cattle for Kidman for many years, while several members of the Oldfield family earned their stripes as drovers on Sir Sidney's properties. More recently the Brinkworth family's epic 18,000-head cattle drive from central west Queensland to southern New South Wales followed in Sir Sidney's similar footsteps from earlier this century."
Brinkworth himself said he was inspired by the way in which Kidman strategically acquired land that enabled him to move cattle from remote northern Australia to markets in the south along inland river systems.
"I've admired what he did, and without really knowing it at the time, I was actually copying him," Brinkworth said in a rare interview with the ABC's Landline program.
Iron Ore to Beef
Rinehart, the chairman of Perth-based Hancock Prospecting, amassed a $12.1 billion fortune from mostly iron-ore mining and royalties from deposits discovered by her father Lang Hancock. In 2014, she bought a 50 percent share in two ranches in Western Australia's West Kimberley region. She now has a beef herd of about 100,000 head, the Age newspaper reported in August.
Accounting firm Ernst & Young is advising Kidman on the sale process, which began in April 2015 following a decision by the current owners "to capitalize on the present demand for quality Australian agricultural assets," Campbell said at the time.
Agrify and Hindmarsh Partners are advising BBHO on the transaction.
— With assistance by Jason Scott
Before it's here, it's on the Bloomberg Terminal.
LEARN MORE