Brexit Turmoil Flashes Sell-Gilts Sign for International Funds
by
Pioneer, Frankfurt Trust join managers paring gilt holdings

Gilts become worst performer among G-10 peers in past month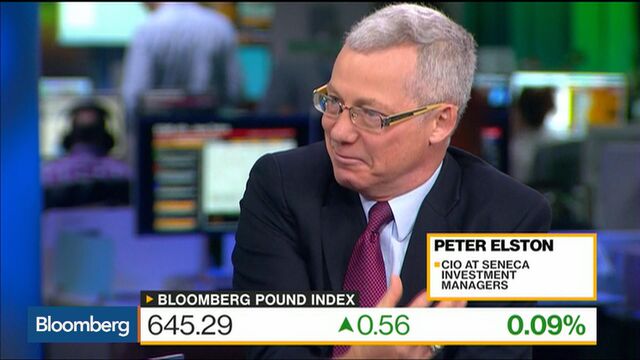 International investors are growing cold on U.K. government bonds.
Managers with more than $4 trillion, including Pioneer Investment Management and Frankfurt Trust, say the fallout from the Brexit vote is making them more bearish. With no quick answers in sight to the plethora of challenges the U.K. faces in carrying out its June vote to leave the European Union, gilts are being hurt by a plunging pound, monetary policy clashing with higher inflation, and the government's thus-far unclear stance on negotiating Brexit.

This bodes badly for a market that was already the worst-performing sovereign in the past month and helped drive a global selloff in October.
"What makes it difficult to trade gilts at this point is that the market is being driven by political risk," said Paul Malloy, head of European fixed income in London at Vanguard Group Inc, which manages about $3.6 trillion. "Gilts are pretty much attached to sterling, which is pretty much attached to Brexit outcome scenarios. Political risk is extremely difficult to model. It's not something driven by economic fundamentals."
Foreign investors own about 27 percent of outstanding gilts, and should they abandon the market it could pushing up U.K. borrowing costs just as the government might consider fiscal easing to limit the fallout of quitting the bloc. That loyalty is harder to keep also because inflation is set to quicken after sterling plunged about 18 percent since the Brexit vote, both cutting into fixed-income earnings for international investors.
"This is not good news for people who hold long-dated gilts, especially when the Bank of England signaled they are going to tolerate higher inflation," said Christoph Kind, head of asset allocation at Frankfurt Trust, who said he has sold gilts through derivatives.
Biggest Losers
Gilts lost 1.7 percent in the past month through Wednesday, making them the worst performer among government bonds in developed markets, according to Bloomberg World Bond Indexes. Japanese government securities earned 0.4 percent in the period, while Treasuries and German debt lost 0.2 percent and 0.1 percent, respectively.
At 1.09 percent, the yield on 10-year gilts has more than doubled from a record-low 0.51 percent reached in August. While the yield reached a four-month high of 1.22 percent on Oct. 17, it's still low by historical standards, with the average in the past five years about 1.99 percent.
For more on the selloff in gilts, click here.
Investors were heartened by the Bank of England's re-booted bond-buying program, but they see that measure being curtailed by faster inflation. Consumer price increases accelerated to the fastest pace in almost two years in September and BOE officials have warned that the pound's decline may push the price growth rate above their 2 percent target.
Higher inflation reduced real yields, or the nominal yield minus the inflation effect, to minus 0.34 percent on 10-year gilts last month, the lowest level in more than three years. That compares with more than 0.10 percent in the U.S.
At the same time, Britain buys more from abroad than it sells, meaning it relies on foreign investment to make up the difference.
"Since the U.K. runs a current account deficit, we need to be aware that gilts might be less attractive to international investors," said Mark Nash, Old Mutual's head of global bonds in London. "Therefore, to fund the government, very negative U.K. yields look out of place."
Old Mutual Global Investors, which manages $435 billion, cut gilt holdings below the level contained in the indexes used to benchmark its performance due to a weaker pound and the risk of higher inflation that follows. Vanguard said its view on gilts has shifted to neutral from positive.
Saving Grace
One saving grace for gilts is that the BOE expanded its bond-buying program in August to buy 60 billion pounds of bonds over six months. Gilts also have a base of committed local buyers such as pension funds which need the assets to manage their liabilities.
While these may help limit the selloff, there's mounting speculation that Prime Minister Theresa May will seek a clean break from the single market in exchange for control over immigration. That so-called hard Brexit is what investors say may lead to a further drop in sterling, higher volatility and an increase in gilt supply from a government forced to borrow more.
Foreign investors boosted their holdings of gilts in August, reversing a decline from the previous month. The BOE will publish data for September, when 10-year gilts fell for the first month since April, on Oct. 31.
"A weaker currency will translate into higher headline inflation, and investors might require a higher risk premium for holding long-dated bonds," said Marco Cecchi, a Milan-based senior money manager at Pioneer, which manages about $245 billion, and is bearish on long-dated gilts versus shorter-maturity ones. "We might also see in the future a shift toward more fiscal-policy expansion. This should also cause longer-dated gilts to underperform."
Before it's here, it's on the Bloomberg Terminal.
LEARN MORE