economics
Canadian Economy Takes Fresh Hit as EU Trade Deal Collapses
By
Canadian Economy Takes Fresh Hit as EU Trade Deal Collapses
By
Failure of talks will chill $70 billion in two-way commerce

Country already mired in slow growth on oil-price shock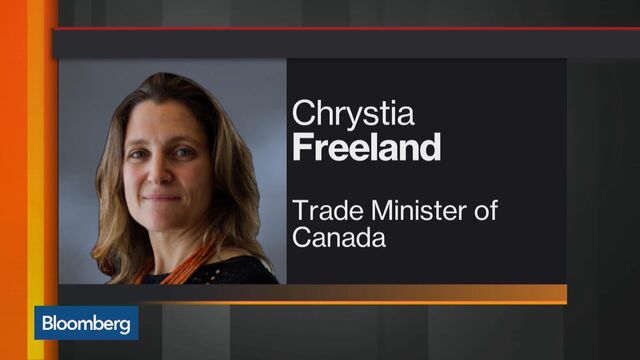 Canada's listing export sector took another blow Friday as talks to seal a trade deal with the European Union broke down, adding to questions about what will drive the economy forward.
The country is already facing three straight years of growth below 2 percent, the weakest stretch since at least the 1960s. Business spending is still hurting from the oil-price shock, as well as volatility around a fractious U.S. election and Brexit. The breakdown in negotiations over the Comprehensive Economic and Trade Agreement will chill two-way trade worth about C$93 billion ($70 billion) a year and about C$380 billion of direct investment.
Bank of Canada Governor Stephen Poloz and a high-profile government advisory panel said this week boosting growth may require potentially unpopular measures such as expanding trade agreements and increasing immigration. Poloz said Wednesday the central bank's governing council came close to cutting interest rates due to a diminished export outlook, but held off in part to gauge the effect of government spending measures introduced this year by Finance Minister Bill Morneau.
"This is a real setback," Peter Hall, chief economist at Canada's trade finance bank, said of CETA. "That's a major loss of opportunity," he said in a phone interview, adding the deal could have lifted trade by C$12 billion a year.
Growth Drivers
Poloz has said that with Canada's potential annual growth rate slowing to about 1.5 percent, anything that adds a percentage point or two matters. He cited new trade deals and targeted infrastructure spending as antidotes to sluggish growth. Canada should press ahead with a new infrastructure bank and expand immigration levels to boost long-term growth, Dominic Barton, head of Morneau's Advisory Council on Economic Growth, said Thursday in a report.
"I'm concerned about the spread of protectionist rhetoric," Poloz, who is also the former head of Canada's trade-finance bank, told lawmakers Wednesday. He said policy makers need to do a better job of explaining the benefits of free trade.
For Canada, the damage from slowing global trade has been clear. The economy will grow just 1.1 percent this year as exports contribute 0.2 percentage points to the expansion, the central bank said in its latest quarterly forecasts. Business investment is the biggest drag, slowing growth by 0.8 percentage point, as oil and gas companies in Alberta shut production made unprofitable with crude around $50 a barrel.
Bombardier Inc. and Magna International Inc. are among a dozen major Canadian companies that rely on Europe for at least one-third of their sales, according to data compiled by Bloomberg.
Widespread Fallout
Trade Minister Chrystia Freeland walked out of talks on Friday with European officials she said aren't "capable" of finishing the deal. That still leaves open other agreements with China and India and the Trans Pacific Partnership.
Barring an export uptick, Canada's economy is more or less reliant on consumer spending and fiscal stimulus, and it's unclear that an increase in either would be healthy for the country in the long run.
The talks weren't just about the movement of goods. A collapsed trade deal with the EU would undermine Canada's efforts to loosen foreign investment rules for European companies. Canada was poised to raise the threshold for reviewing foreign investment from EU countries to C$1.5 billion as part of the trade pact. 
The agreement also was meant to loosen restrictions on government procurement and intellectual property, with Canada opening up its procurement market to European companies and extending the term of patent protection.
In addition, CETA would have given the country's auto industry a leg up. Canada and the EU had agreed to phase out auto tariffs on both sides over seven years. The deal would have allowed Canada to export 100,000 cars that don't meet the 50 percent made-in-Canada "rule of origin" requirement.
— With assistance by Erik Hertzberg
(
Updates with company names in 10th paragraph.
)