Wal-Mart Plans to Crack Chinese Market by Delivering Within Hours
Bloomberg News
Retailer to offer imported goods from its global stores: CEO

Wal-Mart can now deliver to 90 percent of Chinese consumers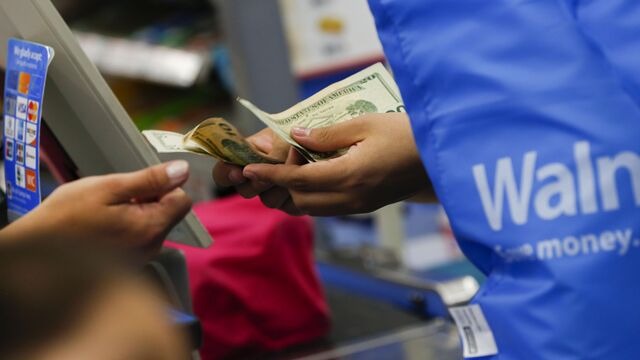 Wal-Mart Stores Inc. has hit the reset button on its China strategy in dramatic fashion.
The world's largest retailer is making an ambitious push into e-commerce in China and aims to deliver goods from its stores around the world to Chinese consumers within hours. Shoppers in select remote villages could even see their Wal-Mart products being delivered by drones as part of a pilot project by its Chinese partner, JD.com Inc.
After unsuccessful efforts to scale up its own e-commerce network, Wal-Mart launched several new initiatives this week through a tie-up with JD.com -- China's second-largest e-commerce website, with almost 200 million active users. With this partnership, Wal-Mart said it will now be able to deliver its goods, ranging from American vitamins to Japanese hand cream, to more than 90 percent of China's 1.4 billion consumers.

"There isn't another country in the world that represents the kind of retail growth opportunity that China does, given the growth rate of the market itself and the consumer demand here," Chief Executive Officer Doug McMillon, 50, said in an interview in Beijing. "We see opportunities to partner together to provide goods to our customers, to leverage our supply chain and their digital capabilities."
Wal-Mart has a lot riding on its new online strategy aimed at getting a bigger slice of the world's biggest e-commerce market. The retailer this month forecast that earnings will be flat the next two years while it invests in e-commerce. As it looks to China to fuel growth, cracking the Chinese online game will be more important than ever.
To watch the interview with Wal-Mart CEO Doug McMillon click here.
"They have found a clever way to leverage someone else's network to help them sell things online, and it's easier to jump on the back of JD.com," said Chan Wai-Chan, a senior partner at Oliver Wyman's Asia Pacific consumer practice. "They need to do something online to stop e-commerce from taking away their business. This is Wal-Mart's solution."
Wal-Mart shares gained 12 percent this year through Wednesday in New York trading, outperforming the Bloomberg World Retail Index, which was down 1.1 percent. That still lagged the U.S.-listed stocks of its major e-commerce competitors, Amazon.com Inc. and Alibaba Group Holding Ltd., which gained 21 percent and 28 percent respectively over the period. Wal-Mart rose 0.2 percent to $69 at 10:20 a.m. in New York.

McMillon, who took over the top role in 2014, said the initiatives will keep the company's China operations on track to contribute a quarter of its global retail growth in the next five years. That's despite sluggish sales at Wal-Mart's retail stores in China while shoppers there increasingly turn to online websites for convenience. The strategy also gives it access to new Chinese consumers in smaller cities where Wal-Mart doesn't operate stores.
"The scale of the last mile here in China is unique -- the economics related to it are different," McMillon said. "We could have built this ourselves, but everything requires investment. What we are doing is being very deliberate about where we're putting our resources and being open to working with others. In today's world, there's different ways to build that ecosystem that serves customers."
To reach customers, Wal-Mart is relying on JD.com and its extensive logistics and delivery network. JD.com founder and CEO Richard Liu said the company wants to build a fully-automated delivery infrastructure that includes automated warehouses and distribution centers, self-driving delivery cars and drones.
The company is delivering products to a limited number of remote villages in southern China by drones. Villagers who order Wal-Mart and Sam's Club products could see some goods flown to them, according to JD.com spokesman Josh Gartner.
Wal-Mart operates 420 stores and Sam's Club membership outlets in the country. Wal-Mart's global online sales are about $14 billion, or 3 percent of worldwide revenue, according to Bloomberg Intelligence. About 20 percent of China's retail sales are online, according to Ben Hassing, senior vice president for China e-commerce. Wal-Mart, which posted $482 billion in annual sales, doesn't break out China revenue.
The initiatives include guaranteed deliveries within two hours to customers who live within a few miles of 20 Wal-Mart stores initially. The U.S. retailer will also stock a JD.com warehouse with imported products from its stores globally to capitalize on Chinese consumers' preference for overseas goods. That means such things as dried cranberries from the U.S., toothpaste from Japan and face masks from Korea available at Wal-Mart stores overseas will be available to Chinese consumers for the first time. The company plans to offer tens of thousands of items it imports from around the world to Chinese consumers within 18 months, Hassing said.
Retail Challenges

The other twist: Sam's Club stores' upscale products are now available to all Chinese. A range of products from the membership store, which sells $3,000 rice cookers and $1,800 bottles of red wine, will be available for the first time to nonmembers online in China -- at a 10 percent price premium.
Wal-Mart has struggled in China with multiple attempts to get a foothold in the market since its entry two decades ago. In 2007, it acquired Taiwanese chain Trust-Mart, though the company struggled to integrate it into its wider business. In the last few years, it's pulled back on an expansion as it closed stores in mostly second- and third-tier cities while opening new ones at a slower pace.
The new strategy follows Wal-Mart's decision to sell its Chinese e-commerce platform Yihaodian in June in exchange for a 5 percent stake in JD.com. The retailer had acquired full ownership in the business a year earlier, and the sale was seen by analysts as a retreat from China's e-commerce market. Instead, the Bentonville, Arkansas-based company has used the relationship with the Chinese partner to grab Chinese consumers online. Earlier this month, Wal-Mart boosted its stake in JD.com to about 11 percent.
E-Commerce Competition
JD.com's Liu said that Wal-Mart's challenge with Yihaodian was that China's e-commerce landscape has two major players -- Alibaba and JD.com -- and not much room for the rest. "I think Wal-Mart did have success with e-commerce," Liu said in a separate interview conducted in Mandarin. "If not, we would not have given them so many shares when we acquired Yihaodian."

Liu said there is potential for the partnership to go global, especially with Wal-Mart's $3.3 billion acquisition of U.S. e-commerce start-up Jet.com in August.
"There's great potential for us to cooperate with Jet.com to develop e-commerce markets globally after we align our supply chains in China," he said.
To gain the upper hand in the retail battlefront, McMillon says the company needs to be ready with an array of tools and platforms that serve customers.
"What we're seeing is that customers want it all: They want to save money, they want to save time, they want to have access to the merchandise they're looking for and sometimes be surprised by a new item," he said. "They want to do that in stores. They want to do it on a mobile device. Some day they'll do it with a virtual reality experience. They'll get all of that."
— With assistance by Rachel Chang, and Shannon Pettypiece
Before it's here, it's on the Bloomberg Terminal.
LEARN MORE