U.S. Stocks Slip as Earnings Results Weigh on Phone, Tech Shares
By and
Verizon, EBay slump after results while AmEx shares surge

Oil gives back some recent gains after reaching 15-month high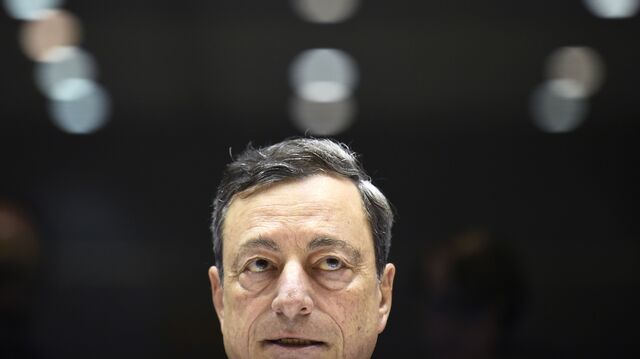 U.S. stocks edged lower as disappointing results from Verizon Communications Inc. to EBay Inc. overshadowed gains in health-care and American Express Co.'s best rally in seven years.
Equities wavered on a variety of influences, including corporate reports, stimulus measures from the European Central Bank, a final presidential debate before the Nov. 8 election and signs the housing market continues to bolster growth, adding to the case for higher borrowing costs. Crude fell from a 15-month high, though energy producers were little change after a stronger outlook for oil prices from the World Bank. Microsoft Corp. rallied in after-hours trading as its results beat estimates.
The S&P 500 Index fell 0.1 percent to 2,141.34 at 4 p.m. in New York, trimming a morning drop that reached 0.5 percent. The benchmark closed near its average price during the past 100 days after falling below the closely watched level. The Dow Jones Industrial Average lost 40.27 points, or 0.2 percent, to 18,162.35. The Nasdaq Composite Index declined 0.1 percent. About 6.2 billion shares traded hands on U.S. exchanges, 5 percent below the three-month average.
"There have been a handful of news items for traders to key off of today, including Draghi's comments, earnings and the last night's debate," said Frank Cappelleri, executive director at Instinet LLC in New York. "With the market so close to an important support level, traders have been looking for reasons to either buy before the potential bounce or sell in front of a larger decline. The erratic movement so far suggests that both of these have been happening today."

The ECB today kept its quantitative-easing program and interest rates unchanged. U.S. equity futures earlier followed European shares lower after the central bank's President Mario Draghi said during a press conference that the euro region's economic outlook remains subject to downside risks. He also reiterated that officials will extend stimulus if needed.
Thursday's declines halted the S&P 500's two-day winning streak, which had been spurred by a spate of results showing signs that companies may break a five-quarter streak of falling profits. The index hasn't climbed for three consecutive sessions in a month, wobbling indecisively between daily gains and losses.
Following the close of regular trading, Microsoft jumped 5.3 percent as of 4:36 p.m., after its quarterly sales and profit topped predictions, buoyed by growing demand for cloud-based software and services.
Among shares moving on earnings news:
American Express Co. rallied the most in seven years after boosting its projection for annual profitability.


Mattel Inc. had its best one-day gain in eight months after its quarterly sales topped estimates, boosted by Barbie and American Girl doll sales.


Travelers Cos. lost 5.8 percent, the steepest slide in the Dow, after posting its fourth-straight profit decline as weather-related costs climbed and investment income slipped.


EBay Inc. suffered its worst drop since January after forecasting fourth-quarter revenue and profit that may miss projections.


Verizon Communications Inc. sank 2.5 percent after adding fewer monthly mobile subscribers than analysts had predicted.


Union Pacific Corp. slumped 6.7 percent, the most since 2009, as its profit missed predictions, with freight demand continuing to decline and the railroad struggling to boost prices.
"Last week and earlier this week we had some bank earnings that were pretty good," said Timothy Ghriskey, who helps manage $1.5 billion as chief investment officer at Solaris Asset Management LLC in New York. "We've seen a number of industrial companies, however, either pre-announce or report some weak earnings and that's certainly been negative."
Meanwhile, central banks have held sway over equity markets this year, with investors parsing economic data and comments by officials for hints on the timing of the Federal Reserve's next interest-rate increase. Traders are pricing in less than one-in-five odds of a hike at the next meeting that takes place days before the presidential election, and a nearly 68 percent probability of a move in December.
As investors scour data for hints on the path for rates, a report today showed sales of previously owned homes increased more than projected in September. Filings for unemployment benefits rose by the most since July, after spending several weeks at or near a four-decade low, according to another gauge. A separate measure indicated expansion in Philadelphia-area manufacturing slowed this month.
The earnings season's impact on equities is also becoming more visible as the reporting pace picks up. A fifth of S&P 500 companies have released results so far, and while nearly 83 percent have beat earnings expectations, according to data compiled by Bloomberg, companies such as EBay that don't follow better-than-predicted profits with a satisfying outlook are susceptible to punishment from investors. Analysts forecast profits in the benchmark will fall 1.4 percent.
In Thursday's trading, 10 of the S&P 500's 11 main industries declined, with Verizon leading phone companies to a five-month low. Union Pacific was the biggest drag on industrials, with railroads in the benchmark marking their steepest drop in almost two years. Health-care companies were the strongest group, led by Danaher Corp. as the medical-equipment maker rose the most since last October after boosting its full-year profit forecast.
Despite the pullback in stocks, the CBOE Volatility Index fell for a third day, the longest stretch in two months. The measure of market turbulence sank 4.6 percent to 13.75, the lowest since October 10.