U.K.'s May Urges All Options to Reign in Russian 'Atrocities'
by
May uses first summit to warn of Putin's 'appalling' actions

EU will say that the option of sanctions over Syria remains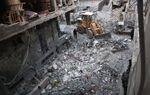 British Prime Minister Theresa May planned to outline three distinct threats posed by Russia in remarks to her fellow European Union leaders at a summit in Brussels on Thursday.
Russia endangers democratic values and institutions, is behaving aggressively in eastern Europe and has engaged in "appalling" actions in bombing the northern Syrian city of Aleppo, May was expected to say, according to a British official speaking on condition of anonymity because the talks are private.
The U.K. was instrumental in pushing the EU to include a reference in the summit's draft communique to the future possibility of imposing sanctions on Russia over its behavior in Syria. The EU's 28 leaders are grappling over how to respond to Vladimir Putin's aggression but they will not take a decision on sanctions, diplomats said.
There's growing international condemnation of the bombing of Aleppo, where some 275,000 inhabitants remain trapped. Syria's government opened two crossings for fighters who want to leave the rebel-held eastern part of the city, a day after announcing a three-day humanitarian pause to its offensive.
May was due to tell her EU counterparts that Russia's backing of the regime of Syrian President Bashar Al-Assad is undermining western efforts to bring peace to the war-ravaged country and that "all options" must be on the table to put pressure on the Kremlin, the official said.
"We must show a robust and united European stance in the face of Russian aggression," May told reporters as she arrived for the summit. While Britain is leaving the EU, until it does "it's vital that we work together to continue to put pressure on Russia to stop its appalling atrocities," she said.
Before it's here, it's on the Bloomberg Terminal.
LEARN MORE