Treasuries Volatility Nears Two-Year Low Before U.S. Election
By and
Clinton, Trump's stimulus plans negative for bonds: MCP Asset

El-Erian says he favors cash as central banks distort markets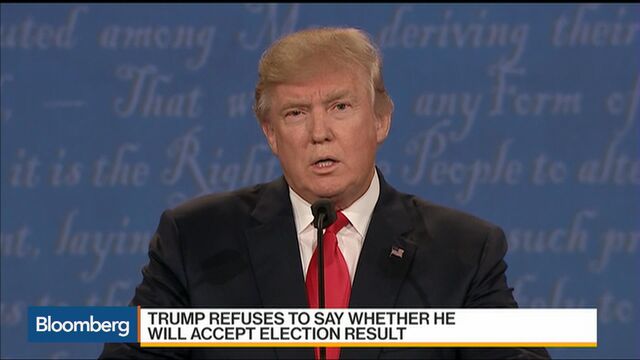 A gauge of swings in Treasuries approached the lowest in almost two years as investors refrained from setting new positions before next month's U.S. presidential election and amid the outlook for higher Federal Reserve interest rates.
Three-month implied volatility on U.S. 10-year interest-rate swaps, a measure of projected yield fluctuations, touched 68.8 basis points Thursday. It reached 67.5 last month, the lowest since November 2014, according to data compiled by Bloomberg.
"If you want to buy bonds, it's not a good time," said Hiroki Shimazu, an economist and strategist at the Japanese unit of MCP Asset Management in Tokyo. "Whoever wins the presidential election will be negative for the bond market because they'll plan a large economic stimulus package. There's higher inflation."

In their third and final debate, the two main U.S. presidential candidates battled over their tax and spending plans, with Democratic contender Hillary Clinton saying she wanted to see the "biggest jobs program since World War II." The Republican nominee Donald Trump presented himself as an expert negotiator, repeating his pledge to renegotiate the North American Free Trade Agreement if elected.
Trump Trailing
The face-off came after a tumultuous few weeks for Trump, with Clinton leading the Republican nominee by 9 percentage points in a Bloomberg Politics poll of likely voters nationwide. Clinton's policies are better-known than Trump's, and riskier assets will benefit as her candidacy improves, while financial markets may become more volatile if Trump gains ground, Shimazu said.
The yield on 10-year Treasury notes was little changed at 1.75 percent as of 8:22 a.m. in New York, according to Bloomberg Bond Trader data. The price of the 1.5 percent security due in August 2026 was 97 25/32.
Treasuries have slumped in October as a bond-market gauge of inflation expectations rose to the highest in five months. The probability of a U.S. rate increase by December has climbed to 64 percent, futures indicate, from 59 percent at the end of September. Still, Fed Chair Janet Yellen in a speech last week laid out the argument for keeping monetary policy easy, while hinting at letting the economy run hot.
'Mostly Positive'
The U.S. economy maintained a steady growth pace between late August and early October, as a tight labor market with nascent wage pressures contributed to a "mostly positive" outlook, according to the Fed's latest Beige Book economic survey.
The European Central Bank left interest rates unchanged and prolonged its asset purchases at 80 billion euros ($88 billion) a month, as predicted by economists in a Bloomberg survey.
Mohamed El-Erian, chief economic adviser at Allianz SE in an interview said he's favoring cash as well as the riskiest investments, such as venture capital, in his own portfolio and is less bullish on publicly traded securities such as stocks and bonds because global central banks have pushed their prices to "distorted" levels.
"There's enormous risk in public markets because that's the one that central banks have distorted to the greatest extent," El-Erian said. "It's very hard to say I'm going to buy a basket of public equities and go to sleep for the next five to 10 years and feel good about the returns. Similarly with bonds."
Before it's here, it's on the Bloomberg Terminal.
LEARN MORE