These Investors Said 'No' to CEO Pay at Goldman Sachs, Citigroup
By and
Deutsche Bank, Allianz and Schroder's changed their votes

Morgan Stanley went against Goldman; Wells Fargo against Citi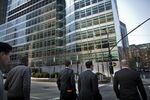 When investors in Goldman Sachs Group Inc. and Citigroup Inc. met for annual meetings earlier this year, some of the bigger ones came bearing a surprise.
QuickTake What Drives Executive Pay
About one-third of votes cast at each firm were against executive-pay practices, a steep decrease in support from the previous year, filings released shortly after the meetings showed. What wasn't immediately clear was which fund managers had changed their minds. Documents that large investors file with the U.S. Securities and Exchange Commission, which show how they voted, aren't made public until months later.
Now, those filings, compiled for Bloomberg by proxy-analysis firm Fund Votes, show that investors including Deutsche Bank AG, Allianz SE and Schroder's Plc went from backing the banks' compensation plans in 2015 to giving both a thumbs-down this year.

Goldman Sachs Chief Executive Officer Lloyd Blankfein was awarded $33.1 million in 2015, the highest among CEOs of U.S. banks. The firm's next four top executives were among the 60-highest-paid in the U.S. last year, according to the Bloomberg Pay Index, which values equity awards at fiscal year-end.
Citigroup CEO Mike Corbat's $20.1 million package represented a 49 percent raise over the previous year, the Bloomberg index shows.
Representatives of Goldman Sachs, Citigroup, Schroder's and Deutsche Bank declined to comment. Allianz didn't immediately provide an official for comment.
Shares managed by Morgan Stanley, Dimensional Fund Advisors LP, Charles Schwab Corp. and Bank of New York Mellon's Dreyfus Corp. switched their votes to 'no' at Goldman's meeting. Wells Fargo & Co., AllianceBernstein Holding LP and Thornburg Investment Management Inc. voted down pay plans at Citigroup, Fund Votes data show.
Both banks were protected from even worse scores by some of their largest shareholders. Most of the biggest owners of both firms, including Vanguard Group, BlackRock Inc., State Street Corp. and Capital Group Companies Inc., voted with management.
State Street reconsiders how it votes following shows of low support, said Rakhi Kumar, head of corporate governance for its asset-management business. "I think it's important to give that a second look because there are other investors who are concerned," she said.
The "say on pay" votes, implemented as part of the Dodd-Frank financial reform bill, are non-binding and can't force policy changes. Still, boards tend to bristle if investors appear unhappy and often make changes to placate them. Normally, they don't have to. At companies in the S&P 500 Index, an average of 91 percent of votes are cast in favor of executive-pay plans.