Tale of the Tape: Trump Unbound in Final Showdown With Clinton
By
Trump refuses to say whether he'll accept election results

Clinton defends gun curbs, abortion rights in court discussion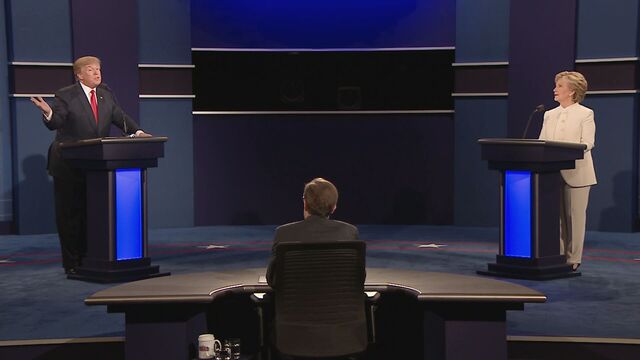 Donald Trump had two choices to try to pull out of a dive in the polls during the final presidential debate: serious and sober, or classic, combative Trump.
In a way, he tried both -- and the contest Wednesday night in Las Vegas allowed for some sharp and substantive policy discussions on immigration, the candidates' vision for the Supreme Court, and economic policy. What will be remembered is Trump unbound.
He fanned concern he might refuse to concede should he lose the election. He said he was so innocent of allegations he groped women that he didn't apologize to his wife. And he said Hillary Clinton -- "such a nasty woman" -- shouldn't even be able to run for president due to her mishandling of a private e-mail server.
Clinton largely stayed above the fray, well ahead in the polls and not needing to do much more than avoid a major gaffe. That she did, and the exchange seemed to do little to change the trajectory of a campaign where she's substantially ahead. Clinton leads Trump by nine percentage points, 47 percent to 38 percent, in the latest Bloomberg Politics poll of likely voters.
Here's the tale of the tape:
'Rigged' Election
Trump refused to say whether he would accept the results of the election if he loses.
"I will tell you at the time," he said, after being pressed several times by moderator Chris Wallace. "I will keep you in suspense."

Trump has repeatedly questioned the integrity of the U.S. electoral system, describing the election as "rigged" and tweeting this week that there was "large-scale voter fraud happening." The Republican nominee has asked his supporters to monitor polling locations in urban precincts.
Clinton called Trump's refusal to commit to accepting the results "horrifying." She said Trump whined that the system was rigged whenever things went against him, citing his complaints about the Republican primaries, the Justice Department's decision not to prosecute her over her use of a private e-mail server, and his treatment in a lawsuit over Trump University. And, Clinton argued, the refusal broke with centuries of American electoral tradition.
"That is not the way our democracy works," she said.
Trump said he was concerned about voter fraud and a "dishonest" media.
Allies and critics of Trump have dismissed his claims as unfounded. Trump's vice presidential nominee, Mike Pence, has said he'll accept the election results, and House Speaker Paul Ryan, a Wisconsin Republican, is fully confident the vote will be carried out with integrity, according to an aide.
Voting experts say that wide-scale fraud would be incredibly difficult considering the patchwork of voting laws and systems across the different states and localities -- many of them Republican-controlled -- that administer elections and tally the results. A study by Arizona State University found only 10 cases of voter impersonation nationwide from 2000 to 2012.
"It is more likely that an individual will be struck by lightning than that he will impersonate another voter at the polls," a 2007 report from the New York University School of Law's Brennan Center for Justice said.
Trump's campaign manager said Wednesday that while there have been spotty reports of voter fraud in the past, and while she sees the media as aligned with Clinton and largely opposed to Trump, she doesn't believe there will be widespread voter fraud on Nov. 8.
"Absent overwhelming evidence that there is, it would not be for me to say that there is," Kellyanne Conway said on MSNBC.
The Court, Guns and Abortion
The opening round gave both candidates an opportunity to motivate their bases by emphasizing the role of the Supreme Court and the next president's power to shape it.
Clinton said the justices need to stand against "powerful corporations and the wealthy." She said she wanted the Supreme Court to protect marriage equality and the Roe v. Wade decision's right to abortion, while reversing course on Citizens United, the 2010 ruling that said corporations and unions have a free-speech right to spend as much as they want on election advocacy.

Trump focused his comments primarily on the Second Amendment, saying guns rights were "under absolute siege" by Clinton.
Clinton said the court's 2008 ruling in District of Columbia v. Heller struck down a "reasonable" law to protect toddlers from gun accidents. "Of course we're going to protect and defend the Second Amendment but we're going to do it in a way that is going to protect some of the 33,000 people who die every year," she said.
"I also clearly believe there's an individual right to bear arms," Clinton said. That's her clearest statement yet that she supports the core of the 2008 Heller decision, which for the first time said the Second Amendment protects the rights of people to own guns even if they aren't affiliated with a state-run militia.
The conversation turned to abortion, with Trump saying he would appoint Supreme Court justices who are pro-life and "have a conservative bent." Under the justices he would name to the court, Trump said, Roe v. Wade would be struck down and decisions on abortion "will go back to the states."
Trump also said Clinton supported a policy that would allow for what critics call "partial-birth" abortions that he said "rip the baby out of the womb of the mother" in the final weeks of the pregnancy.
Under the 1992 Planned Parenthood v. Casey decision, states can ban abortions after the fetus is viable as long as they make exceptions for cases where the life or health of the mother is at risk.
Advocacy organizations have advertised heavily in the election on hot-button issues likely to come before the court. The National Rifle Association, which has endorsed Trump, and its affiliates have spent $9.8 million attacking Clinton in the 2016 race. Planned Parenthood and its affiliates have spent $2.5 million attacking Trump and $3 million supporting Clinton.
Russia and Putin
Russia was a prominent source of conflict, with Clinton and Trump sparring over the country's alleged involvement in hacking against the U.S. ahead of the election.
The Democratic nominee said Trump's praise of President Vladimir Putin as a strong leader and his talk about working more closely with Moscow showed the Republican is a "puppet" who likes to "spout the line" of the Russian leader.

"I don't know Putin, I never met Putin" Trump shot back. "Putin has outsmarted her and Obama at every single step of the way."
Trump repeated previous statements that no one knows who was behind repeated breaches at Democratic political groups. "She has no idea whether it's Russia, China or someone else," he said.
In fact, on Oct. 7, U.S. intelligence officials said publicly for the first time that intelligence agencies are "confident that the Russian government directed" the hacking and disclosures "to interfere with the U.S. election process." Putin, who initially rejected the claim, has more recently asked, "Does it really matter who did it?" and urged focusing on "the substance of what the hackers had put out."
"He'd rather believe Vladimir Putin than the military and civilian intelligence professionals who are sworn to protect us," Clinton said. "I find that just absolutely frightening."
Economy, Taxes
The candidates traded shots over their plans for the economy. Clinton, who favors increasing the minimum wage and boosting taxes on the wealthy, said Trump's tax plan would add $20 trillion to the debt.
"His whole plan is to cut taxes," Clinton said, and could bring about "another great recession." Trump shot back that she would impose a massive tax increase.

Various analyses of Clinton's tax plan agree that her tax increases, which include a 4 percent surtax on people who make more than $5 million a year, would be focused on the top 1 percent of earners.
An analysis by the Washington-based Tax Policy Center found that Trump's plan would cause the federal debt to rise by $20.9 trillion -- but over 20 years. Typically, tax policies are evaluated on a 10-year basis. Over that period, Trump's plan would cause the federal debt to increase by $7.2 trillion, the tax-policy center found. The Trump campaign has dismissed that finding.
That estimate is higher than other recent findings: The conservative Tax Foundation found that Trump's tax plan might increase the national debt by $2.6 trillion over 10 years.
While Clinton said her plans for taxes and spending "will not add a penny to the debt," an analysis by the nonpartisan Committee for a Responsible Federal Debt found that they would add $200 billion to the national debt over 10 years.
Trump also faulted September's jobs report, calling the result anemic.
"I should win easily, it was so bad," Trump said.
The economy added 156,000 jobs last month, more than most economists think is necessary to keep the unemployment rate steady or falling. September's figure was shy of analysts' 172,000 estimate, but not by much.
"Right now, our country is dying at 1 percent GDP," Trump said. The U.S. economy expanded at 1.3 percent on a year-over-year basis and 1.4 percent on a quarterly basis in the second quarter.
Immigration
Immigration, perhaps one of the most polarizing issues in the 2016 presidential race, provided one of the sharpest contrasts.
"We have some bad hombres here and we're going to get them out," Trump said.
He said Clinton wanted to give amnesty to the nation's 11 million undocumented immigrants, calling her plan a "disaster." He said those in the country illegally brought both violent crime and drugs that have fueled an opioid epidemic.
The Republican nominee also slammed Clinton over a portion of a speech disclosed by WikiLeaks in which she said she dreamed of "open trade and open borders" throughout the Western Hemisphere.
Clinton said she had always supported border security and that her reference to "open borders" was intended to promote a shared energy grid. She said Trump choked when he met with Mexican President Enrique Peña Nieto in August and failed to press him over a demand that the Mexican government pay for the wall that Trump has vowed to build along the border.
She also slammed Trump's call for a "deportation force" to remove those in the country illegally.
"That is an idea that is not keeping with who we are as a nation," Clinton said. Trump has said he would create a new deportation task force within the Immigration and Customs and Enforcement agency and triple the number of deportation officers.
Clinton has said that she would push for a comprehensive immigration overhaul within her first 100 days in office and that she supports a legal pathway for those in the country illegally.
Syria and Iraq
Foreign policy took up more than a third of this final debate. The just-begun battle to retake the northern Iraqi city of Mosul from Islamic State fueled barbed exchanges between the two rivals.
Trump said the administration was pushing the battle to help Clinton look strong after "losing" the city when U.S. forces largely withdrew from Iraq in 2011. But that battle is actually Iraqi-led and occurring faster than President Barack Obama initially forecast earlier this year.

Trump also faulted the U.S. for giving advance warning of the Mosul campaign. That operation was telegraphed partly to ease civilian casualties and establish safe corridors to prevent a humanitarian catastrophe. Trump said the heads-up allowed Islamic State fighters to flee, though clearly many are still in place.
Veering into Syria policy, Clinton offered an implicit criticism of the Obama administration's handling of the conflict by repeating her call for a no-fly zone and safe havens for civilians in the country. Obama has so far refused to take those steps, with military brass saying such steps could bring the U.S. into direct conflict with Russia,
"I think a no-fly zone could save lives and could hasten the end of the conflict," Clinton said. "I am well aware of the really legitimate concerns."
Trump, for his part, said Syrian President Bashar al-Assad had outsmarted the U.S. in his country's civil war. And he repeated earlier erroneous claims that the Syrian city of Aleppo, the site of fierce recent fighting, has already fallen.
"Aleppo is a disaster, it's a humanitarian nightmare but it has fallen from any standpoint," Trump said. "If they ever did overthrow Assad, you might end up with -- as bad as Assad is and he's a bad guy -- you may very well end up with worse than Assad. If she did nothing, we'd be in much better shape."
Groping Allegations
Trump's campaign has been rocked in recent days by new allegations from women who said the Republican nominee groped and kissed them inappropriately. In the debate, this wasn't a prominent topic, but the Republican nominee struggled to dismiss the allegations.
Trump said he didn't know his accusers, and said he believed they had been encouraged by Clinton's campaign or a thirst for fame.
"I didn't even apologize to my wife, who is sitting right here, because I didn't even do anything," Trump said, decrying the allegations as "lies" and "fiction."
Clinton noted that Trump has said Jessica Leeds, a woman who told the New York Times she was groped by Trump during a flight in the early 1980s, "would not be my first choice." A lawyer for Trump also issued a letter accusing the paper of libel and demanding a retraction.
Other accusers include a reporter for People magazine and a concertgoer who both said Trump inappropriately touched them at his Mar-a-Lago Club in Florida, a former contestant on his reality show "The Apprentice," and a former Miss Utah who said the Republican nominee kissed her on the lips.
"Donald thinks belittling women makes him bigger," Clinton said. "He goes after their dignity, their self-worth, and I don't think there's a woman anywhere who doesn't recognize that."
Trump denied having made the statements, called the accusations "largely debunked," and accused Clinton of running a "very sleazy campaign." He also noted that a longtime Democratic operative, Robert Creamer, was seen on an edited video appearing to suggest he hired protesters to incite violence at Trump campaign rallies.