GE Calls Singer's Bluff in Showdown Over 3-D Printing Firm
By
Industrial giant willing to walk away from deal, CFO says

Tender offer carrying 38% premium expires on Oct. 24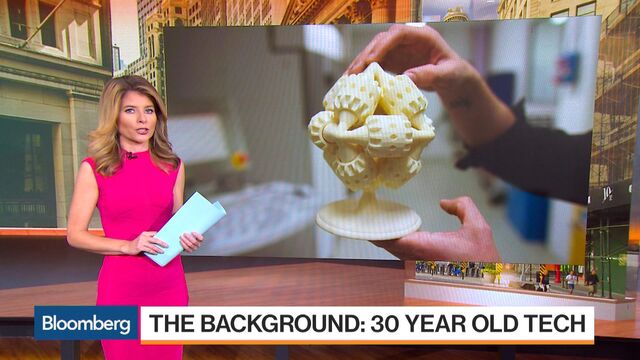 General Electric Co. refused to raise its price for 3-D printer company SLM Solutions Group AG after hedge fund Elliott Management Corp. said it would reject the tender offer, setting up a showdown between the industrial giant and billionaire Paul Singer.
SLM's management joined GE in urging shareholders of the German company to accept the offer before it expires on Oct. 24, GE said Friday in a statement. The company last month offered 38 euros a share for SLM as part of a plan to buy it and Sweden's Arcam AB for a combined $1.4 billion in a significant expansion of the U.S. company's 3-D-printing capabilities.
"We and the leadership at SLM think the offer we put on the table was a very good offer," GE Chief Financial Officer Jeff Bornstein said Friday in a telephone interview. If GE cannot reach an agreement with shareholders, the company would be willing to walk away from the deal, he said. "We have other options."
GE is making greater use of so-called additive manufacturing as it focuses on building industrial equipment with digital capabilities. The Boston-based company, which already uses the machines to print fuel nozzles for jet engines, has said these acquisitions could help it build a $1 billion 3-D-printing business by 2020.
"GE's offer is not in the best interests of SLM shareholders," Elliott, which was founded by Singer in 1977, said Thursday in a statement. The hedge fund through affiliates has amassed more than 20 percent of the printer company's shares.
The SLM bid represented a 38 percent premium over the closing price the day before the deal's announcement, GE said. SLM shares dropped 8.1 percent to close at 36.33 euros Friday in Frankfurt, giving the company a market value of about 650 million euros ($706 million). GE fell 1.7 percent to $28.58 at 12:38 p.m. in New York after reporting third-quarter earnings.
Boosting Stake
Singer has been boosting his stake since GE's original offer and has said he intended to "exert influence" over matters such as the company's capital structure and the makeup of managing and supervisory bodies. His investment firm is the second-largest shareholder in Arcam, with about 10 percent of outstanding shares, according to data compiled by Bloomberg.
Elliott has a track record of investing in European acquisition targets and holding out for a better price. It also has shown a willingness to remain a minority holder to benefit from the offers while preventing complete takeovers.
The hedge fund recently refused to tender its stake in Axis Communications AB, keeping Canon Inc. from owning more than 87 percent of the company. Elliott held out when EQT Partners AB acquired Swedish software maker Industrial & Financial Systems IFS AB, eventually selling for about 9 percent more than other shareholders.
When U.S. drug distributor McKesson Corp. sought to acquire German counterpart Celesio AG, Elliott and other minority shareholders initially rejected the price. A deal was salvaged, with Elliott earning bigger profits from convertible bonds it had amassed.
GE said this week that it would extend the acceptance period for its offer for Arcam to Nov. 1 from Oct. 14. Investors owning about 24 percent of outstanding shares had accepted the deal, the industrial giant said.
— With assistance by Beth Jinks
Before it's here, it's on the Bloomberg Terminal.
LEARN MORE