Saudi Stocks Rise Most Since April on Kingdom's Record Bond Sale
by
Finance minister says kingdom is repaying debts to contractors

Tadawul climbs second day, led by Jabal Omar Development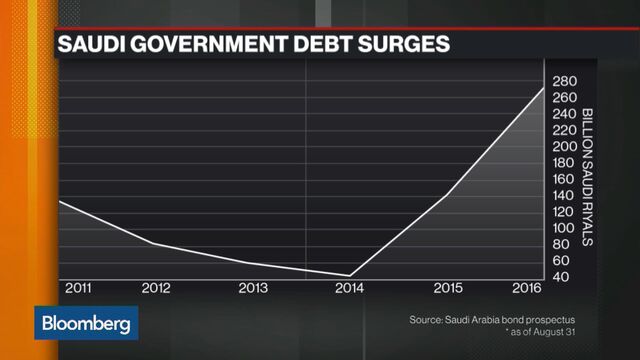 Saudi Arabian stocks advanced the most in six months after the kingdom said it was repaying debts to contractors in the wake of an international bond sale that was the biggest ever by an emerging-market sovereign borrower.
The Tadawul All Share Index climbed a second day to close at 5,651.80 in Riyadh, paring its decline this week to 0.7 percent. The gauge's 2.3 percent gain was the highest among more than 90 indexes tracked by Bloomberg globally after Serbian stocks. Real-estate developer Jabal Omar Development Co. was the biggest contributor to the advance.
The country, which raised $17.5 billion in a three-part bond offering on this week, has "regularized" and will increase payments to contractors, Finance Minister Ibrahim Al-Assaf said in a televised interview on MBC.
"The bond sale and the payment of contractors are drivers for the market now," said Joice Mathew, the head of equity research at United Securities in Muscat. "Last week, ambiguity on the bond sale kept investors away from the market, but now, the fact that the money is really coming in is driving investors back."
The rally offers some relief to equity investors in Saudi Arabia who have seen stocks slump the most in the world over the past 12 months. The world's biggest oil exporter has cut wages, bonuses and spending as it grapples with diminishing revenue from crude exports and a budget deficit that widened last year to the biggest since 1991. The slowdown in government expenditure, the main driver of economic growth, has hurt profit across the nation's industries.
Contractor Pay
Mecca-based Jabal Omar climbed 6.2 percent to 57.31 riyals, the highest level in a month. Saudi Electricity Co. advanced as much as 9.8 percent after posting the best quarterly profit in more than a decade.
Payments by the government have started to some major builders as well as companies outside the construction industry, three people with knowledge of the matter said this week, asking not to be identified because they aren't authorized to speak publicly.
The Tadawul All Share Banking Index gained 3.5 percent, the most since April, after all 12 of its members rose. Al-Rajhi Bank was the largest contributor to the increase, climbing 2.9 percent. Saudi British Bank advanced 6.1 percent, the most since December 2014.
Before it's here, it's on the Bloomberg Terminal.
LEARN MORE