Och-Ziff Capital Management Group May Be Cut to Junk by S&P
By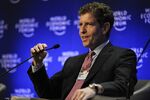 Och-Ziff Capital Management Group LLC, the hedge fund that settled with regulators last month over a bribery probe, may be cut to junk by S&P Global Ratings.
The decision reflects "the higher leverage the company will operate at as a result of our reassessment of its $400 million perpetual preferred issuance, as well as the risks the business is facing," S&P said in a statement Thursday.
Dan Och, the firm's chief executive officer, and other executives agreed to buy about $400 million of perpetual preferred units to help pay for the settlement. Och-Ziff settled in September with the U.S. Securities and Exchange Commission and Department of Justice. One of the company's units pleaded guilty to U.S. charges stemming from a plot to pay hundreds of millions of dollars in bribes to African officials.
S&P also said that "the legal infractions may represent significant risk to the company, and we have diminished our assessment of the company's risk management procedures, internal controls, and board effectiveness."
Fitch Ratings signaled last month that it could cut Och-Ziff to junk, saying the accord may "contribute to reputational damage for the overall firm and result in near-term" asset outflows.
Before it's here, it's on the Bloomberg Terminal.
LEARN MORE