Electric Stoves, Heaters Key for Japan's Nuclear Utility
By
Kyushu utility promoting 'all electric household' after reform

Co. suspended similar promotion after Fukushima meltdown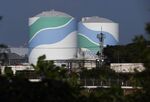 The first Japanese utility to restart a nuclear reactor under post-Fukushima rules has restarted a campaign urging users to increase power consumption discontinued after the unprecedented triple meltdown in March 2011.
Kyushu Electric Power Co., which expects at least two nuclear reactors to be online next year, aims to start a television advertising campaign to promote the adoption of "all electric households," according to spokesman Shinpei Ikeda. The company began a web campaign earlier this month, and is offering promotions for customers who purchase electric stoves and heaters. By using electricity instead of gas, the Fukuoka-based company is hoping that households boost stagnating demand and eat up some of its excess supply.
The push comes amid market reform introduced in April to increase competition and after power demand from the nation's 10 regional utilities fell to an 18-year low. For the first time since Fukushima, Japan's Ministry of Economy, Trade and Industry announced on Tuesday that it won't request companies and households to implement measures to cut power consumption, known as "setsuden," this winter due in part to the boost in supplies following the restart of some nuclear reactors.

"Promoting the 'all electricity household' is a very big weapon for us now that the power market has liberalized," Ikeda said by phone on Wednesday. Excess supply from our reactors and the setsuden decision "also played into why we resumed the campaign. The nation's power supply-demand situation has improved.''
Kyushu Electric, along with other utilities, discontinued a similar campaign in 2011 after Fukushima led to the eventual closure of the nation's nuclear fleet and resulted in rolling blackouts in parts of the country. In Fukushima's wake, utilities and the government pushed for the adoption of power-savings measures as they struggled to meet demand and as power prices skyrocketed.
Consumption Decline
With the decline in consumption, utilities' sales stagnated. Kyushu Electric's revenue fell 2 percent in the fiscal year ended in March and expects it to remain little changed this fiscal year, it said in a presentation dated May 9.
Kyushu Electric added 0.4 percent to close at 946 yen in Tokyo trading. The benchmark Topix fell 0.4 percent.
The utilities have been feeling even more pressure this year after the government fully opened the power market in April, allowing Japanese households for the first time to choose their provider. With more than 350 companies now approved to sell power, regional utilities are concocting new strategies to shore up revenues.
Kyushu Electric is better positioned than its rivals as it is one of only two utilities currently operating nuclear reactors, allowing it to easily meet an increase in power demand. The utility has one reactor online at its Sendai facility, after shutting a separate unit for maintenance on Oct. 6.
In addition to the Sendai reactors, Michiaki Uriu, Kyushu Electric president, expects the company's Genkai No. 3 and 4 reactors to restart within the fiscal year ending March 2017, the Nikkei reported in August. The reactors are in the final stage of the nation's regulatory review, the paper said.
Kyushu Electric's campaign "is a customer retention strategy," Joseph Jacobelli, an analyst at Bloomberg Intelligence, said by e-mail. "But this strategy will not boost consumption to a level to take up all of the electricity from the new plants. Those plants will mostly replace power from expensive fossil fuels."
Before it's here, it's on the Bloomberg Terminal.
LEARN MORE