Inflation Outlook Rises Everywhere But Japan
By and
Japan's 5-year inflation swap below 0.3%, versus 1.9% in U.S.

Mitsubishi UFJ Kokusai, State Street see doubts over stimulus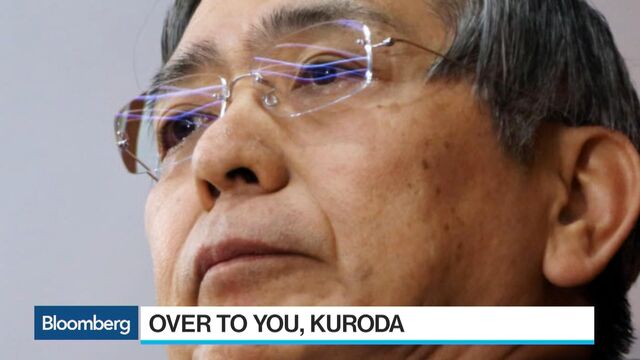 Bond investors globally see more inflation on the horizon than at any time since May 2014 -- except in Japan.
Japanese five-year inflation swaps remain mired below 0.3 percent, resisting pressure from rising oil and commodity prices. Equivalent swaps in the U.S have surged to near 2 percent, while those in Germany are approaching 1.2 percent.

Mitsubishi UFJ Kokusai Asset Management and State Street Global Advisors say the Bank of Japan's failure to revive a stuttering economy will keep yen bond yields low, even as crude rebounds and an improving jobs market gives the U.S. Federal Reserve room to raise interest rates. BOJ Governor Haruhiko Kuroda has indicated he hasn't been able to sustain inflation expectations among Japanese businesses and consumers because their views are relatively more "adaptive," or influenced by prevailing prices.
"Monetary easing coupled with fiscal spending have been adopted to boost prices, but there are doubts if they would actually lead to growing the economy," said Masayuki Koguchi, the chief yen-bond fund manager at Mitsubishi UFJ Kokusai Asset Management in Tokyo. "As long as the actual inflation rate remains low, expectations will struggle to rise."
Longer-term debt that is more sensitive to inflation has dropped 2.6 percent in October in the U.S., on track for its worst month since June 2015. Equivalent Japanese securities have lost just 0.5 percent.
For a story on Japanese banks' assessment of BOJ policy, click here.
Kuroda has failed to break the deflationary mindset in his 3 1/2 years as BOJ governor. While he has cited the slump in oil prices as the main reason for not reaching his 2 percent inflation goal, his own policy choices may have added to the challenges. The announcement of adoption of negative interest rate in January preceded a 17 percent gain in the yen against the dollar, cutting import costs. Stimulus policies have failed to cure decades of economic malaise amid the most challenging demographics worldwide, State Street says.
"Various fiscal policies and monetary policies have been tried but didn't quite give the kind of results they would like to see," even as the U.S. economy is turning around, said Ng Kheng Siang, Singapore-based Asia-Pacific head of fixed income at the $2.3 trillion money manager, which holds JGBs. "In that sense, even if U.S. yields go up a bit, upside in Japanese bond yields should be quite limited."
Rising crude prices should have only a limited effect in pushing up inflation globally as the rally has been driven by the prospect of lower supply rather than greater demand, Ng said in an interview in Tokyo last week.
Inflation Expectations
A bond market measure of inflation expectations called the break-even rate -- calculated by subtracting the yield on nominal bonds from those on inflation protected securities -- is the highest since April 2014 at 1.68 percent for global sovereign debt excluding Japan, according to Bank of America Merrill Lynch indexes. The equivalent measure for Japan is 0.67 percent.
A key measure of Japanese consumer prices declined 0.5 percent for a second month in August, the same pace of decline as the month before Kuroda launched his stimulus program in April 2013.
Before it's here, it's on the Bloomberg Terminal.
LEARN MORE