Hong Kong Cleans Up After Typhoon Haima Shuts Trading, Schools
by , , and
Storm deals city a glancing blow after pounding Philippines

More than 700 flights disrupted, with 13 injuries reported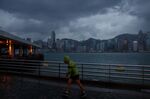 Hong Kong was picking up fallen trees and fixing disrupted flight schedules Friday after Typhoon Haima shut financial markets, schools and shops across the city.
The storm weakened and veered east of Hong Kong, sparing the Asian financial center damage on the scale it inflicted on the Philippines earlier in the week. Thirteen people sought treatment for injuries in Hong Kong, while more than 200 others visited emergency shelters as rains and high winds lashed the city, the local government said. Hong Kong Exchanges & Clearing Ltd. had earlier called off trading, and buses and ferries were suspended. The Hong Kong Airport Authority reported 738 cancellations and delays, including many Cathay Pacific Airways Ltd. flights.
The Hong Kong Observatory issued a No. 3 strong wind signal at 5:20 p.m., as winds subsided and Haima was downgraded to a tropical storm over China's southern Guangdong province. The cyclone killed at least eight people in the Philippines, forcing the evacuation of more than 90,000, the strongest typhoon to hit the country this year.
As of 7 p.m., the storm was estimated to be about 200 kilometers (120 miles) northeast of Hong Kong and was forecast to move north at about 25 km/h, the Observatory said. The weather service expected to lift the remaining storm warning signals overnight. Ferry and bus services had resumed and subway operator MTR Corp. said trains were operating as normal.
Contingency Plans
While the city received 197 calls about fallen trees, no flooding or landslides were reported as of 5 p.m. One tree partially blocked a highway in the shopping area Causeway Bay, and another fell onto a passenger car in the northeastern district of Sai Kung, according to Hong Kong Cable Television. Scaffolding was seen hanging from the side of a building in the Tsuen Wan district.
It was the second time this year that weather had affected Hong Kong's financial markets, with Typhoon Nida also halting trading on Aug. 2. Brokerages have contingency plans to ensure they can trade other Asia-Pacific markets from Hong Kong, working from home or staying in hotels near their offices.
"We are all in the office and business as usual trading all regional markets," Rafi Mohideen, the Hong Kong-based head of Asian trading at Instinet Pacific Services Ltd, a unit of Nomura Holdings Inc., said earlier Friday. "We are a regionalized trading desk, but if it gets worse we have other regional offices that can help."
Before it's here, it's on the Bloomberg Terminal.
LEARN MORE