Brexit Drop Almost Forgotten for Euro-Area Bank Shares After ECB
by
Euro Stoxx Banks Index has longest winning streak in 2 months

Nestle and Actelion drag down SMI after earnings results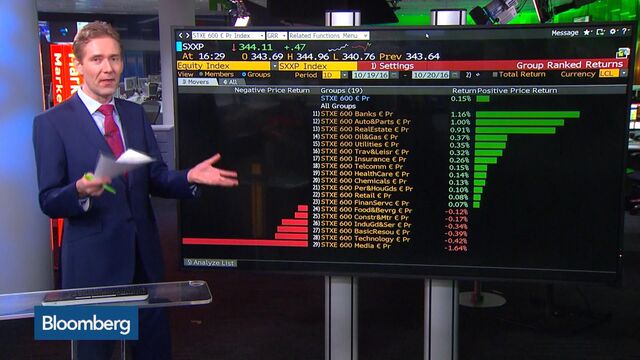 Mario Draghi's policy update lifted almost all European equity markets, with euro-area banking shares stealing the spotlight.
The Euro Stoxx Banks Index climbed 2.1 percent, a fifth day of gains and the most on a European Central Bank decision day since January. Draghi said the ECB probably won't stop its asset buying abruptly, indicating a potential extension of its stimulus program. Speculation that the central bank president is getting ready to loosen the limits of assets eligible for buying has sent lenders rallying about four times more than the rest of the market in October.
"We do expect action in December and that's on track," said Michael Ingram, a market strategist at BGC Partners in London. "There's still some hope that the ECB will follow the lead of the Bank of Japan and focus on the yield curve and help bank profitability."

While Draghi said the Governing Council didn't discuss prolonging or tapering the stimulus program, he noted that economic forecasts in December and the results of internal studies on options to avoid running into bond shortages will help the decision then.
The policy update brought welcome relief for banking shares, which suffered the most since quantitative easing began last year as concerns grew that their profitability would be hit by a low-yield environment. Last month, the BOJ spurred a rally in global lenders after it said it would tweak its asset-buying program to better manage the difference between short and long-term bond yields.
"Everything is postponed to December," said Ralf Zimmermann, a strategist at Bankhaus Lampe in Dusseldorf, Germany. "Waiting will continue for stock investors."
The benchmark Euro Stoxx 50 Index rose 0.7 percent to its highest level since Sept. 8, while its banks closed just 1.2 percent away from its level before the U.K. vote to leave the European Union. Spanish firms Banco Santander SA and Banco Bilbao Vizcaya Argentaria SA contributed the most to the gains on Thursday. Deutsche Bank AG gained 3.8 percent as some of its largest investors are pressing it to shrink its securities business and eliminate more jobs to help lower costs further.
Since a four-year low in July, the industry has rebounded 30 percent, the most among sectors in Europe. Yet they're still down more than 21 percent for the year, and analysts expect earnings at lenders in the Stoxx Europe 600 Index will tumble 22 percent in 2016, compared with a 4.5 percent contraction for members of the broader measure.
While the focus was on Draghi, some companies moved on earnings announcements. Deutsche Lufthansa AG rallied 7.9 percent after raising its profit projection. Tele2 AB advanced 3.3 percent after the phone carrier reported revenue that topped projections. Pernod Ricard SA climbed 1.2 percent and as the world's second-largest distiller reported sales growth that beat estimates.
Publicis Groupe SA lost 5.7 percent after the French advertising firm posted third-quarter revenue that missed analysts' estimates. Peer WPP Plc fell 3.6 percent. GEA Group AG sank 20 percent, the most since 2001, as the German machine maker and food processing company said it sees a sales decline in 2016. Actelion Ltd. tumbled 6.5 percent after the Swiss drugmaker's raised profit forecast fell short of some estimates. Nestle SA dropped after the world's biggest food company lowered its annual sales forecast.
Here were the moves in major European markets:
Banks pushed Spain's IBEX 35 Index up 1.2 percent, the most in the region.
Germany's DAX Index added 0.5 percent, up for a third day.
France's CAC 40 Index also gained 0.4 percent.
The U.K.'s FTSE 100 Index added 0.1 percent.
The Swiss Market Index fell 0.3 percent, the most among major western-European markets, dragged down by Nestle and Actelion.
Before it's here, it's on the Bloomberg Terminal.
LEARN MORE