ECB Leaves Stimulus Unchanged as Decision Deadline for QE Looms
by
Benchmark rate stays at zero, deposit rate at minus 0.4%

President Mario Draghi to speak at 2:30 p.m. in Frankfurt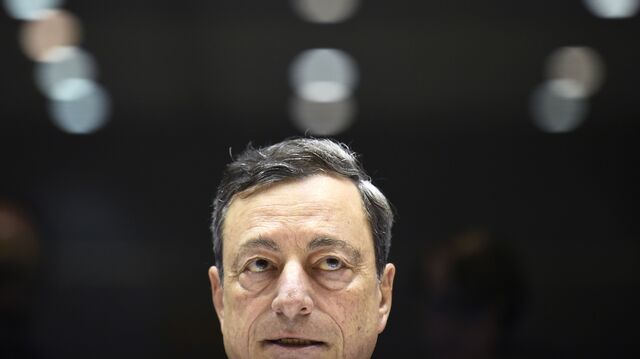 The European Central Bank kept its quantitative-easing program and interest rates unchanged as suspense builds up over a possible extension of bond-buying later this year.
The Governing Council left the main refinancing rate at zero, the deposit rate at minus 0.4 percent and asset purchases at 80 billion euros ($88 billion) a month, as predicted by all economists in a Bloomberg survey. The future path of asset purchases, which are currently scheduled to end in March, will loom large when President Mario Draghi addresses reporters at 2:30 p.m. in Frankfurt.

To follow Bloomberg's live blog on the ECB's rate decision, click here.
"The Governing Council continues to expect the key ECB interest rates to remain at present or lower levels for an extended period of time, and well past the horizon of the net asset purchases," the ECB said in a statement Thursday. "The Governing Council confirms that the monthly asset purchases of 80 billion euros are intended to run until the end of March 2017, or beyond, if necessary, and in any case until it sees a sustained adjustment in the path of inflation consistent with its inflation aim."
Draghi has expressed confidence inflation will return to the ECB's goal of just below 2 percent by early 2019 at the latest, and the majority view of economists in a separate survey is that he will eventually extend QE to reach that goal. ECB committees are assessing options for a redesign of the program to ensure that purchases can continue, after concerns emerged that eligible assets might be running low.
"The ECB wants to take its time on this, they are in no rush," Michala Marcussen, global head of economics at Societe Generale SA in London, told Bloomberg TV before the decision. "What we are expecting today is Draghi to sound quite dovish in his overall tone," and "come December, we do expect them to tweak the parameters around the QE program."

The ECB's position so far has been that QE will run until March "or beyond, if necessary," and that the program has enough flexibility to secure a sustained return to the inflation target. Price growth -- currently at 0.4 percent -- is only slowly picking up, and only two thirds of economists believe the rate will reach such levels before Draghi's term expires in October 2019.
Current forecasts by the central bank are built on expectations of "additional monetary policy measures," according to an account of last month's council meeting. Draghi may point to updated projections due in December to decide exactly how much more stimulus is needed.
Any extension of QE will probably require a change in the rules governing the program. Officials have previously made technical adjustments including raising the proportion of each bond issue they can buy, and expanding asset classes to include regional and corporate debt. Draghi could announce new tweaks during the press conference, but most economists predict he will leave concrete decisions for December.
The ECB president will probably be pressed on reports that some policy makers have started pondering how to wind down stimulus once the time comes. While a formal discussion hasn't taken place within the Governing Council, officials have signaled that QE will eventually be tapered -- a process the majority of economists predicts will start in the second half of 2017 or later.
Before it's here, it's on the Bloomberg Terminal.
LEARN MORE