Duterte Says 'Goodbye' America Before Meeting Xi in Beijing
by
President says nation's foreign policy 'veers now' to China

About 25 agreements will be signed during 4-day state visit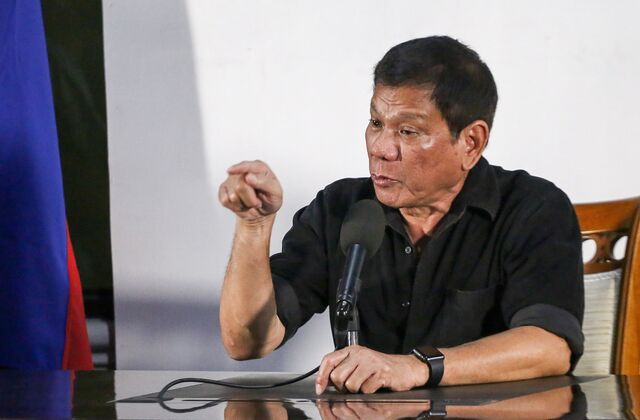 Philippine President Rodrigo Duterte spelled out his foreign policy pivot to China in the clearest terms yet, telling hundreds of Filipinos in Beijing that "it's time to say goodbye" to the U.S.
QuickTake Philippines' Firebrand
"Foreign policy veers now towards" China, Duterte said on Wednesday night ahead of a meeting with Chinese President Xi Jinping on Thursday. "No more American interference. No more American exercises," he told a cheering crowd.
Duterte and Xi agreed to return to a "track of dialogue" over the South China Sea in what is a "new stage of maritime cooperation," China's Vice Minister for Foreign Affairs Liu Zhenmin told reporters in Beijing Thursday. The two leaders did not discuss the disputed Scarborough Shoal.
Liu said China was ready to hold bilateral talks on maritime issues and that Duterte's visit signified a full recovery of the Philippine-China friendship.
Officials from both countries signed 13 pacts on areas including trade, investment, tourism, narcotics, and maritime cooperation at the summit meeting. Pacts on transport infrastructure, financing from Export-Import Bank were among those forged as China committed to support infrastructure development in the Philippines.
Since Duterte took office in June, the tough-talking 71-year-old leader has repeatedly questioned his nation's alliance with the U.S. while touting the economic benefits of friendlier ties with China. His four-day trip to Beijing marks an opportunity to reset relations have been strained in recent years over territorial disputes in the South China Sea.
Duterte said on Wednesday that he would welcome Chinese offers of aid, infrastructure funding and concessional financing.
"I will not ask but if they offer and if they'll ask me, you need this aid? Of course, we are very poor," Duterte said of China. "You need this railway? Yes sir. And if you can give us a soft loan, give us something like 20 years to pay."
'Insulted'
"I will not go to America anymore" for assistance, Duterte said. "We will just be insulted there."
The U.S. has been the Philippines's closest ally since independence in 1946, and the nations are linked by formal defense treaties. Members of Duterte's cabinet have repeatedly tried to tone down his more inflammatory remarks -- such as telling President Barack Obama to "go to hell" -- and stress that a more independent foreign policy doesn't mean severing ties with the U.S.
Duterte himself told reporters Wednesday that this trip wouldn't lead to a military alliance with China or joint energy exploration in disputed seas. The plight of Filipino fishermen seeking to resume activity in the Scarborough Shoal, which China effectively took control of in 2012, will be mentioned "in passing" to Xi, Duterte said.
'Zero-Sum Game'
The U.S. has expressed concern about Duterte's policies. Philip Goldberg, the U.S. envoy in Manila, said Wednesday that the Philippines's efforts to improve ties with China "shouldn't be a zero-sum game."
Duterte has lashed out at the U.S., the United Nations and the European Union for criticizing his drug war over alleged human-rights abuses. According to police data, more than 3,000 suspects have been killed after the policy took effect.
By contrast, the Philippine leader called China "very kind" for funding a drug rehabilitation center. Hua Chunying, a spokeswoman for China's foreign ministry, said Wednesday that Beijing "appreciates President Duterte's efforts to crack down on drug crimes and improve social security with the fundamental interests and well-being of his country and people in mind."
She also hailed Duterte's efforts to seek a "soft landing" on territorial disputes in the South China Sea.
"China and the Philippines are returning to the right path of properly handling relevant issues through bilateral dialogue and consultation regarding the South China Sea issue," Hua said. "Friendly neighbors are supposed to get along with each other in this way."
Before it's here, it's on the Bloomberg Terminal.
LEARN MORE