Draghi Says Portuguese Bonds Ineligible for QE If Downgraded
By
DBRS review of sovereign rating scheduled for Friday, Oct.21

ECB president says country's reform progress should be noted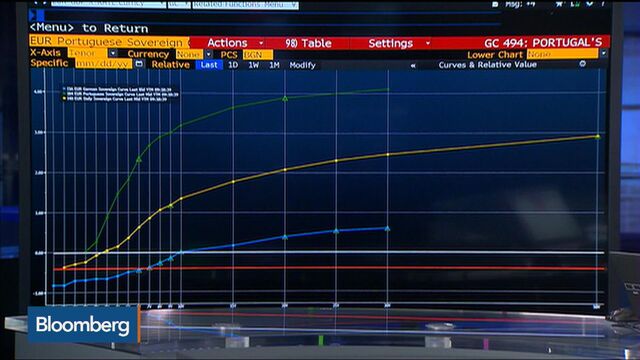 Portugal's debt would no longer be eligible for purchase under the European Central Bank's quantitative-easing program if the country's credit rating is downgraded on Friday, President Mario Draghi said.
A decision by Canadian rating company DBRS Ltd. to take away the country's only investment-grade rating would disqualify Portuguese sovereign bonds from asset purchases and use as collateral in refinancing operations, Draghi said at a press conference in Frankfurt following the Governing Council's monetary-policy meeting. A rating review is due on Oct. 21.
"Having said that, we should acknowledge the remarkable progress that has been achieved in Portugal," the ECB president said. "Of course, there are vulnerabilities that the government knows very well and the government is aware that ambitious reforms are needed."
Portuguese bonds have risen since the country's finance minister said on Oct. 7 that DBRS took a positive view on the nation's fiscal efforts. DBRS kept Portugal's status at BBB (low) -- its lowest investment grade -- at its last review in April. The nation's debt is rated junk at Fitch Ratings, Moody's Investors Service and S&P Global Ratings.
The ECB demands the bonds it considers for QE to have an investment-grade rating from at least one major ratings company.
Strong Endorsement
"Draghi seemed to make a downgrade a fairly remote possibility by alluding to the 'remarkable' fiscal progress achieved by the country," said Marchel Alexandrovich, senior European economist at Jefferies International Ltd in London. That's "as strong an endorsement as anyone had received from the ECB in recent years."
Greece also featured in Draghi's remarks. The ECB president said the country's debt remains ineligible for purchase until there is evidence it is sustainable.
"Measures have to be undertaken to address this problem, and the Governing Council, when time will come, will assess in an independent way the debt sustainability," Draghi said. "Until then, it is premature to speculate about purchasing bonds."