Deutsche Bank Investors Press Lender to Sharpen Focus
by
Bank should consider shrinking securities unit, investor says

Deutsche Bank should cut workforce up to 20%, investor says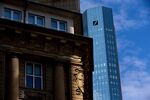 Deutsche Bank AG should shrink its securities business and eliminate more jobs to help lower costs further, according to some of the German lender's largest investors.
The lender should reduce its global workforce by up to 20 percent, or double announced cuts, according to one of the top 20 investors, who asked not to be identified in line with company policy that bars managers from speaking about individual stocks. Deutsche Bank could also trim equities trading while focusing on its larger fixed-income business, the person said. A spokesman for Deutsche Bank declined to comment.
Chief Executive Officer John Cryan, 55, is cutting 9,000 jobs, selling assets and suspending dividend payments to shore up capital and profitability, battered by negative interest rates, volatile markets and tougher capital rules. The U.S. Department of Justice's request last month that the bank pay $14 billion in a probe into faulty securities -- an amount the CEO rebuffed -- sparked fresh concerns about the lender's spiraling costs and financial health.
Deutsche Bank rose as much as 4.2 percent, trading at 12.97 euros at 4:47 p.m. in Frankfurt, up 3.4 percent. The company has lost about 44 percent of its market value this year, making it the fourth-worst performer on the Bloomberg Europe Banks and Financial Services Index, which slipped 19 percent.

While Cryan is seeking to reverse a slump in profitability by shutting parts of the bond-trading empire his predecessor Anshu Jain built, one of the investors said the lender should continue to focus on fixed-income revenue. The global markets division posted net revenue of 2.4 billion euros ($2.6 billion) in the second quarter, with 1.8 billion euros from trading debt and other products.
Deutsche Bank is already exploring shrinking its U.S. operations as part of a wider global assessment, which evaluates businesses in the context of regulatory requirements, people familiar have said. The cuts would be mainly targeting the U.S. investment bank, said one of the people.
To see Deutsche Bank's top investors, click here.
Deutsche Bank should sell more assets and seek ways to improve its cost-to-income ratio, which stood at 90 percent at the end of June, the other investor said. While Cryan has said he doesn't plan to raise capital to help weather rising legal costs, the investor signaled concerns that the bank hasn't indicated how it plans to strengthen capital buffers further.
Hiring Freeze
A settlement range of $3 billion to $3.5 billion with the Justice Department tied to residential mortgage-backed securities would leave Deutsche Bank room to settle other legal issues, while any additional $1 billion in litigation charges would erode 24 basis points in capital, according to analysts at JPMorgan Chase & Co. Cryan is targeting a common equity Tier 1 ratio of at least 12.5 percent by the end of 2018, up from 10.8 percent at the end of June.
Cryan has already said that the lender may have to deepen cost cuts and may fail to be profitable in 2016. Deutsche Bank, which employed 101,000 people at the end of June, earlier this month implemented a hiring freeze, people familiar with the matter have said.
One of the investors signaled willingness in participating in a capital increase once the lender announces a new strategic overhaul. Deutsche Bank is holding informal talks with securities firms to explore options including raising capital should legal bills require it, people familiar with the matter have said. The lender would also revisit selling its Deutsche Postbank consumer unit or parts or all of its asset-management division, they said.
Deutsche Bank is scheduled to release third-quarter earnings on Oct. 27.
Before it's here, it's on the Bloomberg Terminal.
LEARN MORE