Culture Caucus Podcast
David Axelrod on the Election of a Lifetime, Three Weeks Out
On this week's "Culture Caucus" podcast, a discussion of the state of our democracy in the final days of an historic, head-spinning campaign. (And the Chicago Cubs.)
By and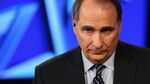 Hang in, sports fans: We are, honest, almost at the end of this election season. That means it's time to get serious. In this 16th episode of the Culture Caucus podcast, sure, we talk about the Chicago Cubs, and the frivolous issues of the day, but our main subject could not be more momentous.
We discuss the scope of this election; how little we understood when it began and how little we understand now; how Trump took everyone by surprise but seems obvious in retrospect; how it still seems like none of this is exactly real; how we got here; what Trump's collapse in the last few weeks means for Election Day (and beyond); and what everything we've just lived through might mean for the future. It's merely a discussion of the state of our democracy in the final days of an historic, head-spinning campaign. No big deal! 
This election has been a reality show like none other, and we're all still trying to wrap our heads around it. So how lucky that our guest this week is David Axelrod, chief strategist for the Obama 2008 and 2012 campaigns and host of his own Axe Files podcast, the perfect person with whom to sit and sort it all out.  
With Axelrod, we discuss:
Whether anyone possibly could have seen Donald Trump's effect on this campaign coming
What it's like to be part of a losing campaign
What Hillary Clinton could have done differently, and why she didn't
What we can learn from Trump's most avid supporters, and why they should not be ignored
It's the home stretch, folks, and this is a big, fat, juicy, fun one. So, enjoy! You can e-mail us about it at politics@bloomberg.net. Come say howdy!
Before it's here, it's on the Bloomberg Terminal.
LEARN MORE