Christie, Cuomo Battle Said to Have Flared After Bridge Plot
By and
Rechler testifies about infighting at bi-state transit agency

Political warring increased after Fort Lee gridlock, he says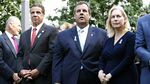 The George Washington Bridge lane-closings fanned a political turf war at the agency that runs the span, drawing New Jersey Governor Chris Christie and New York Governor Andrew Cuomo into the fray, according to a witness at the trial of two former Christie allies.
Scott Rechler, a commissioner at the Port Authority of New York & New Jersey, recounted agency infighting after the closing of access lanes to the bridge in 2013 that created gridlock in nearby Fort Lee, New Jersey that he said had the two neighboring governors discussing the leadership at the agency.
Rechler testified Thursday that former Chairman David Samson, a Christie appointee, routinely called for the resignation of Executive Director Pat Foye, a Cuomo appointee who ended the lane closings on the fifth day. Samson's pressure escalated after he accused Foye of leaking details of the lane closings to the media, Rechler said.
Cuomo and Christie spoke more than once after the lane closings, testified Rechler, who recounted what he was told about an October 2013 conversation between the two men.
"Governor Cuomo told me that in one of the conversations he had with Governor Christie, David Samson was complaining once again about Pat Foye," Rechler said. They also spoke in December 2013, Rechler said.
Prosecutors say Bill Baroni, the agency's former deputy executive director, and Bridget Anne Kelly, Christie's former deputy chief of staff, conspired to shut the lanes to punish the Fort Lee mayor for not backing Christie's re-election.
Cancer at Agency
Rechler, a New York real estate developer and Cuomo appointee, said Samson also protected David Wildstein, a Baroni subordinate who pleaded guilty and testified as the key prosecution witness. Rechler said he tried and failed to fire Wildstein, whom he considered a "cancer" at the agency for intimidating employees and creating a culture of fear.
In arguments outside the jury's presence, Kelly's attorney Michael Critchley said he wanted to get more details of what Cuomo and Christie said to each other from Rechler. Critchley said since both governors were aware of the lane closings, Kelly couldn't have taken part in a cover-up. Prosecutors objected, saying it was irrelevant and impermissible hearsay. The judge agreed.
Wildstein previously testified that Cuomo and Christie agreed that if "the New Jersey side" of the Port Authority issued a false report accepting responsibility for the lane closings, Foye would sign off on it. Christie and Cuomo denied that, and no report was issued.
'False Hearsay'
Rechler's testimony disproves Wildstein's "false hearsay testimony," Cuomo spokesman Richard Azzopardi said.
"There were longtime tensions between New York and New Jersey staff at the Port Authority before, during and after Bridgegate that were discussed at all levels," he said. "That's well known and was brought to light again in today's testimony. However, there was no conversation between the governors concerning a 'plan' to have Pat Foye stand down or to have the issue 'whitewashed' through a report."
Rechler gave conflicting views of the power dynamic between New Jersey's top officials at the Port Authority. He said Samson, Baroni and Wildstein worked closely together. But he also described Baroni as a "ribbon cutter," and said Wildstein had "direct access to Trenton, which was the power base." New Jersey's capital Trenton was shorthand at the Port Authority for Christie, witnesses have said.
Hatchet Man
Rechler said he had lunch with Baroni a few months before the lane closings in September 2013, and he pointed out Wildstein's role as a political hatchet man.
Foye, who weathered calls for his resignation, also testified as a prosecution witness about Wildstein's bad behavior. Samson pleaded guilty in an unrelated corruption case.
Kelly is expected to testify Friday at the end of the trial's fifth week. Baroni told jurors that Wildstein duped him into believing the lane closings were part of a legitimate traffic study.
The case is U.S. v. Baroni, 15-cr-00193, U.S. District Court, District of New Jersey (Newark).
Before it's here, it's on the Bloomberg Terminal.
LEARN MORE